| | | |
| --- | --- | --- |
| TODAY'S STATS | Mt. McKinley | Mt. Foraker |
| Registered Climbers | 988 | 15 |
| Climbers Currently On Mountain | 435 | 6 |
| Completed Climbs | 271 | 9 |
| Number of Summits | 94 | 4 |
| Summit Percentage | 35% | 44% |

The Walter Harper Talkeetna Ranger Station also maintains a daily automated statistics phone line, so if this blog is lagging behind and you need up-to-date registration numbers, call (907) 733-9127. 

Weather Report
14,200 feet - Rangers report clear skies above, with a scattered cloud layer down around 8,000-feet. A lenticular cloud is sitting over the summit.  There was no snow in the past 24 hours.  The weather station at 14,200-feet is still down, so no temperatures are available, but winds are estimated at 15 mph, gusting to 25 mph.       
7,200 feet - There are a few lingering puffy clouds over camp. Windspeed of 4 mph from the east, gusting to 12 mph from the northwest.  Basecamp did receive a trace of new snow overnight.  
In the last 12 hours:
Current temp: 28 (-2 C)
Low temp: 25 F (-4 C)
High temp: 36 F (2 C)
National Weather Service forecast  

Ranger Update
NPS Denali Patrol #2 (Shain + 3 VIPs) will descend to Basecamp today, as tomorrow is their scheduled fly-out date to Talkeetna. 
NPS Denali Patrol #3 (Weber, 2 PJ's, 2 VIPs) moved to high camp yesterday afternoon.
NPS Denali Patrol #4 (Chenoweth, 4 VIPs)  is now in command at at 14,200-foot camp.
NPS Denali Patrol #5 (McBrayer, 4 VIPs) are packing and re-packing down here in rainy Talkeetna, hoping that tomorrow's patrol fly-in date isn't delayed too much by rain. 
NPS Basecamp Patrol #3 (Corn +1 VIP) will swap out with Basecamp Patrol #4 (Westman + 2 VIPs) tomorrow, weather permitting.
The Walter Harper Talkeetna Ranger Station welcomes its newest employee Nick Pedersen to the staff.  Nick is a YCC (Youth Conservation Corps) student who grew up in Talkeetna. Nick will assist in a wide variety of projects and assignments around the station this summer, from answering visitor questions, learning how to put together a park interpretative program, maintenence and landscaping, assisting park archeologists with a local dig, and hopefully a short patrol period at the Kahiltna Basecamp at the end of the climbing season.  


Route Conditions
The route up the Autobahn to Denali Pass (between 17,400-ft to 18,200-ft) is in great shape for travel. The route, which shifts each year as the glacier moves, was re-routed and wanded by NPS Patrol #2 on Saturday. They removed old pickets, and placed or re-placed 27 pickets with draws, all well-spaced for teams with 60 meter ropes. The pickets/draws (photo below) are each clearly marked with sturdy, visible wands.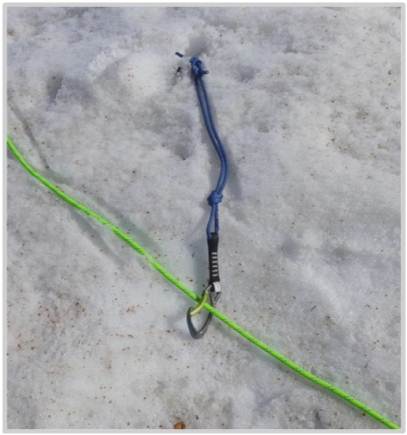 A night schedule is advised for all teams travelling on the lower glacier.  Sunny, warm temperatures in the past week have made for softer trail conditions in the heat of the day.
Denali Patrol #3 reported good, firm climbing conditions on the Upper West Rib after a daytrip up the route two days ago. 

Photo of the Day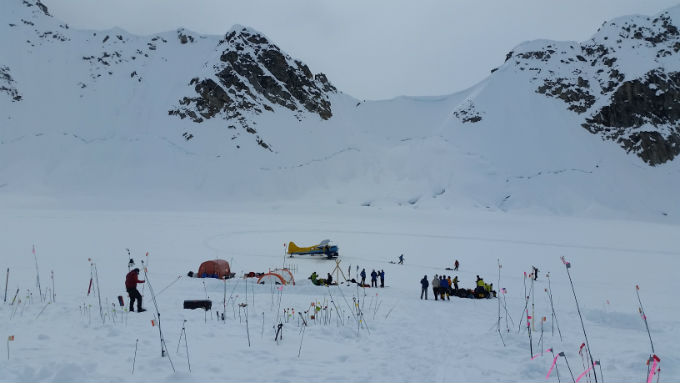 The bamboo garden on the Kahiltna Glacier is steadily growing as more and more teams head up the mountain.  These flagged wands mark food and supply caches left behind by climbers for the eventual return flight out from Basecamp.  All climbers are advised to keep some food handy in the event of long weather delays...which are not unlikely on weeks such as this one.  (NPS Photo/Kakiko Ramos-Leon)