| | | |
| --- | --- | --- |
| TODAY'S STATS |     Denali     | Mt. Foraker |
| Registered Climbers | 1,239 | 19 |
| Climbers Currently On Mountain | 350 | 4 |
| Completed Climbs | 786 | 15 |
| Number of Summits | 449 | 2 |
| Summit Percentage | 57% | 13% |
The Walter Harper Talkeetna Ranger Station also maintains a daily automated statistics phone line, so if this blog is lagging behind and you need up-to-date registration numbers, call (907) 733-9127.
Mountain Weather

Quick report - The upper mountain looked lovely this morning, but the lower glacier was foggy.  Some flights were making it in and out of basecamp by mid-day.  Per recent ranger and VIP's who flew off the mountain the past couple days, the lower glacier conditions remain in great condition for night travel.


Weather station telemetry data from 7K and 14K are transmitted hourly to the MesoWest website, including temperatures, wind speed, wind direction, snowfall, and solar radiation.  MountainWeather.com compiles a Denali Weather page, complete with links to the MesoWest data, the NWS Denali Climbing Forecasts, as well as links to FAA webcams. 

Click here for the National Weather Service Denali Climbing Forecast

Click here for the FAA webcam on the Kahiltna Glacier. 


Ranger Reports
A lot of movement in the past several days:
NPS 14K Patrols #4
 - (Weber)  Ranger Dave Weber flew out on Saturday evening, as attending medic for a sick climber evacuated from 17K. The climber, who suffered from HACE, was initially rescued by two independent climbers, who provided care all Friday night until NPS rangers arrived on scene. (Patrol #4 had just descended to 14K when they received the distress call.)
NPS 14K Patrols #5
- (Gault)  Pat and Eric also flew out of the Range over the weekend, joining Vic and Shane from patrol #4 on a Sunday afternoon flight to the land of dense green foliage, ice cream, tour buses, and spinach bread.
NPS 14K Patrol #6
- (Westman)  PJ Justin and VIP Keshar went up to 17K on Sunday, and were joined there yesterday by fellow patrol members Mark and Rebekka. 
NPS 14K Patrol #7
- (Beren)  Jake's patrol reached 14K on Sunday.  By that evening, they had their first patient in camp, with more to follow in the past couple days.
NPS Muldrow Patrol #8 -
 (McBrayer)  The patrol is "fully installed below Karstens Ridge. Very chilly and windy move. Hoping to put a cache on the ridge tomorrow." An inReach communication from the previous day mentioned that rain followed the team all the way to an elevation of 8,100 feet before it turned to snow.
NPS 7K Patrol #7 -
(Reichert)  The patrol has been getting out and about around basecamp and up the trail.  Morning skate ski conditions have been fantastic, though they are braced for imminent deterioration as temperatures rise.  
***For more tales from the hill, check out Denali Rescue Volunteers (DRV) on Facebook and Instagram.***

Photo of the Day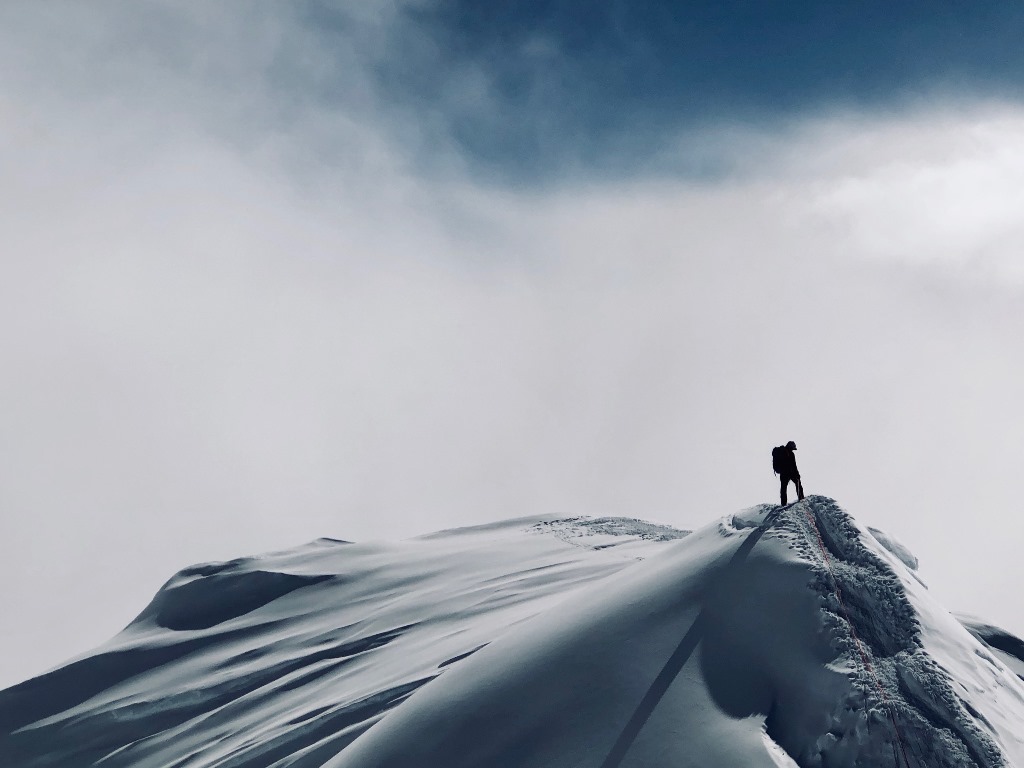 Lone ranger Pat Gault on the summit ridge.  (NPS Photo / Dave Weber)