| | | |
| --- | --- | --- |
| TODAY'S STATS | Mt. McKinley | Mt. Foraker |
| Registered Climbers | 1,057 | 15 |
| Climbers Currently On Mountain | 398 | 4 |
| Completed Climbs | 535 | 11 |
| Number of Summits | 232 | 4 |
| Summit Percentage | 43% | 36% |

The Walter Harper Talkeetna Ranger Station also maintains a daily automated statistics phone line, so if this blog is lagging behind and you need up-to-date registration numbers, call (907) 733-9127. 

Weather Report
14,200 feet - Skies are clear and temperatures have warmed up considerably.  Winds have calmed relative to yesterday, with morning windspeeds of 6 mph out of the east, gusting to 13 mph from the north.   
In the last 12 hours:
Current temp:  18 F (-8 C)
Low temp: 19  F (-7 C)
High temp:   14 F (-10 C)   
7,200 feet - Its one of those rare mornings where Basecamp windspeeds are clocking in slightly higher than 14,200-foot camp.  At 8 am, wind was 8 mph from the east, with gusts to 19 mph from the east.  There were a few clouds visible, but mostly clear blue skies and mild temperatures.
In the last 12 hours:
Current temp: 34 F (1 C)
Low temp: 34 F (1 C)
High temp: 34 F (1 C) 
National Weather Service forecast  

Ranger Update
NPS Denali Patrol #4 (Chenoweth, 4 VIPs) had a busy weekend at 17,200-foot camp.  An independent climber had frostbitten all 10 of his fingers while at high camp on June 13.  The following day, NPS Patrol #4 assisted the injured climber and his team from high camp (17K) down to 14,200-feet.  The patient's fingers were frosbitten to the point that Rangers Tucker Chenoweth and Joey McBrayer deemed them unusable for his descent. The patient was evacuated form 14K to Basecamp in the A Star B3e helicopter, then flew with his air taxi out of base camp for further care.
NPS Denali Patrol #5 (McBrayer, 4 VIPs) are camped at 14,200-feet now. Today, one of the VIPs will remain in camp to monitor radio communications, while the rest of the patrol will make a daytrip to high camp. 
NPS Denali Patrol #6 is (Gentzel, Corn, + 4 VIPs) are moving up the West Buttress to 9,600-feet today..  
NPS Basecamp Patrol #5 (Shain + 1 VIPs)  Mik and Cory plan a lower glacier ski tour today.
A USGS (US Geological Survey) team is checking in at the Ranger Station today. The four person team aims of conducting a GPS survey of summit of Mt. McKinley. If all goes well, they will truth-check and/or update the elevation of North America's Highest Peak.  See the USGS  project site for more info. 
Route Conditions
This strong high pressure system has led to very warm temperatures on the lower glacier in the afternoons and evening. Rangers recommend traveling after the glacier freezes, i.e. in the middle of the night to mid-morning.
In follow up to the incident noted in the Ranger Update section, frosbite in mid June is less common though not exactly rare. The upper mountain in particular has seen very cold temperatures lately, though yesterday the temps skyrocketed - base camp may have hit nearly 50 degrees F mid-day! The climbers who are finishing their climb right now will certainly have experienced both ends of the spectrum: frosbite-inducing cold at high camp and extreme sunburn/heat potential on the lower glacier ... in only 24 hours.


Photos of the Day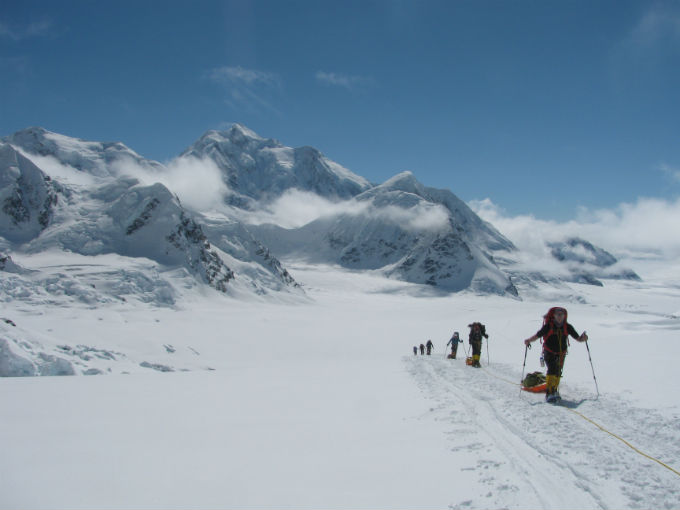 An earlier season shot of climbers ascending the West Buttress at approximately 9,000-feet (NPS Photo/Sue Wolff)