| | | |
| --- | --- | --- |
| TODAY'S STATS |     Denali     | Mt. Foraker |
| Registered Climbers | 1,210 | 19 |
| Climbers Currently On Mountain | 427 | 4 |
| Completed Climbs | 656 | 15 |
| Number of Summits | 347 | 2 |
| Summit Percentage | 53% | 13% |
The Walter Harper Talkeetna Ranger Station also maintains a daily automated statistics phone line, so if this blog is lagging behind and you need up-to-date registration numbers, call (907) 733-9127.
Mountain Weather

From Allison at 7K:  "Totally bluebird up here! 32deg, low was 31, lite downglacier wind, runway is hard."

From Mark at 14K: "Clear and calm again at 14."

From Dave at 17K:  "Ridiculous stretch of clear and calm summit weather continues. Yesterday may have been the nicest yet with no afternoon cloud build up."



Weather station telemetry data from 7K and 14K are transmitted hourly to the MesoWest website, including temperatures, wind speed, wind direction, snowfall, and solar radiation.  MountainWeather.com compiles a Denali Weather page, complete with links to the MesoWest data, the NWS Denali Climbing Forecasts, as well as links to FAA webcams. 

Click here for the National Weather Service Denali Climbing Forecast

Click here for the FAA webcam on the Kahiltna Glacier. 


Ranger Reports
NPS 14K Patrols #4
 - (Weber)  On Wednesday, Dave, Vic, and Shane returned to the south summit for the second time in the week, this time ascending Archdeacon's Tower en route, thereby completing a Triple Crown of Denali summits (north, south, and Archdeacon's).  Trail is in great condition. Yesterday saw approximately 40 climbers headed to the summit.  The patrol added/repositioned/replaced 30 pickets on the Autobahn yesterday. Today they planned to pack up the 17K cache and then start moving downhill to 14 camp. 
NPS 14K Patrols #5
- (Gault)  Pat and Eric joined Patrol #4 on the south summit on Wednesday, then they descended to 14K yesterday. 
NPS 14K Patrol #6
- (Westman)  In light of the changing weather forecast, the team will remain at 14K until the inbound weather system passes, then they will head up to high camp. 
NPS 14K Patrol #7
- (Beren)  Jake's patrol will remain camped at 11,000 feet, as 14 camp becomes downright crowded with rangers for a day or two.  They will move up to the 14K Basin when Patrols #5 and #6 descend...tomorrow? the next day?  Weather will dictate. 
NPS 7K Patrol #6
 - (Coady)  Yesterday, the park helicopter flew into basecamp to lend aviation support to the team of ice core scientists on their annual pilgramage to the top of Mount Hunter.  Thereafter, rangers Melis and Joe took advantage of good weather to do some typical terrain short-haul training.   In other news from basecamp, its the time of year when air taxis are just starting to use the upper airstrip on the SE Fork due to gradually deteriorating glacier conditions.
NPS Muldrow Patrol #8 -
 (McBrayer)  InReach comms from the patrol over the past couple days indicate that they enjoyed 'casual' river crossings of both the McKinley River and the Clearwater.  Two nights ago they camped in the last tundra meadow below McGonagal Pass.  Scoping ahead, they'll have to first negotatiate a new moat crossing to access the Muldrow Glacier.  And lastly, they crossed paths with another Muldrow team on their descent on their Day 34.  
***For more tales from the hill, check out Denali Rescue Volunteers (DRV) on Facebook and Instagram.***

Photo of the Day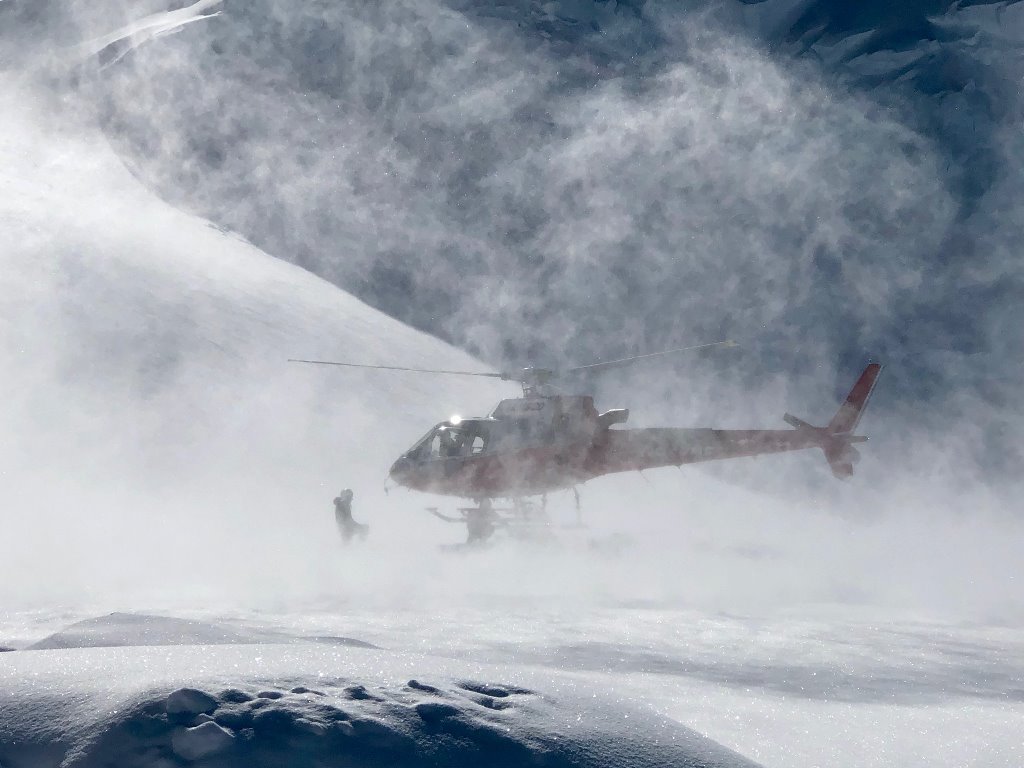 Helicopter pilot Andreas Hermansky sets down at 14,200-foot camp last week.  Photo courtesy of VIP Eric Wickenheiser.