Though not our favorite option, this season we will be producing weekly Field Reports (as opposed to almost-daily) to provide updates from the Alaska Range.  Please tune in each week for conditions reports, statistics, images, and news from the mountains. 
| | | |
| --- | --- | --- |
| TODAY'S STATS - 6/19/21 |     Denali     | Mt. Foraker |
| Registered Climbers | 1,013 | 28 |
| Climbers Currently On Mountain | 385 | 8 |
| Completed Climbs | 560 | 20 |
| Number of Summits | 335 | 3 |
| Summit Percentage | 60% | 15% |
The Walter Harper Talkeetna Ranger Station also maintains an almost daily automated statistics phone line, so if this blog is lagging behind and you need up-to-date registration numbers, call (907) 733-9127.
Mountain Weather

Saturday, June 19 - We didn't get a morning weather snippet from Basecamp today, but Travis at 14 camp says 'its nice up here today, we're above it'.   


Weather station telemetry data from 7K and 14K are transmitted hourly to the MesoWest website, including temperatures, wind speed, wind direction, snowfall, and solar radiation.  MountainWeather.com compiles a Denali Weather page, complete with links to the MesoWest data, the NWS Denali Climbing Forecasts, as well as links to FAA webcams. 

Click here for the National Weather Service Denali Climbing Forecast

Hooray, at last the Kahiltna Webcam is up and running well!  >>> Click here for the FAA webcam on the Kahiltna Glacier. 


Ranger Reports

West Buttress / Denali conditions
Ranger Travis and VIP Scotty Barrier made a recon trip up the fixed lines on Tuesday, which they reported in great shape:  "the headwall is on the firmer side with a little blue ice showing particularly near the top, but overall straightforward climbing."  Fast forward three days...some new snowfall had covered up portions of the Up line...resulting in some traffic jams where climbers were using the Down line in both directions.  On Friday, the patrol went up shook the snowy rope line free, reinstating two-way traffic.
Since last we spoke one week ago today, there has only been one mountaineering-related incident of note on Denali.  A climber with signs and symptoms of HAPE (high altitude pulmonary edema) was evacuated from high camp on Sunday, June 13 -- the sixth HAPE patient evacuated this season (one of those patients also had concurrent HACE).
NPS 14K Patrol #3 (Weber)
   Patrol #3 flew off the mountain Tuesday, June 15...marking the culmination of Ranger-Paramedic David Weber's illustrious career as a Denali mountaineering ranger.  Tears are being shed all over the land, as we will sadly miss his calm, cool demeanor, his vast emergency medical knowledge, and his patient mentorship and training skills. Our loss is Grand Teton National Park's (GRTE) gain -- so climbers keep your eyes peeled for Dave down south. Our fingers are crossed that GRTE will free him up for a Denali patrol or two in years to come! 
(DENA Ranger Dave Weber, BLCA Ranger Steve Kay, GRTE Ranger Jon Politis, VIP Shane Treat, VIP Eric Robbins) 
NPS 14K Patrol #4 (Baldwin/Oken)
  Patrol #4 had rolled into 14 camp just in time for last Saturday's quick barrage of upper mountain evacuations, but they've generally been enjoying a quiet week since, focusing on medical training, rigging training, and a few acclimitization trips up the fixed lines.  
(DENA Ranger Travis Baldwin, DENA Ranger Chrissie Oken, VIP Jed Purcell; VIP Scotty Barrier; and PJ Chris Krebs)
NPS 14K Patrol #5 (Chenoweth/Dossin)
  The crew reached 14 camp on Wednesday, June 16, with Tucker and Darcy flying out direct from 14K during a re-supply mission on Friday, June 18 (their patrol was scheduled to be of short duration).  Ranger Galen Dossin and PJ Dan Stikeleather will remain at 14 camp, providing a necessary bridge between Patrols #4 and #6, the latter of which is on its way to 14 camp.  
(DENA S. Dist. Ranger Tucker Chenoweth, DENA Ranger Galen Dossin, VIP Darcy Chenoweth, PJ Dan Stikeleather)
NPS 14K Patrol #6 (Beren) 
Ranger Jake Beren just can't get enough glacier time this season!  Jake headed back for his second upper mountain patrol of the season -- thereby taking the lead on both 14K camp set-up back in early May, and now camp break-down in early July.  He is joined by VIP's Cody Lockhart and C.J. Malcolm.  As of today (Saturday the 19th) the trio made a carry to 11,000 camp, and were returning to spend the night at 7,800 feet.  In the weeks to come, Jake, Cody, and CJ will team up with Galen and Dan of Patrol #5 to eventually pull out the tent stakes and dismantle 14 camp for another year. 
Learn more about Denali Rescue Volunteers, an organization that helps make Denali National Park and Preserve's mountaineering operations whole! Thank you for all that you do each season, from helping equipping our volunteers, housing them before and after patrols, and supporting our recruitment process! 

Photos of the Week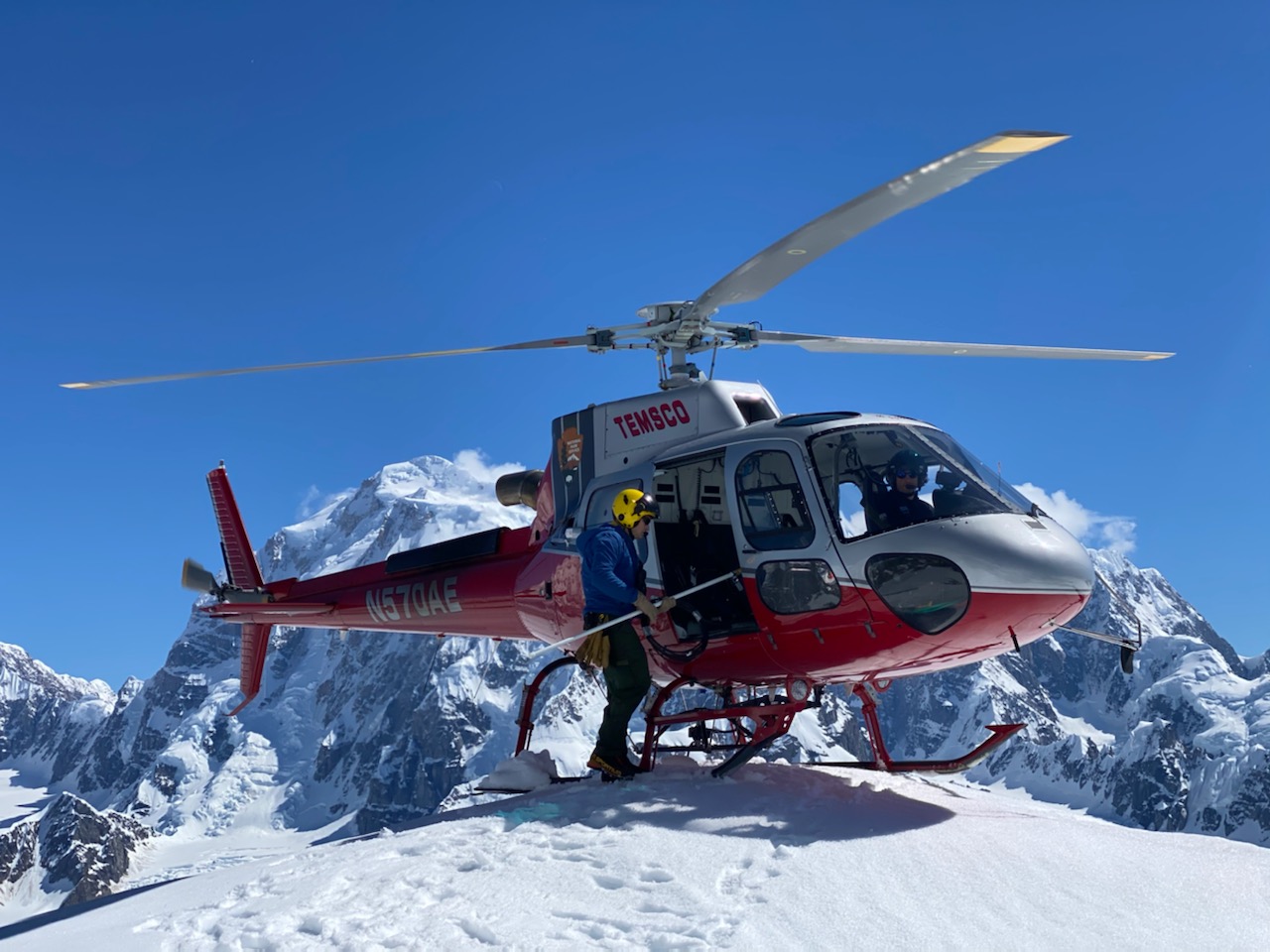 While Pilot Andy Hermansky parks the helicopter on the tippy top of Mount Crosson, Ranger Joe Reichert gets out to make repairs to one of the park's critical radio repeaters.  (NPS Photo / Dave Weber)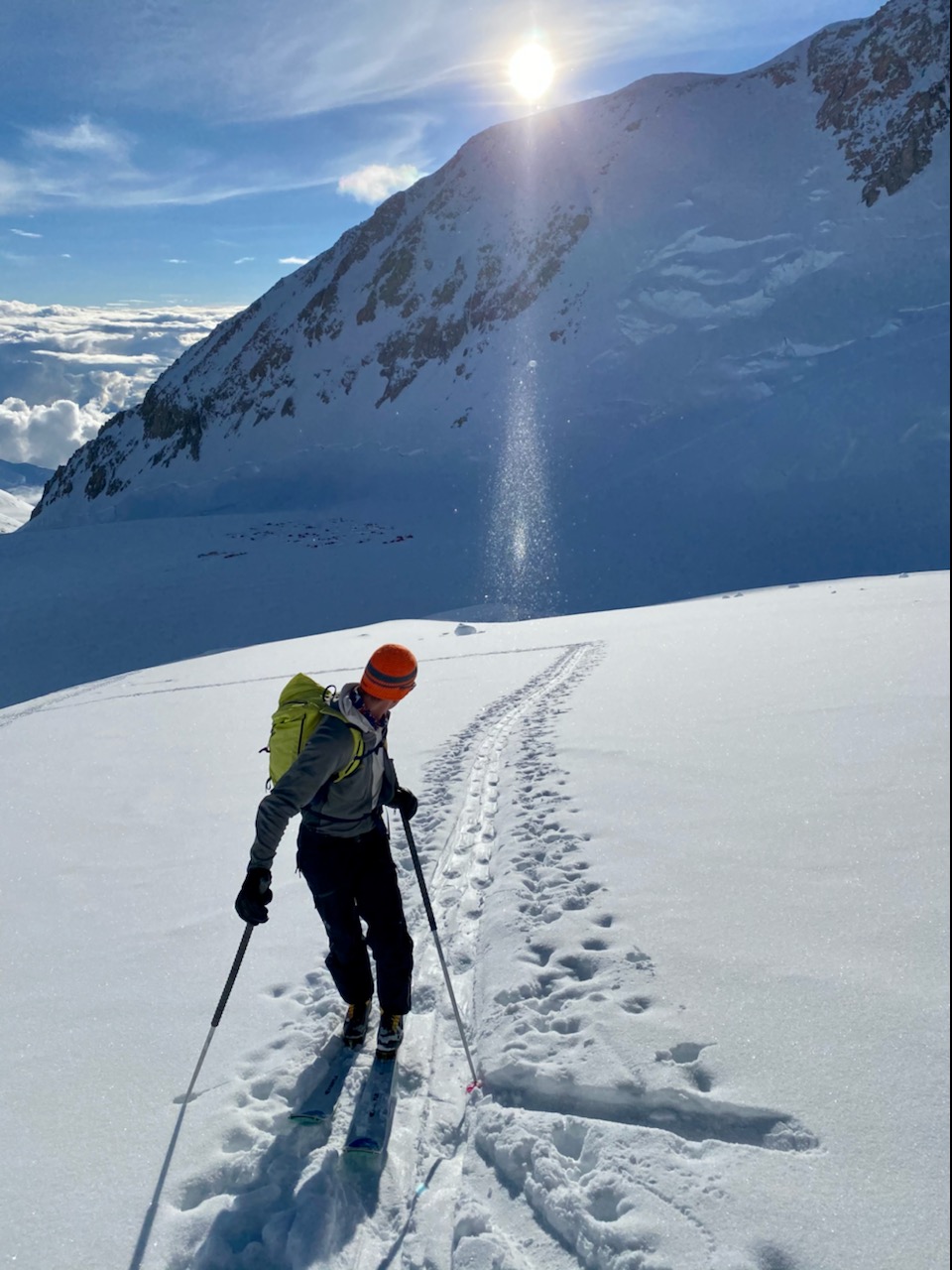 Ranger Travis Baldwin takes a break from his uphill ski to observe the sparkling spectacle of sun shining through snowflakes.  (NPS Photo / Dave Weber)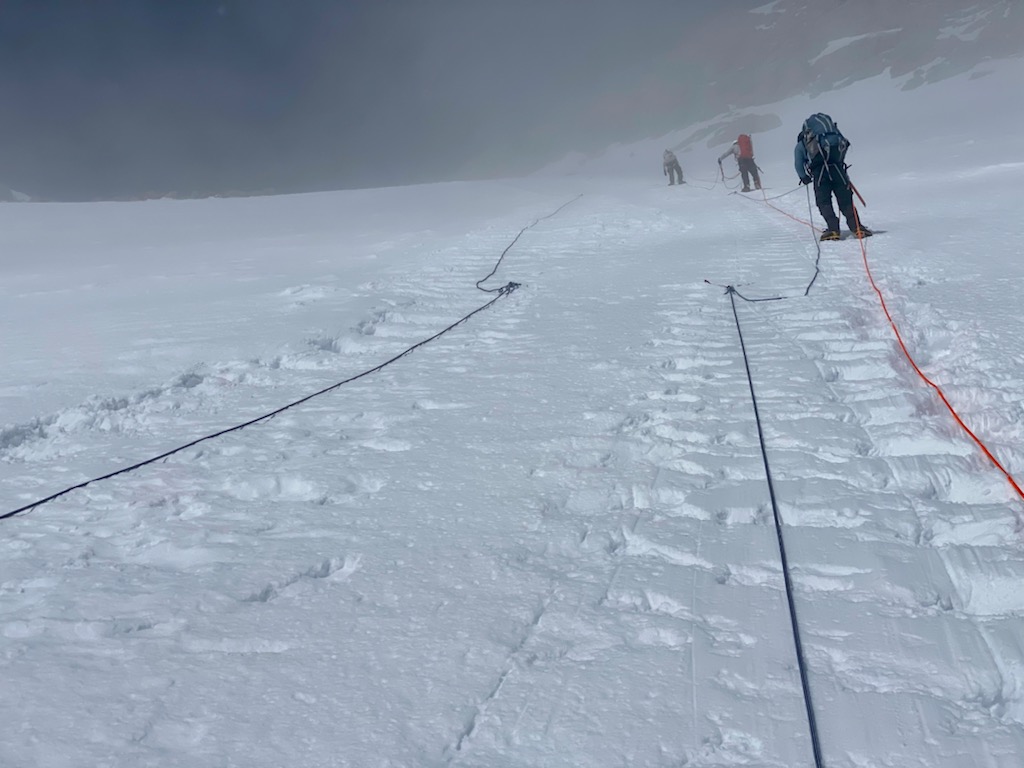 A close-up look up the Headwall.  Patrol #3 spent an afternoon inspecting and replacing the anchors on the fixed lines.  (NPS Photo / Dave Weber)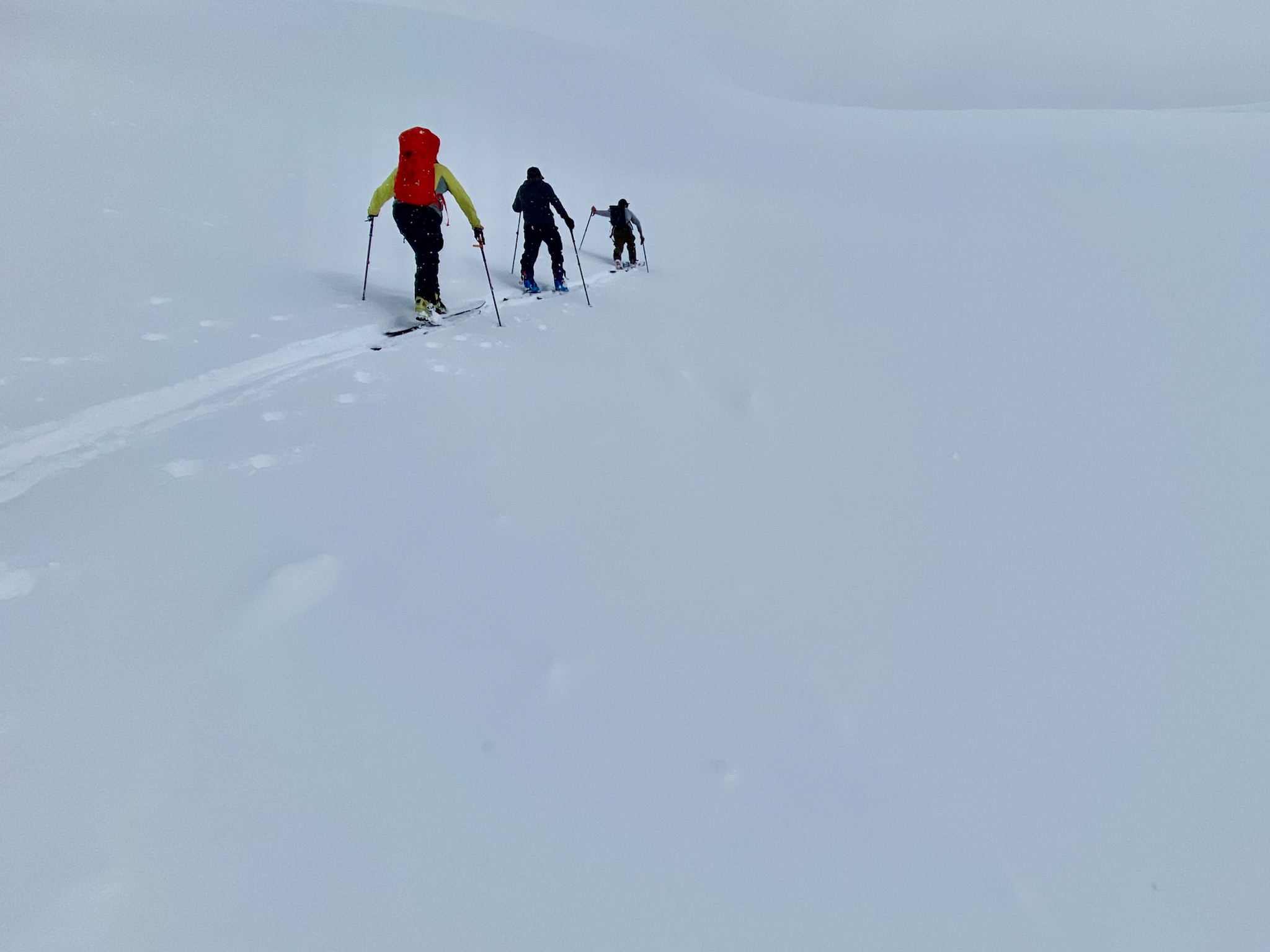 Patrol #3 crew assesses the snow stability below the Messner Couloir.  (NPS Photo / Dave Weber)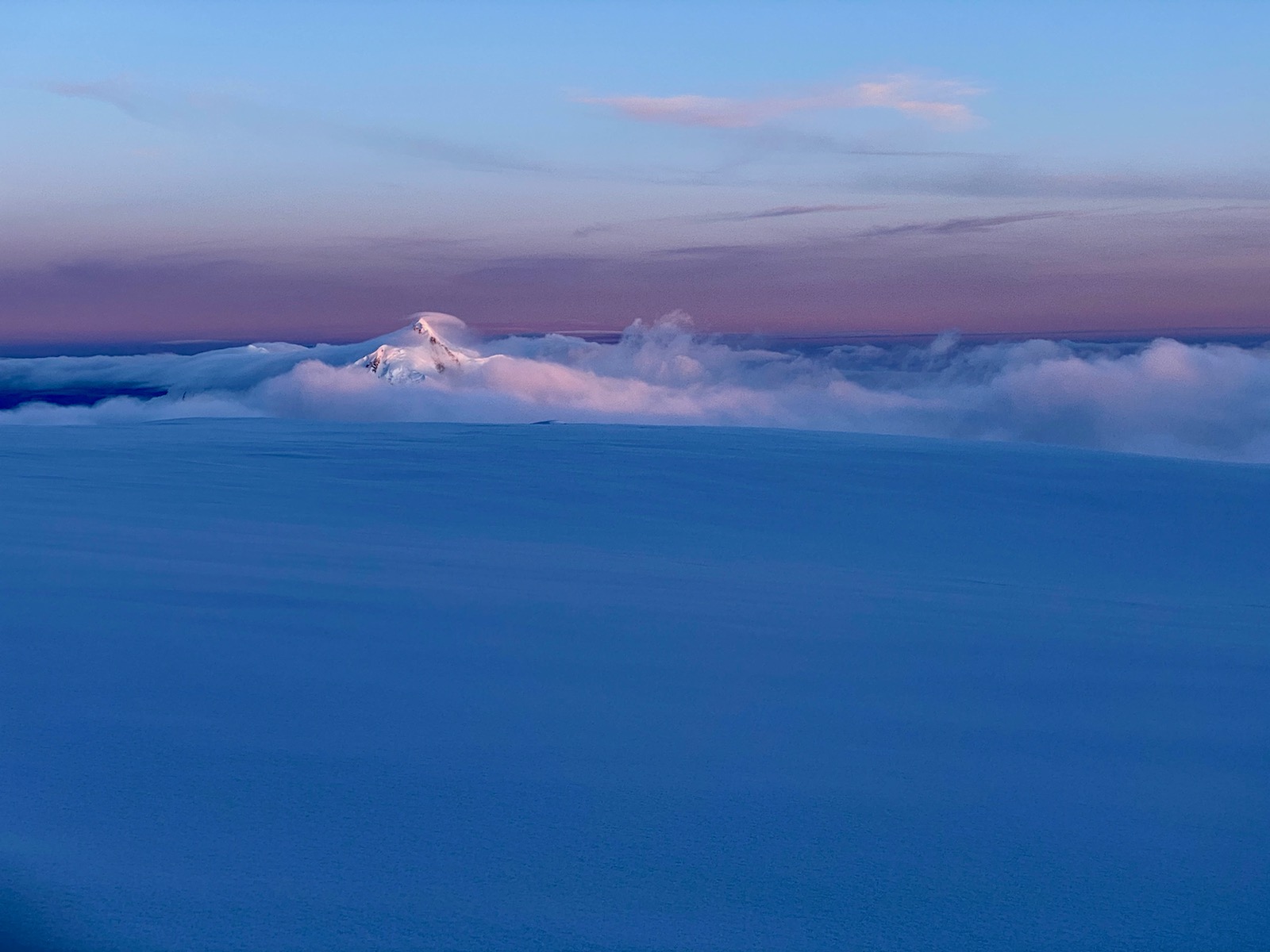 Sunset on Mount Hunter.  (NPS Photo / Dave Weber)