| | | |
| --- | --- | --- |
| TODAY'S STATS | Mt. McKinley | Mt. Foraker |
| Registered Climbers | 1,041 | 15 |
| Climbers Currently On Mountain | 444 | 4 |
| Completed Climbs | 428 | 11 |
| Number of Summits | 214 | 4 |
| Summit Percentage | 50% | 36% |

The Walter Harper Talkeetna Ranger Station also maintains a daily automated statistics phone line, so if this blog is lagging behind and you need up-to-date registration numbers, call (907) 733-9127. 

Weather Report
14,200 feet - Camp received 3 cm of new snow yesterday afternoon, but none overnight, for a final storm total of 18 cm. Currently, skies are clear -- all three summits are visible, but there is a cloud layer around 10,000 feet. Winds at 8 am were 16 mph out of the northeast, with gusts to 32 mph.    
In the last 12 hours:
Current temp:  0 F (-18 C)
Low temp:  0 F (-18 C)
High temp:   7 F (-14 C)   
7,200 feet -  Although it is not snowing currently, Basecamp received more 15 cm of snow in the last 12 hours for a final storm total of 79 cm. There are a few clouds over camp this morning, with wind plumes visible up high. Winds at 7,200 feet were steady at 5 mph from the east, with gusts to 13 mph.
In the last 12 hours:
Current temp: 28 F (-2 C)
Low temp: 25 F (-4 C)
High temp: 28 F (-2 C) 
National Weather Service forecast  

Ranger Update
NPS Denali Patrol #3 (Weber, 2 PJ's, 2 VIPs) is flying out of Basecamp this morning, just in the nick of time for Dave Weber to make it to his wife's graduation from her medical residency. (Congratulations Katie!) 
NPS Denali Patrol #4 (Chenoweth, 4 VIPs) will remain at 14,200-foot camp until Patrol #5 can come up and relieve them. They report most teams on the mountain are still staying put.  Although the snow has stopped, winds are quite strong.   
NPS Denali Patrol #5 (McBrayer, 4 VIPs) is still camped at 11,000 feet, along with a sizeable population of climbers waiting to go up.  In addition to heavy snowfall over the past several days, cold temperatures, blowing snow, and high winds (35 mph+) are making for a rather blustery day at 11K.  They will move up to 14,200-feet if conditions allow, probably tomorrow.  
NPS Basecamp Patrol #4 (Westman + 2 VIPs) swaps out with Basecamp Patrol #5, which consists of Ranger Mik Shain and volunteer Cory Virden.
NPS Denali Patrol #6 is (Gentzel, Corn, + 4 VIPs) flew in this morning, only one day late.  
The park's high altitude A Star B3e helicopter and crew, along with NPS rangers Joe Reichert and Chris Erickson, flew down to Mount Logan last night for assistance in a successful search and rescue in Canada's Kluane National Park. They are currently en route back to Talkeetna.  

Route Conditions
Ranger Dave Weber reports terrific, ski-able conditions between 14,200-foot camp and Basecamp, with the exception of icy conditions at Squirrel Hill.  He says it looks and feels more like May than mid-June. Teams all seem to be travelling on daytime schedules. 
As a result of significant recent snowfall, climbers are advised of heightened avalanche conditions both during and immediately following the storm. 

Photos of the Day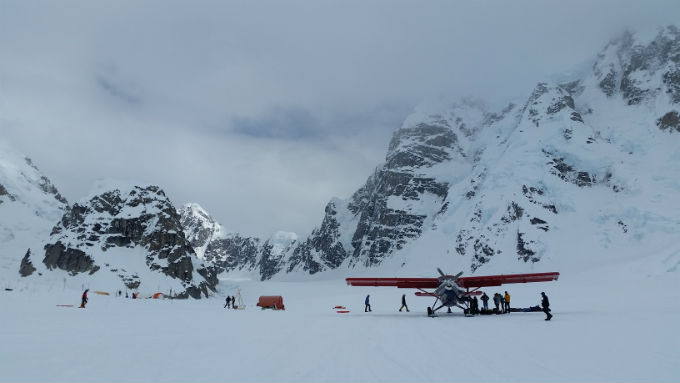 Everyone loves a fly day, particularly after a long storm.  NPS Photo/Kakiko Ramos-Leon