| | | |
| --- | --- | --- |
| TODAY'S STATS |     Denali     | Mt. Foraker |
| Registered Climbers | 1,208 | 17 |
| Climbers Currently On Mountain | 436 | 4 |
| Completed Climbs | 613 | 13 |
| Number of Summits | 309 | 0 |
| Summit Percentage | 50% | 0% |
The Walter Harper Talkeetna Ranger Station also maintains a daily automated statistics phone line, so if this blog is lagging behind and you need up-to-date registration numbers, call (907) 733-9127.
Mountain Weather

From Allison at 7K:  "Another great morning! Some clouds coming over from N Hunter, a few clouds across to Foraker, 31deg, low of 30, lite downglacier wind, runway hard/crusty."

From Mark at 14K: "Clear and calm at 14. Some low clouds on both sides of the Alaska Range."



Weather station telemetry data from 7K and 14K are transmitted hourly to the MesoWest website, including temperatures, wind speed, wind direction, snowfall, and solar radiation.  MountainWeather.com compiles a Denali Weather page, complete with links to the MesoWest data, the NWS Denali Climbing Forecasts, as well as links to FAA webcams. 

Click here for the National Weather Service Denali Climbing Forecast

Click here for the FAA webcam on the Kahiltna Glacier. 


Ranger Reports
NPS 14K Patrols #4
and #5
- (Weber, Gault)  Was a solid work day at high camp yesterday - the patrol(s) inventoried the rescue cache, and received a helo re-supply of food and rescue gear thanks to a visit from (Pilot) Andy and (South District Ranger) Tucker yesterday.  Weather is still lovely, with 30 or so climbers heading to the summit yesterday. 
NPS 14K Patrol #6
- (Westman)  Patrol #6 also enjoyed a visit from Andy and Tucker yesterday, who brought in a new battery bank for the camp solar system. 
NPS 14K Patrol #7
- (Beren)  Jake and crew are doing a carry today to 11,000-foot camp, then will return to 7,800 camp for the night.
NPS 7K Patrol #6
 - (Coady)   The patrol is taking turns getting out of camp for day trips, while someone always remains in camp for communications. 
NPS Muldrow Patrol #8 - Meet the final Denali patrol to head up for the season -- they launch on foot from Wonder Lake Campground today for an ascent of the historic Muldrow Glacier Route. Leading the team is Ranger Joey McBrayer, (pictured below wearing grey, with his eyes closed, quietly contemplating the team's upcoming river crossings). He'll be joined by VIP Jen Raffaeli, VIP Yoshiko Miyazaki-Back, VIP Mike Raffaeli, and VIP Kakiko Ramos Leon.  Joining them on the photo shoot are Disco, Venture, and Gladys, three of the Denali National Park sled dogs who helped haul and cache gear at McGonagall Pass this past winter! Although their participation on this patrol is on a volunteer basis, Jen Raffaeli's day job is Manager of the Park Kennels, and Mike Raffaeli's day job is a Denali Interpretation Coach and frequent winter kennels VIP.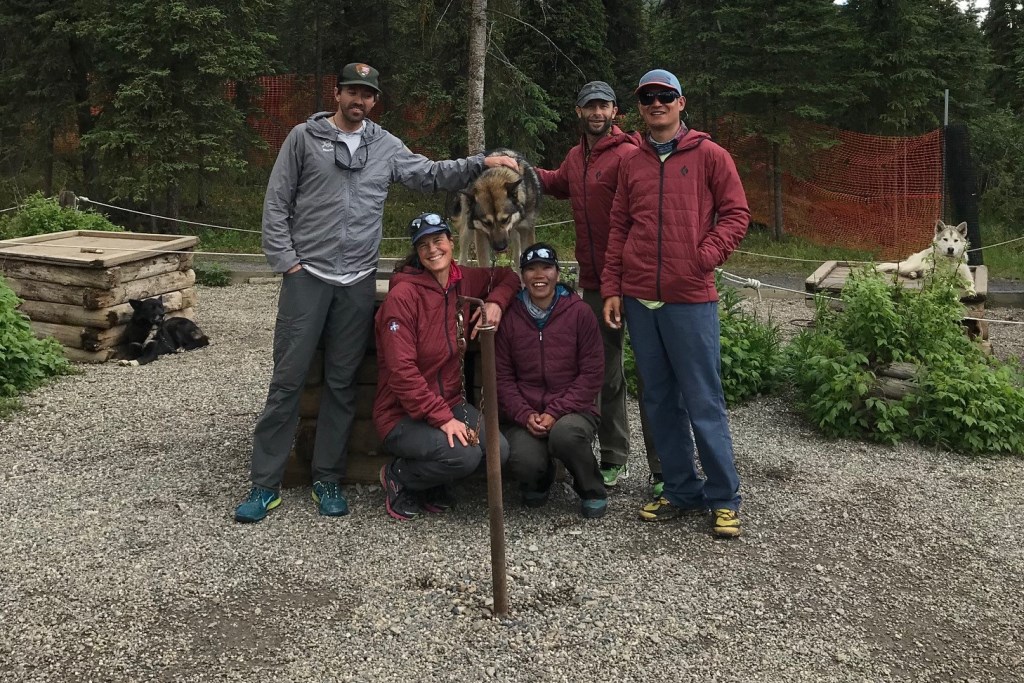 NPS Photo
***For more tales from the hill, check out Denali Rescue Volunteers (DRV) on Facebook and Instagram.***

Photo of the Day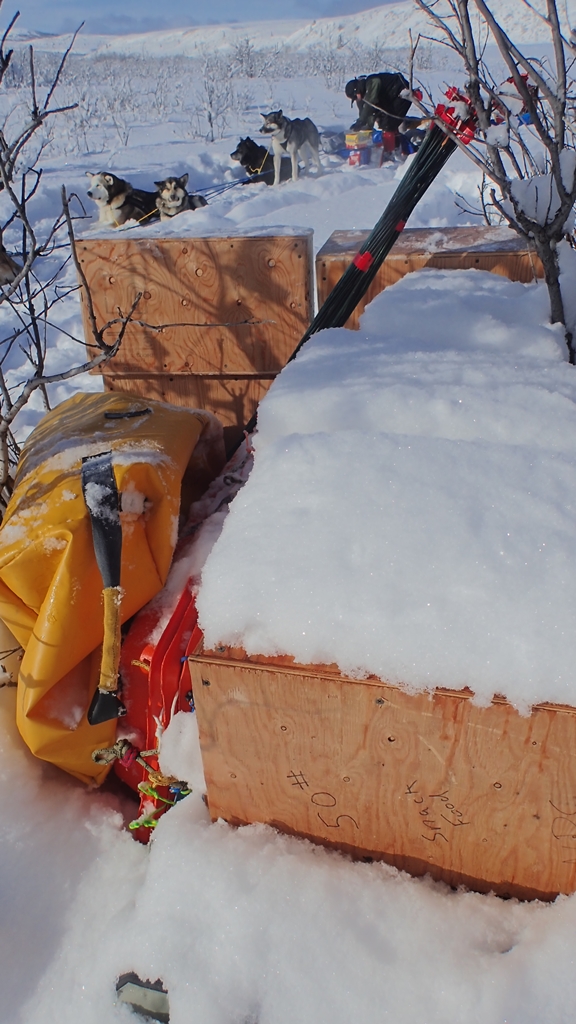 We'll be sharing more photos of the dog team caching expedition in the weeks to come.  This image gives an initial idea of the patrol's gear cache that was freighted into McGonagall Pass in March by Denali National Park's dog team and kennels staff (including patrol VIPs Jen and Mike Raffaeli). The boxes contain additional stock of food, fuel, and expedition gear that will be needed at higher elevations. (NPS Photo)