| | | |
| --- | --- | --- |
| TODAY'S STATS |     Denali     | Mt. Foraker |
| Registered Climbers | 1,205 | 17 |
| Climbers Currently On Mountain | 453 | 4 |
| Completed Climbs | 572 | 13 |
| Number of Summits | 273 | 0 |
| Summit Percentage | 48% | 0% |
The Walter Harper Talkeetna Ranger Station also maintains a daily automated statistics phone line, so if this blog is lagging behind and you need up-to-date registration numbers, call (907) 733-9127.
Mountain Weather

From Allison at 7K:  "Another bluebird morning! 30 degrees, low was 30, lite downglacier wind, runway is hard and bumpy."

From Mark at 14K: "Clear and calm at 14. Low clouds on N side."

From Dave at 17K:  "Feels like groundhog days of summit weather. Another clear calm morning today. This is my favorite kind of low pressure, the kind that feels like high pressure."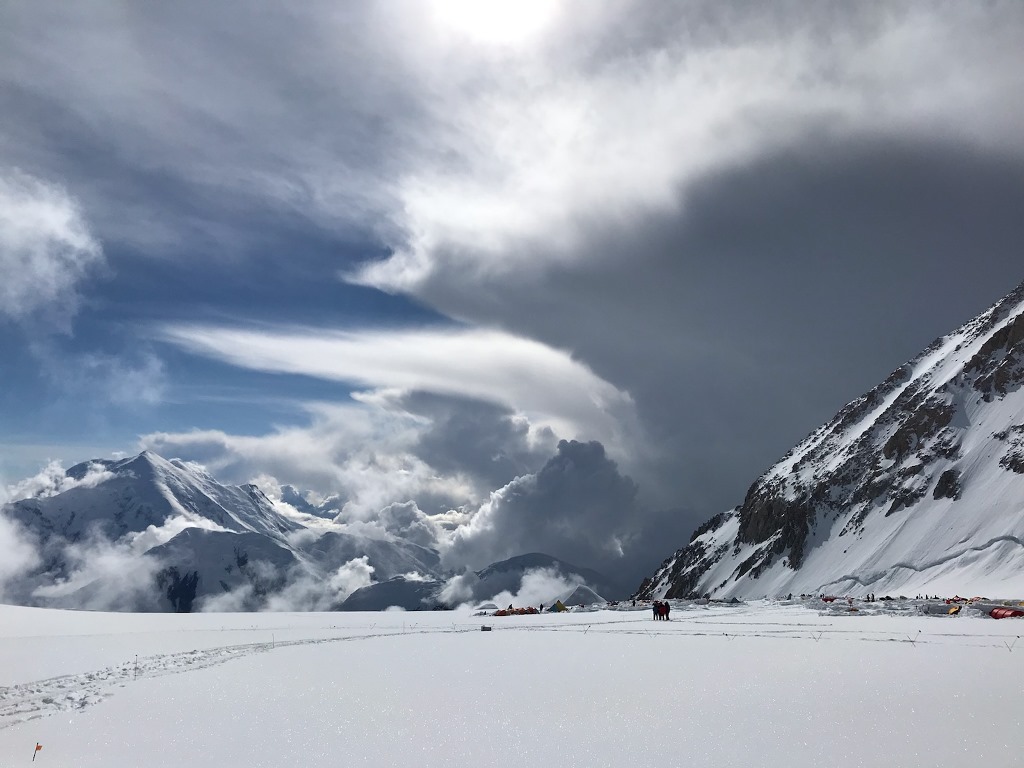 A thunderstorm dwarfs Mount Foraker at around 6:00 pm last night (Monday, June 10). Although the morning skies have been blue and sunny in the last week, small but dramatic storms have been common in the afternoon/evenings. At the time this photo was taken, winds were dead calm. (NPS Photo / Mark Westman) 


Weather station telemetry data from 7K and 14K are transmitted hourly to the MesoWest website, including temperatures, wind speed, wind direction, snowfall, and solar radiation.  MountainWeather.com compiles a Denali Weather page, complete with links to the MesoWest data, the NWS Denali Climbing Forecasts, as well as links to FAA webcams. 

Click here for the National Weather Service Denali Climbing Forecast

Click here for the FAA webcam on the Kahiltna Glacier. 

Route Conditions

Frank Preston, who just flew off a basecamp patrol yesterday, reports the lower glacier is still in FANTASTIC condition.  At least before 9 am.  Warm mid-day temps are more conducive to napping than skiing, but overnight and early morning travel is perfect.  On his way out, helo pilot Andy Hermansky flew the main trail up to 11K, and the route still looks great. No crevasses have opened up yet, although from the air, looks like it could be imminent with a few more warm days.
 
Ranger Reports
NPS 14K Patrols #4
and #5
- (Weber, Gault)  Not ones to stay idle in the face of extraordinary summit weather, Dave, Vic, and Shane (Patrol #4) decided to climb to the North summit yesterday.  Speaking of extraordinary, the patrol ran into Cody & Clay who were camped at Denali Pass, a team on Day 80 of their bike/climb/paddle expedition from Salt Lake City.  Meanwhile, Pat and Eric (Patrol #5) have now joined forces at 17K having ascended yesterday afternoon.  Overall, the high camp population is starting to thin out up there, with ony 15 to 20 individuals going for the South Summit yesterday. 
NPS 14K Patrol #6
- (Westman)  Patrol #6 has been caring for a patient with pulmonary edema at 14 camp. The sick climber will be evacuated this afternoon in conjunction with a 14K re-supply mission.
NPS 14K Patrol #7
- (Beren)  Drum roll, please...a group photo was found (thank you Crystal!) Seated from left to right: PJ John Mellencamp, VIP Billy Masterson, NPS Ranger Jake Beren, VIP Sean Hart, and VIP John Mortimer.  Lounging thoughtfully, is VIP Jeff Perambo.  According to sources on the hill, the team was moving to 7,800-foot camp this morning.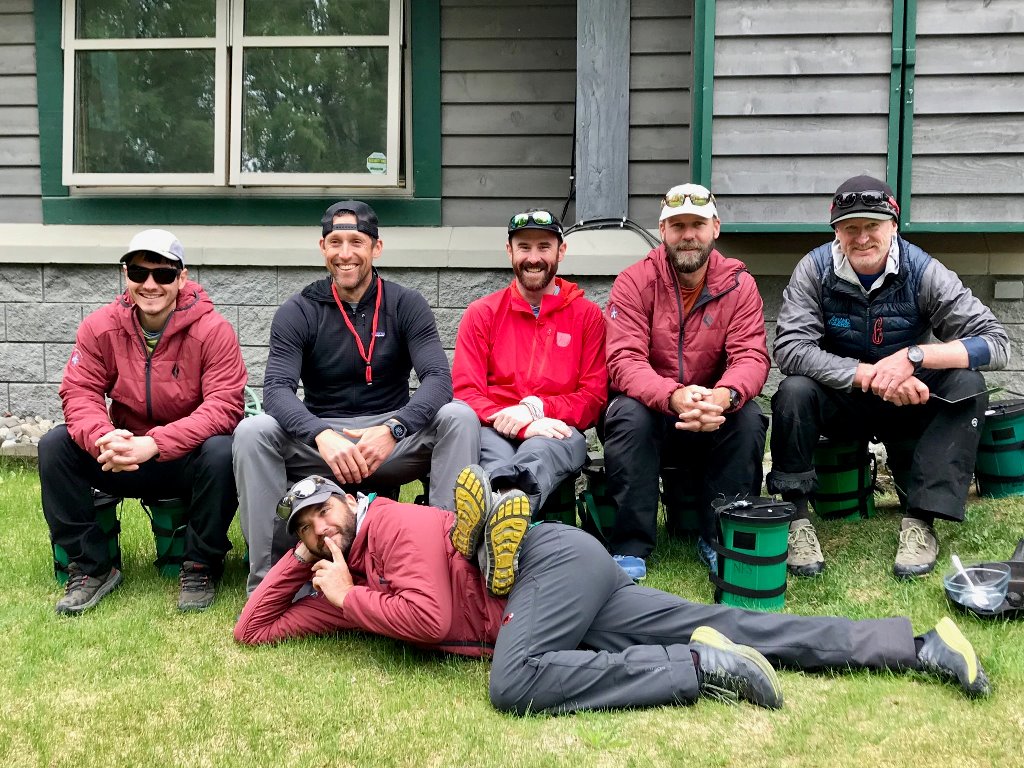 Photo courtesy of Crystal Masterson
NPS 7K Patrol #6
 - (Coady)   Ranger Melis Coady and three VIPs: Joyce Jenkins, Emily Sullivan, and Brooke Edwards took command of Basecamp yesterday, just in time to work crowd control at a  concert on the glacier, courtesy of Talkeetna Air Taxi band Vertical Horizon. 
NPS Muldrow Patrol #7 - 
Today, Ranger Joseph McBrayer is driving out the park road to Wonder Lake with four VIPs to climb Denali via the Muldrow Glacier route.  We'll introduce them all tomorrow, along with several of the park sled dogs that made this patrol possible.  
***For more tales from the hill, check out Denali Rescue Volunteers (DRV) on Facebook and Instagram.***

Photo of the Day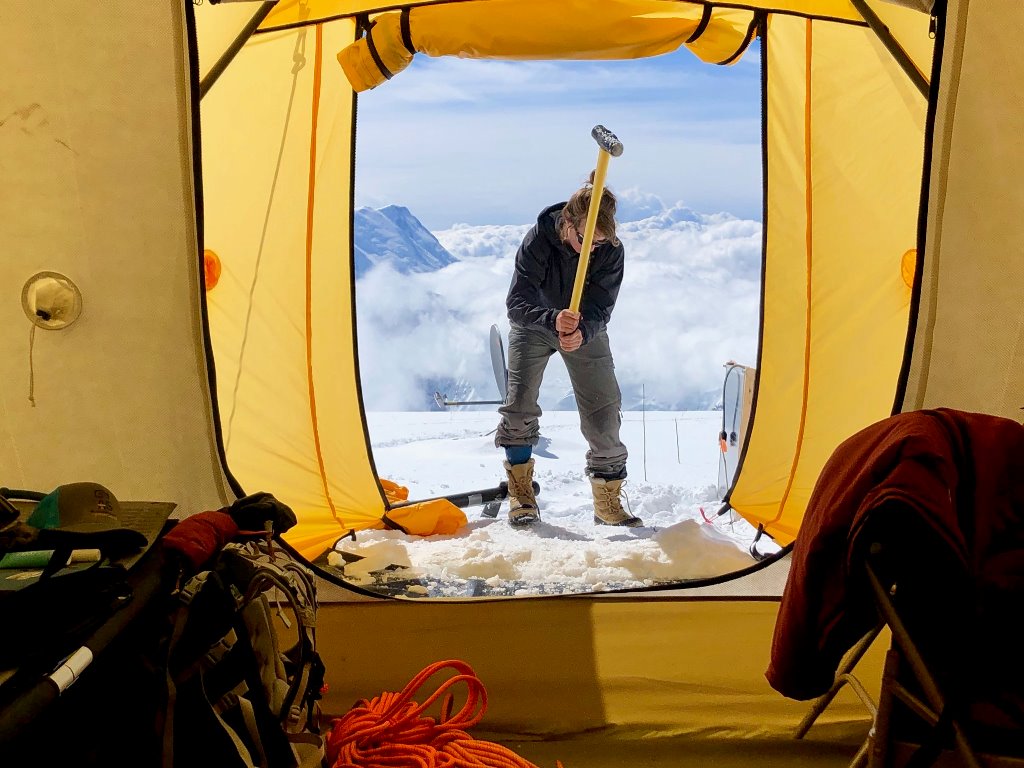 VIP Karsen Cullen applying some muscle.   (Photo courtesy of VIP Eric Wickenheiser)