| | | |
| --- | --- | --- |
| TODAY'S STATS |     Denali     | Mt. Foraker |
| Registered Climbers | 1,083 | 9 |
| Climbers Currently On Mountain | 426 | 0 |
| Completed Climbs | 518 | 7 |
| Number of Summits | 258 | 0 |
| Summit Percentage | 50% | 0% |
The Walter Harper Talkeetna Ranger Station also maintains a daily automated statistics phone line, so if this blog is lagging behind and you need up-to-date registration numbers, call (907) 733-9127.
Mountain Weather

Click here for today's National Weather Service Denali Climbing Forecast.  

And here for the Kahiltna webcam:  https://avcams.faa.gov/  

7,200 camp:  Yesterday sounded miserable, with snow and sleet and low visibility, but this morning there were only a few clouds, with fog sitting on the lower Kahiltna.  It was windy at basecamp this morning, 11 mph out of the east, with gusts to 29 mph.  They received 3 cm of snow accumulation overnight.   
In the last 12 hours:
Current temp (8 am): -6 C (21 F)
High temp:  -3 C  (27 F)
Low temp: -6 C  (21 F)
14,200 camp:  Clear morning at 14K, however with wind transported snow. Winds was generally calm at 2 mph out of the northeast, with gusts to 34 mph.  Which was an improvement on yesterday and last night, when the high wind speeds were clocked at 51 mph out the northeast.  Snow accumulation was 5 cm overnight, but in the past 48 hours, the storm total was 36 cm.
In the last 12 hours:
Current temp (8 am): -24 C (-11 F)
High temp: -19 C  (-2 F)
Low temp: -25 C  (-13 F)
 
Ranger Update
 
NPS Denali (14K) Patrol #3: 
(Rgr Erickson, Rgr Beren, VIP Bracher, VIP Mock, VIP Weaver) The patrol members flew off Denali today, and are currently enjoying their first hot showers in a month. They reported an epic and slow ski down from 14K to 7K yesterday with high winds, blowing 'ice chunks' of sleet, and minimal visibility.  They described moving around Windy Corner was like getting hit with a hammer. But in a good way. Great fun was had by all.
NPS Denali (14K) Patrol #5:
  (Rgr Weber, VIP Treat, VIP Malone, VIP Scheele, VIP Byers, PJ Kirby)  The medical tent was clear of patients over the weekend, and most of 14 camp spent all of Sunday hunkered down in high winds. They believe only two teams remained at high camp during the recent storm, most had descended to 14 camp to endure it there. 
NPS Denali (14K) Patrol #6:
Ranger Melis Coady flew into basecamp today to begin the last full 14K patrol of the season (one more short 'cleanup' patrol is scheduled to fly in later in the month), along with Volunteers-in-Parks (VIPs) Kirby Senden, Jennifer Nissenbaum, and the father and son duo of Dale Atkins and Sam Atkins.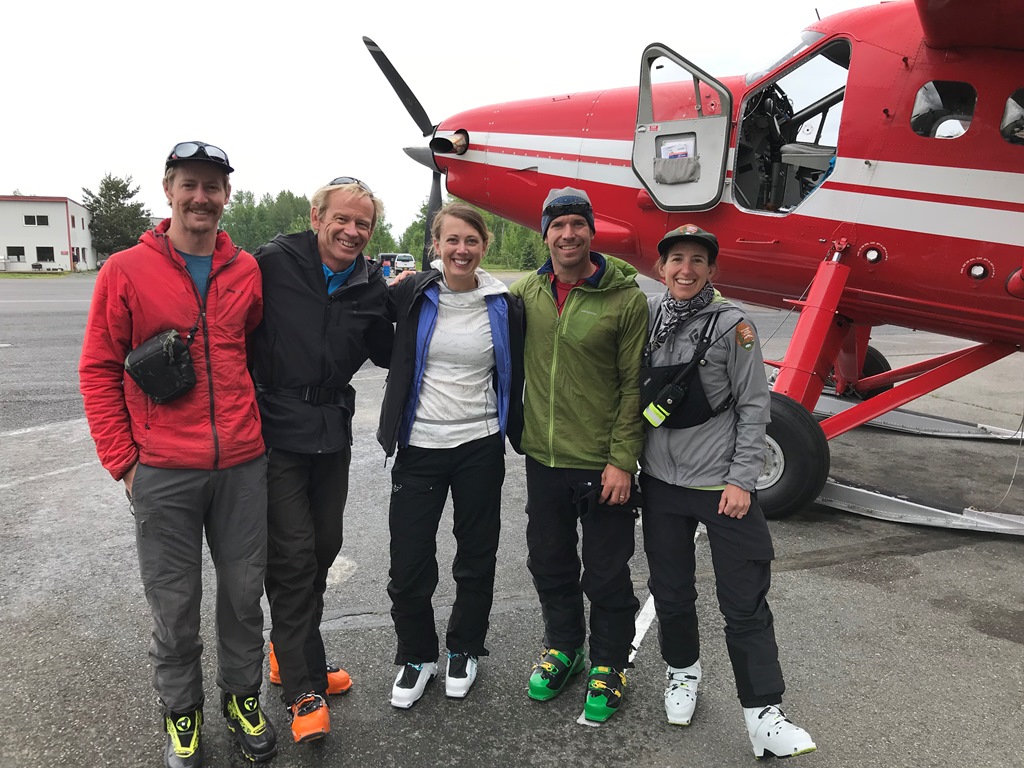 Left to right: Sam Adkins, Dale Atkins, Jennifer Nissenbaum, Kirby Senden, Ranger Melis Coady. (NPS Photo/Joey McBrayer)    
NPS Basecamp (7K) Patrols #4 and #5:
  (Rgr Westman, VIP Weaver...VIP Goss) Mark Westman and Katie Weaver flew out on Saturday, with Mark heading back in to basecamp for another week starting tomorrow, Tuesday, accompanied by Volunteer-in-Parks Amanda Goss.   
Search and Rescue Activity
 
None!  Knock on wood.

Route Conditions
 
For the most part, the lower glacier remains in comparatively good condition for mid-June.  However, the long high pressure system of the last two weeks has ended, changing to snow and high wind. As during any period marked by a substantial change in weather like this, avalanche potential is elevated.   
Photo of the Day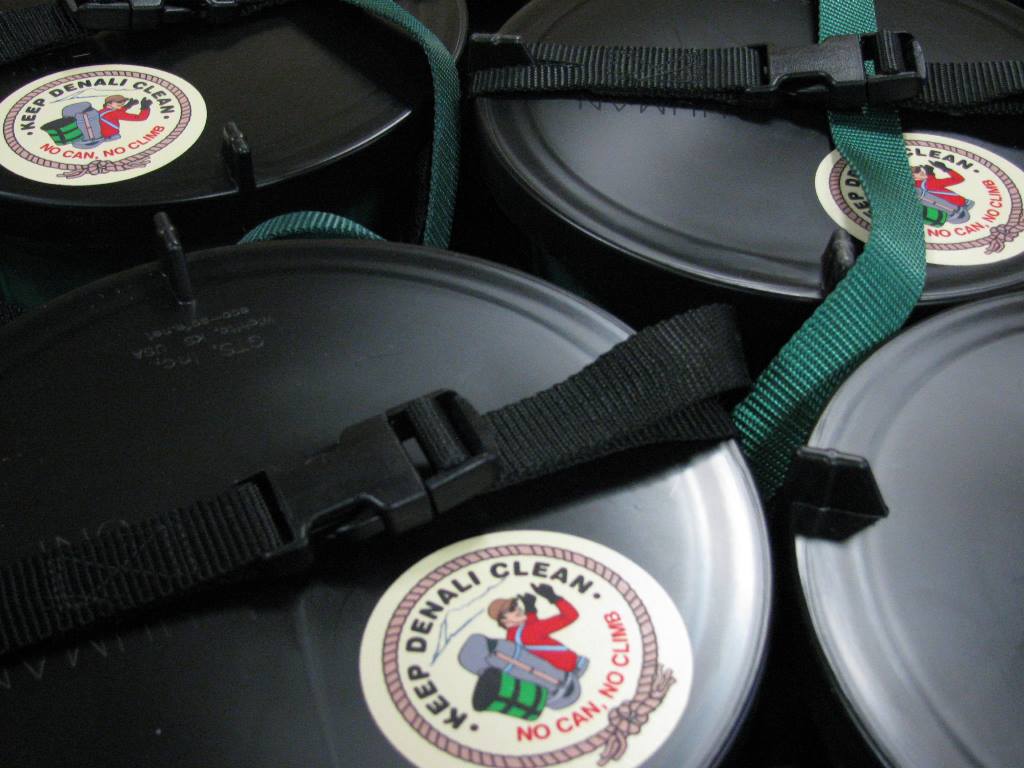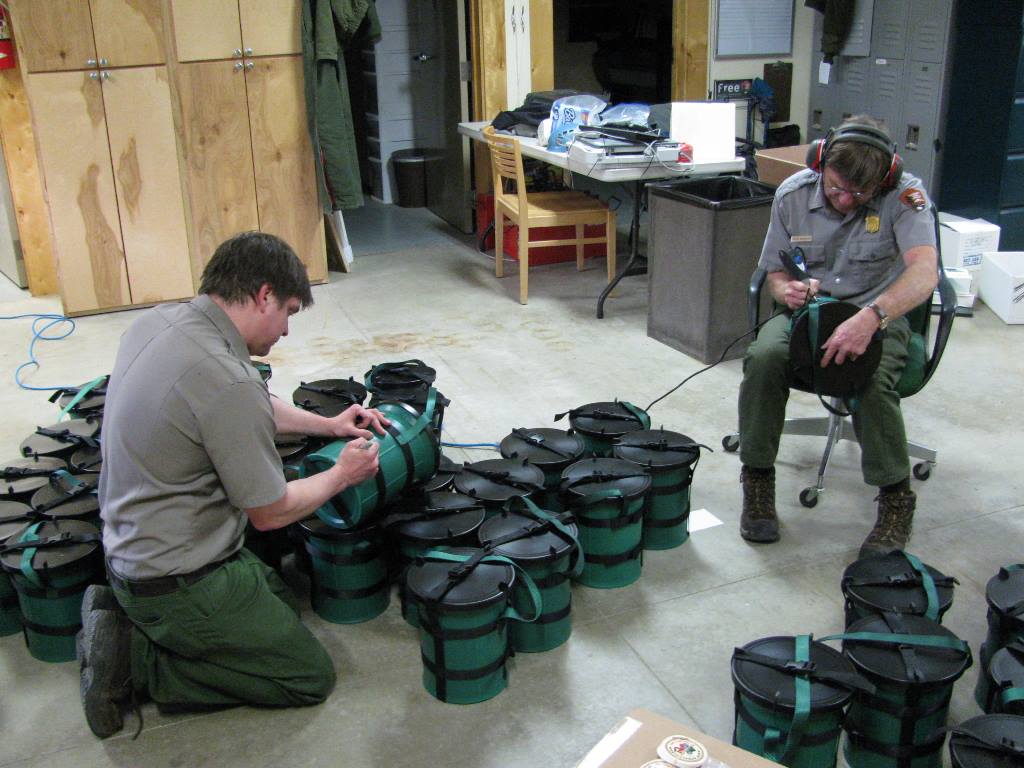 Rangers Geoff Pfeiffer and Roger Robinson set to work engraving numbers on a shipment of new Clean Mountain Cans, "keeping Denali Clean" one can at a time.  This week, both Roger and Pam Robinson are in Chamonix, France attending the 2018 Sustainable Summits Conference. This is the fourth international conference of its kind, addressing impacts of human activities in the world's high mountain environments, and developing sustainable solutions.  For more information:   
https://www.sustainable-summits2018.org/sutainable-summits-conference-en