| | | |
| --- | --- | --- |
| TODAY'S STATS | Mt. McKinley | Mt. Foraker |
| Registered Climbers | 984 | 15 |
| Climbers Currently On Mountain | 442 | 4 |
| Completed Climbs | 231 | 9 |
| Number of Summits | 59 | 4 |
| Summit Percentage | 25% | 44% |

The Walter Harper Talkeetna Ranger Station also maintains a daily automated statistics phone line, so if this blog is lagging behind and you need up-to-date registration numbers, call (907) 733-9127. 

Weather Report
14,200 feet - Clear, sunny skies over camp today, but the wind has started to kick up after a relatively calm weekend.  There was no new snow in the past several days.  And unfortunately, the weather monitoring equipment at 14,200-feet is out-of-service this morning, so today's observations are more general and anecdotal: mountain weather is starting to shift, and 14,200-camp is colder and windier today.  Last night, wind gusts estimated between 40 to 50 mph blew over solar panels and other camp equipment.       
Recorded last night at 8:00PM: 
Low temp: 12 F (-11 C) 
High temp: 21 F (-6 C)   
7,200 feet - There are a few high cirrus clouds today, with moist cumulus clouds over Mt. Foraker. Julie at Basecamp reports windier conditions as well, with an 8:00 am windspeed of 12 mph from the east, gusting to 33 mph from the northeast.  No new snow.  Over the sunny weekend, daytime temperatures on the lower glacier rose to 45 F (7 C), resulting in very punchy snow.
In the last 12 hours:
Current temp: 36 (2 C)
Low temp: 34 F (1 C)
High temp: 36 F (2 C)


National Weather Service forecast  

Ranger Update
NPS Denali Patrol #2 (Shain + 3 VIPs) have been camped at 17,200-feet since last Thursday, and will descend to 14,200-feet later today.  Its been a busy, but safe stretch at high camp, with many teams moving up and down the higher elevations of Denali, with no illnesses or accidents of mention.  On Saturday, the patrol re-routed the trail up the Autobahn (the traverse to Denali Pass).  See Route Conditions section for more information.   
NPS Denali Patrol #3 (Weber, 2 PJ's, 2 VIPs) will move up to high camp today, swapping out positions with Patrol #2.  Over the weekend, they took multiple acclimatization trips up high. Yesterday, Ranger Weber and VIP Shane Treat climbed from 14,200-foot camp to the Football Field at 19,200-feet via the Upper West Rib route, then descended back to 14K camp via the West Buttress. They report great (quick) climbing conditions with firm footing. 
NPS Denali Patrol #4 (Chenoweth, 4 VIPs)  Patrol #4 will reach 14,200-foot camp today, and take over those operations from Patrol #3.
NPS Basecamp Patrol #3 (Corn +1 VIP) are patrolling at 7,200-feet, where most climbers are now on a night schedule due to the hot, sunny daytime temperatures and punchy trail conditions. 


Route Conditions
The route up the Autobahn to Denali Pass (between 17,400-ft to 18,200-ft) was re-routed and wanded by NPS Patrol #2 on Saturday.  They placed 27 pickets with draws, well-spaced for teams with 60 meter ropes. The pickets/draws (photo below) are clearly marked with durable wands.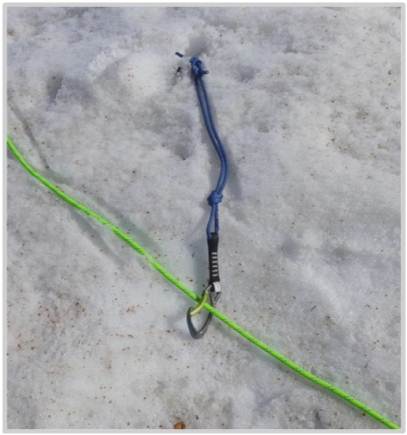 As mentioned above, news from Basecamp is that a night schedule is advised for all teams travelling on the lower glacier.  Sunny, hot daytime temperatures have made for softer trail conditions.   

Photo of the Day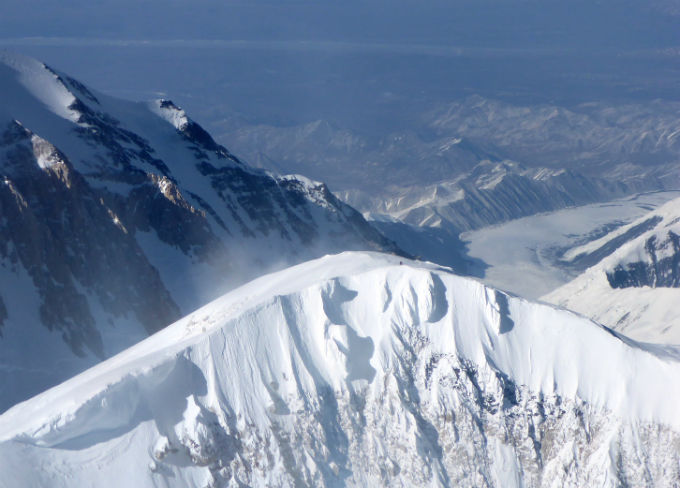 The tiny specks visible on the snowy summit of Denali are Kyle Story and Bill Whitney, the first two climbers of the spring season to reach the top. (Winter soloist Lonnie Dupre summitted in January 2015.) This photo was taken by flightseeing passenger Rita Hartinger, who captured the moment on May 17, at a time when the upper mountain was a quiet and lonely place. This past weekend, we expect hundreds of climbers reached the top of the peak in mild, calm weather...and our daily statistics should rise accordingly in upcoming days.  (Photo courtesy of Rita Hartinger)