| | | |
| --- | --- | --- |
| TODAY'S STATS |     Denali     | Mt. Foraker |
| Registered Climbers | 1,029 | 7 |
| Climbers Currently On Mountain | 523 | 1 |
| Completed Climbs | 201 | 6 |
| Number of Summits | 64 | 0 |
| Summit Percentage | 32% | 0% |
The Walter Harper Talkeetna Ranger Station also maintains a daily automated statistics phone line, so if this blog is lagging behind and you need up-to-date registration numbers, call (907) 733-9127.
Mountain Weather

Click here for today's National Weather Service Denali Climbing Forecast.  

And here for the Kahiltna webcam:  https://avcams.faa.gov/  

7,200 camp:  Doesn't get much nicer than this. Clear skies, a breeze of 6 mph out of the east with gusts to 15 mph. No precipitation in the past 24 hours.
In the last 12 hours:
Current temp (8 am): -6 C (21 F)
High temp:  -3 C  (27 F)
Low temp: -8 C  (18 F)
14,200 camp:   Clear skies, winds calm at 3 mph out of the northeast, with max wind speed of 6 mph out of the north. 
In the last 12 hours:
Current temp (8 am): -23 C (-9 F)
High temp: -13 C  (9 F)
Low temp: -26 C  (-15 F)
 
Ranger Update
 
NPS Denali (14K) Patrol #2: 
(Rgr McBrayer, VIP Desmond, VIP Martin, VIP Ramos-Leon, VIP Weinberg)  The patrol is heading downhill today, final destination Basecamp for a scheduled Saturday fly-out.  Last night they treated and assisted in the high altitude evacuation of a sick climber at 17,200 feet. The patient was showing signs of high altitude cerebral edema (HACE) upon  reaching the 17K high camp after 4 or 5 days on the mountain. 
NPS Denali (14K) Patrol #3: 
(Rgr Erickson, VIP Bracher, VIP Mock, VIP Weaver)  Patrol's #2 and #3 will be ships passing in the night, as Joey's patrol descends, Chris and company move up the fixed lines to high camp for the next several days.   
NPS Denali (14K) Patrol #4:
  (Rgr Chenoweth, NPS Beren, NPS Loso, NPS Sykes, VIP Kreiger)  The team is finishing up the work on the 14 camp weather station today. They will remain in camp several more days until Patrol #5 reaches 14K. 
NPS Denali (14K) Patrol #5:
  (Rgr Weber, VIP Treat, VIP Malone, VIP Scheele, VIP Byers, PJ Kirby)  Today the patrol was heading from basecamp to 7,800 feet, with plans to move higher over the weekend.  Gauging by the high number of climber orientations at the ranger station in the past several days, they will not be lacking for company on the trail.    
NPS Basecamp (7K) Patrols #3 & #4:
  Ranger Coady and VIP Wadsworth will swap positions this weekend with Ranger Mark Westman and returning VIP Katie Weaver taking over the NPS reigns at 7K.   
Route Conditions
 
Most routes on
Denali
remain in excellent travelling condition, as per recent blog entries.  Climbers are still generally moving on a day schedule.
A couple teams recently returned from climbs of the
West Ridge of Mount Hunter
in the past few days, reporting "Wonderful climb, early season conditions, lots of snow" and "deep stable snow conditions", respectively.  (One team left an excellent, detailed route description in the Conditions Report binder at the front desk.)  (May 20>28)
Bacon & Eggs
has 'solid ice. Really fun route. V threads were in." (May 2>24)
"Climbed
SW Ridge of Frances
in 13 hours. Super fun, boot pack was in." (May 2>24)
"Climbed
Kahiltna Dome via North Ridge
. Climbed to 11,000 feet, found wind loaded slopes on NW side of ridge, and wind scoured slopes on SE side of ridge.  Heavily crevassed, snow bridges are unsupported." (May 20>26)
"
Harvard Route on Mount Huntington
– Left approach unusable, right approach has a sagging snow bridge that might go soon.  Shrund challenging, pass on left below the toe of the buttress left of access couloir. Snow mostly ok, some unconsolidated, some nevé.  Rock/mixed pitches good, belays often buried. Enough snow at the nose to pitch a bivy tent.  Mixed pitch after the nose has nevé over rock, challenging.  We bailed at the junction with the West Face Couloir, solid v-threads all the way down.  Good nevé downclimb below, cross shrund down avalanche path."     
Photo of the Day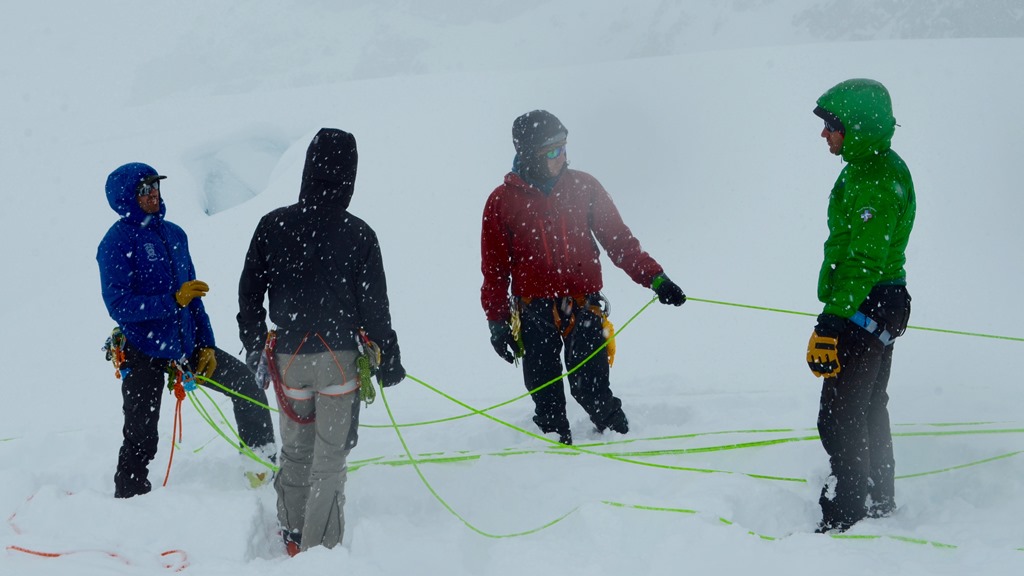 Ranger Joseph McBrayer (far left) discusses crevasse rescue at the base of Mount Frances with fellow patrol volunteers at the onset of their patrol in snowy early May.  The team finishes up their patrol this weekend.  Photo courtesy of Arthur Eng.