| | | |
| --- | --- | --- |
| TODAY'S STATS |     Denali     | Mt. Foraker |
| Registered Climbers | 1,230 | 21 |
| Climbers Currently On Mountain | 67 | 0 |
| Completed Climbs | 1,162 | 21 |
| Number of Summits | 738 | 8 |
| Summit Percentage | 64% | 38% |
The Walter Harper Talkeetna Ranger Station also maintains a daily automated statistics phone line, so if this blog is lagging behind and you need up-to-date registration numbers, call (907) 733-9127.
Mountain Weather

All basecamp managers are DONE and out for the season! 

Weather station telemetry data from 7K and 14K are transmitted hourly to the MesoWest website, including temperatures, wind speed, wind direction, snowfall, and solar radiation.  MountainWeather.com compiles a Denali Weather page, complete with links to the MesoWest data, the NWS Denali Climbing Forecasts, as well as links to FAA webcams. 

Click here for the National Weather Service Denali Climbing Forecast

Click here for the FAA webcam on the Kahiltna Glacier. 


Ranger Reports
NPS Muldrow Patrol #8 -
 (McBrayer)  Joey, Jen, Michael, Yoshiko, and Kakiko flew out of the ranger early yesterday morning after pulling an all nighter.   The patrol ended in a flurry of activity, including one fnal medical evac to Talkeetna on Saturday, and then a full day slinging loads down to the basecamp.  Joey described the flight out as apocalyptic, with smoke from local and regional forest fires reducing visibility to around 3 miles at times, despite the sun in the sky. 
A few flights of gear will get flown off via fixed wing in the next day or two, with the remainder staying put until the US Army Blackhawks assist with camp flyout sometime in the next couple weeks.  
Based on where teams were located a couple days ago, Joey's prediction is for all climbers to flown out of Basecamp today (Tuesday), leaving an empty, lonely mountain.  We'll check back in tomorrow to see what the Vegas odds paid out.

Photos of the Day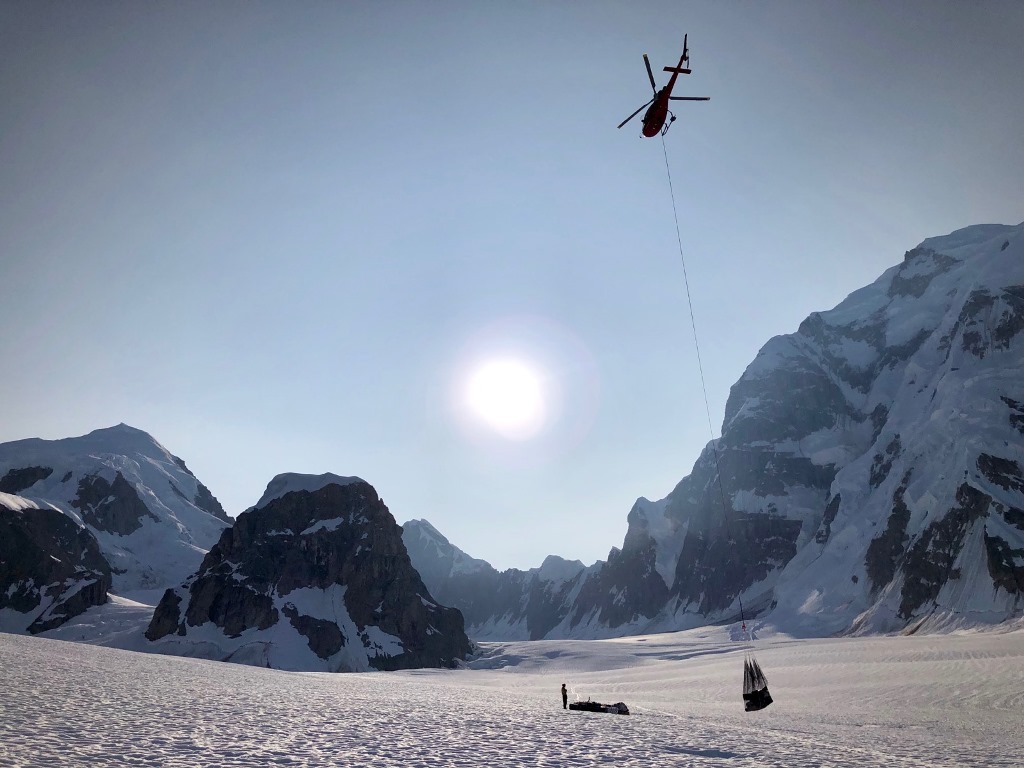 TEMSCO pilot Andy Hermansky gracefully delivers a netload of Action Packers next to the waiting arms of ranger Travis Baldwin on the Southeast Fork of the Kahiltna Glacier on Saturday, July 6.  NPS Photo / Dave Weber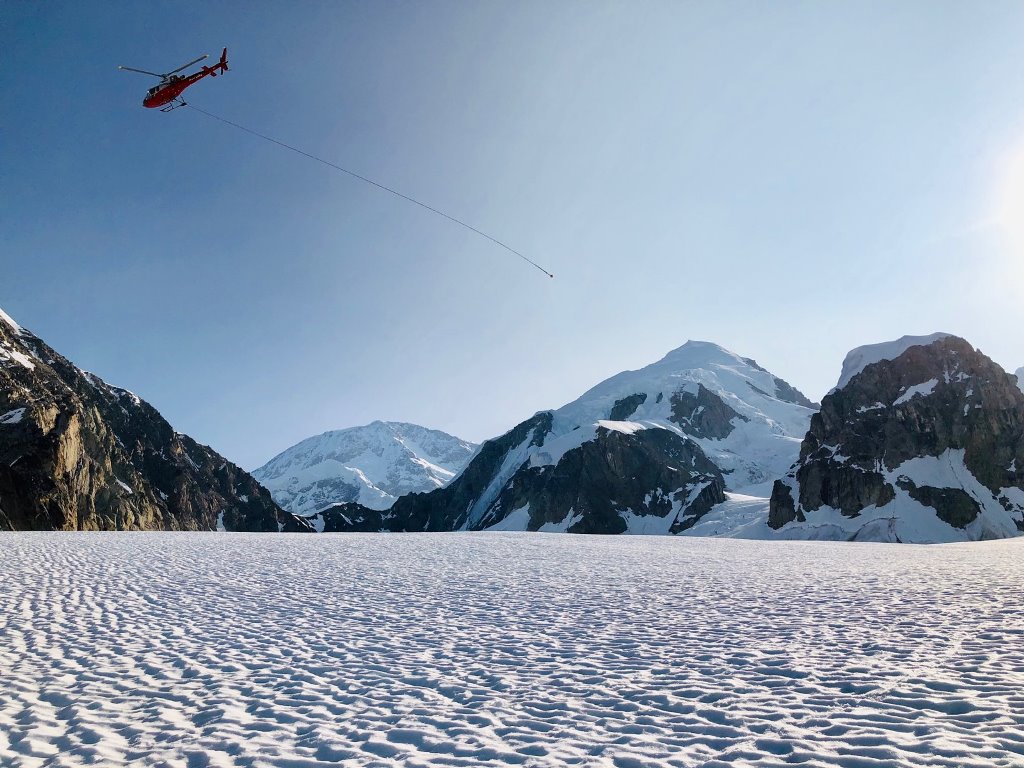 Pilot Andy heads back to 14,200-foot camp for another netload.  The heavily sun-cupped Kahiltna Glacier provides vivid evidence of the record-breaking heat wave currently hitting Alaska. Denali lies in the distance, poised to say goodbye to the 2019 climbing season.  NPS Photo / Dave Weber