| | | |
| --- | --- | --- |
| TODAY'S STATS |     Denali     | Mt. Foraker |
| Registered Climbers | 1,115 | 7 |
| Climbers Currently On Mountain | 142 | 0 |
| Completed Climbs | 972 | 7 |
| Number of Summits | 450 | 0 |
| Summit Percentage | 46% | 0% |
The Walter Harper Talkeetna Ranger Station also maintains a daily automated statistics phone line, so if this blog is lagging behind and you need up-to-date registration numbers, call (907) 733-9127.
Mountain Weather

Click here for today's National Weather Service Denali Climbing Forecast.  

And here for the Kahiltna webcam:  https://avcams.faa.gov/  

7,200 camp:   Sounds like a stunning morning in there, but we don't have weather details for the last few days as Lisa has been packing up for the season.  Today, she flies out for good!
 
14,200 camp:  Scattered cirrus clouds with no snow in the last several days. Winds were 5 out of the northeast, gusting to 28 out of the northeast.
In the last 12 hours:
Current temp (8 am): -9 C (16 F)
High temp: -8 C  (18 F)
Low temp: -12 C  (10 F)
 
Ranger Update
 
NPS Denali (14K) Patrol #6:
 (Rgr Coady, VIP Atkins, VIP Atkins, VIP Nissenbaum, VIP Senden) The patrol is heading up the fixed lines as we speak, for the final mop-up effort of the season. 
NPS Denali (14K) Patrol #7 - the Clean-up Crew:
  (Rgr Westman, Rgr Reichert, Rgr Gault, VIP Seale and VIP Cleary)  Pat, Lesley, and Beth reached 14K yesterday. They will continue the break-down and bundle-up work that Melis' crew started.  Mark and Joe remained down at 11K to continue cleaning up there.  
There's a long list of helicopter errands on the To-Do list for today.  Pilot Andy Hermansky and rangers Joey McBrayer and Becca Stenerson will be:
Taking glacial water samples from several pre-determined sites as part of the multi-year scientific study to determine the extent in which climber waste is reaching the local water systems;
Conducting a radio repeater test from a site at 8,700-feet on Mount Foraker;
Grabbing some abandoned caches from 7,800 feet;
Picking up gear from the Kahiltna Basecamp; and
Fixing a battery re-charger on the new weather station at Basecamp.     
Route Conditions
 
The lower mountain is mushy. The upper mountain remains in fine shape.
As of yesterday, there was one remaining team at 14K, with eight teams at high camp where its been clear, but rather windy.  According to front desk staff, all independent teams are now off the mountain, all teams up there are guided expeditions.    

Photo of the Day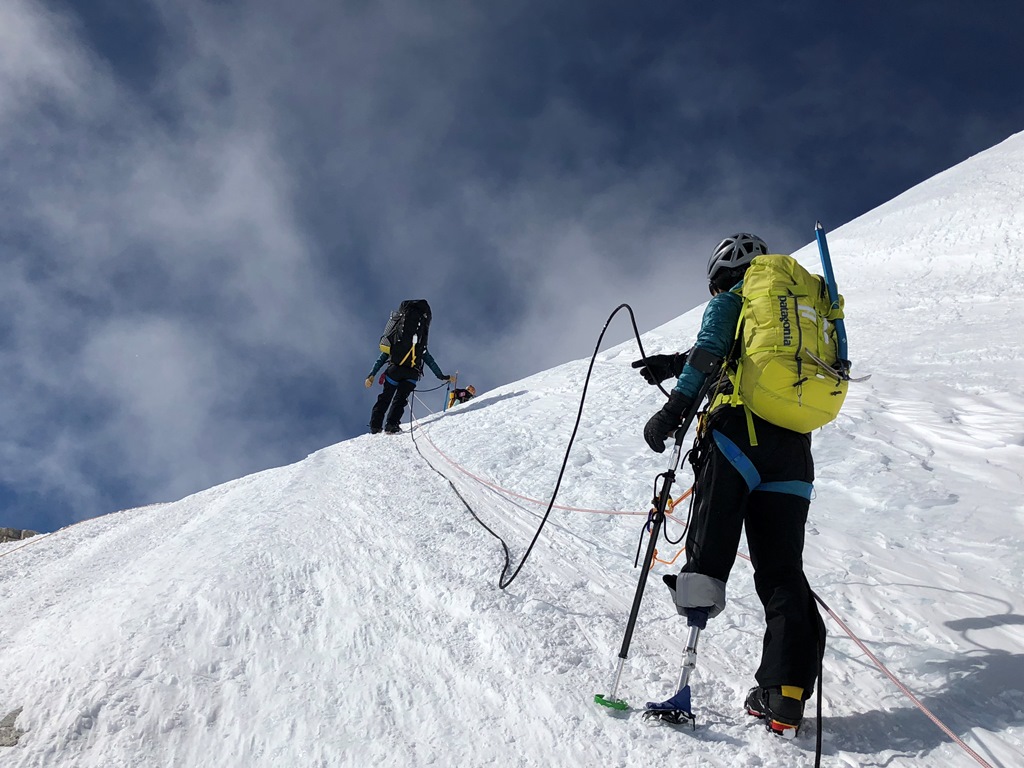 Wounded veteran Kirstie Ennis approaches the top of the fixed lines.  (NPS Photo/Dave Weber)