| | | |
| --- | --- | --- |
| TODAY'S STATS |     Denali     | Mt. Foraker |
| Registered Climbers | 1,137 | 16 |
| Climbers Currently On Mountain | 114 | 0 |
| Completed Climbs | 1,008 | 16 |
| Number of Summits | 620 | 7 |
| Summit Percentage | 61% | 44% |
The Walter Harper Talkeetna Ranger Station also maintains a daily automated statistics phone line, so if this blog is lagging behind and you need up-to-date registration numbers, call (907) 733-9127. 

Weather Report
7,200 feet - Yuck. Storm Jenna dumped heavy rain overnight and this morning on the lower glacier. Though by late morning today, skies are clearing rapidly.  At 8:00 am, wind was 3 mph out of the east, with gusts to 13 mph out of the southeast.
In the last 12 hours:
Current temp:  3 C / 37 F
Low temp:  2 C / 336 F
High temp:  4 C / 39 F


14,200 feet -  Skies were overcast at 14,200-feet at 8:00 am this morning, but similar to basecamp, the clouds lifted throughout the morning and its now lovely (~11:00 am). Denali Storm Jenna did not turn out to be the fierce, crushing storm the patrol members had anticipated -- though she did bring a little wind and some snow. As of this morning, winds were generally calm, though the weather station clocked a recent gust at 33 mph out of northwest. It wasn't snowing at 8:00 am, but 14 camp received 7 cm of new snow overnight. 
In the last 12 hours:
Current temp:  -9 C / 16 F
Low temp:  -11 C / 12 F
High temp:  -7 C / 19 F


National Weather Service forecast

Ranger Update
NPS Denali Patrol #5 (Gentzel, 3 VIPs)  Patrol #5 descended from high camp to 14 camp two days ago, then yesterday they continued on down to basecamp just in time to enjoy a night of heavy rain. If weather permits, they might fly out of the Range later today, or otherwise tomorrow.
NPS Denali Patrol #6 (Weber, Preston, 4 VIPs)  In addition to placing the weather station on the 16,200 ridge (see photos below), the patrol has been shoveling and preparing for the big camp breakdown and pack-up effort. Patrol members are currently assessing the impending workload before deciding if any members will move up to high camp. There is still lots of infrastucture breakdown to do, including building helo sling loads for shuttling down to basecamp. Target timeframe for breakdown completion is next weekend.
Route Conditions
Although Lisa's observation on the weather log last night (pre-storm), indicated the 'Lower glacier in great shape', we're not sure she'd stand by that claim today after a long night of heavy rain. Teams travelling on the lower glacier should prepare for very soggy, slushy conditions.
Continued moderate snowfall means great travel and skiing conditions at 14K and above, at least for everyone else except the first morning trail-breaking teams. Patrol #5 reported that the upper mountain was in great shape, they recently replaced a couple pickets and wands on the Autobahn, but all in all, the West Buttress route is in great travel shape.
Frank reports there are about 40 to 50 individuals at 14 camp as of today, a few more headed into camp from 11 camp. The weather forecast generally looks good for teams to move to 17 camp, with hopes for a good summit day soon thereafter.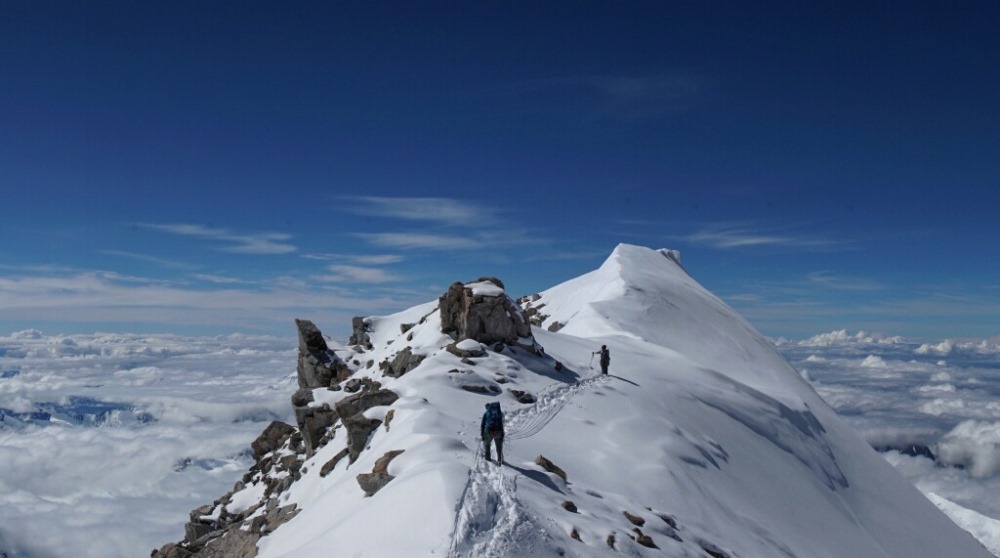 Ranger Frank Preston, VIP Phunuru Sherpa, and VIP Shane Treat look along the 16,200-foot ridge for a suitable spot to re-locate the University of Alaska-Fairbanks weather station. (Photo: Shane Treat)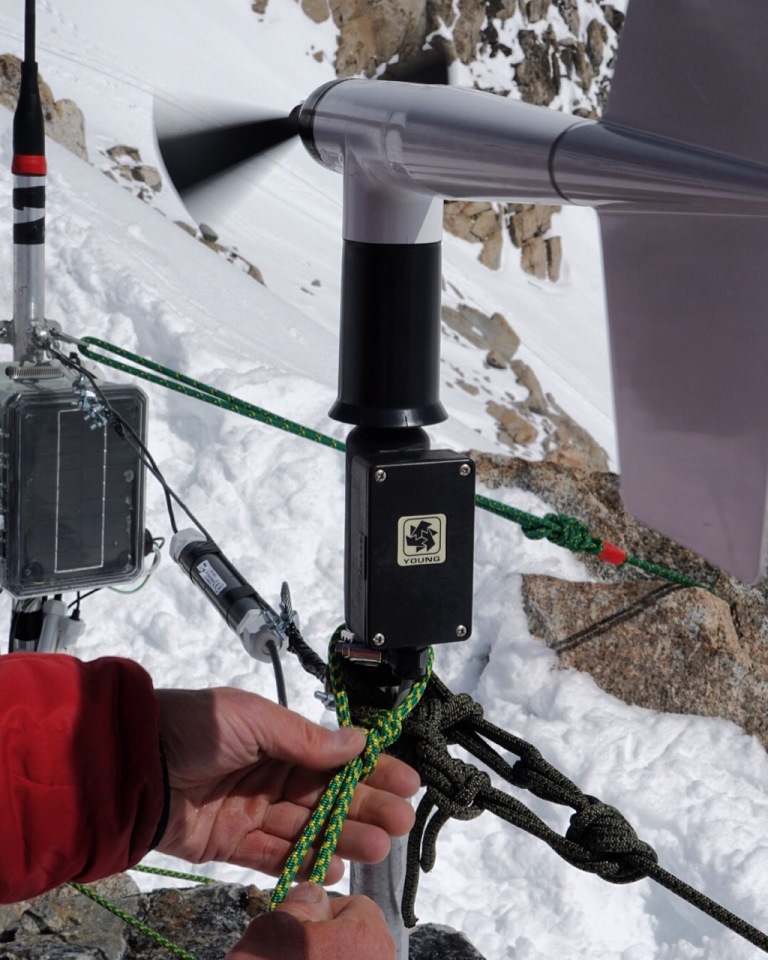 Ranger Frank puts the final touches on the weather station's anchoring system (NPS Photo/Shane Treat)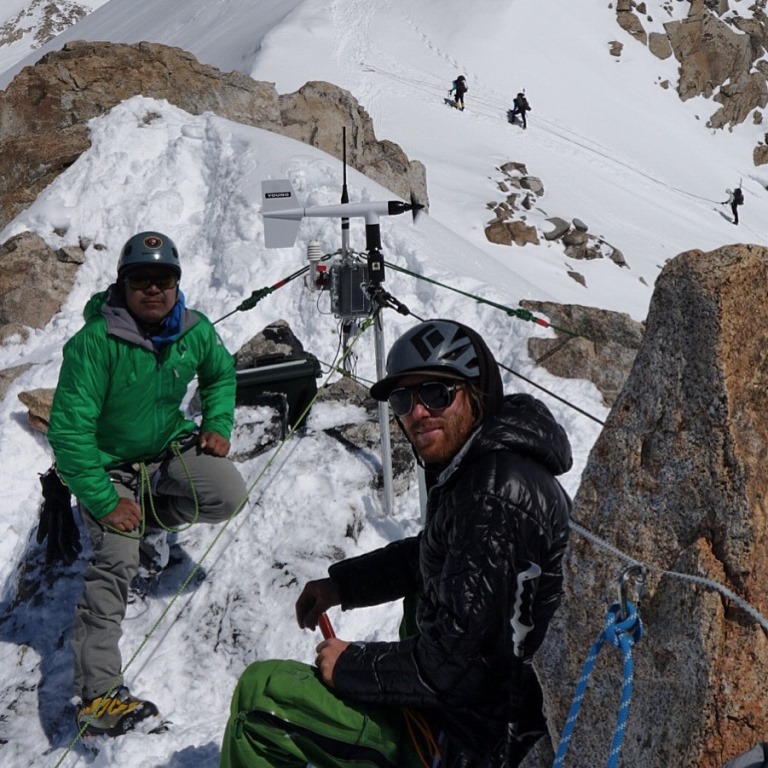 The piton, picketed, and girth-hitched granite should be able to withstand the winter on Denali. The trio re-wired seven sensors, a solar charging system with a lithium battery backup power source. All the weather data (temps, windspeed, wind direction, barometric pressure) is sent through an Iridum satellite data link direct to the university and Denali National Park.  In photo: Phunuru Sherpa and Shane Treat (NPS Photo/Frank Preston)