Though not our favorite option, this season we will be producing weekly Field Reports (as opposed to almost-daily) to provide updates from the Alaska Range.  Please tune in each week for conditions reports, statistics, images, and news from the mountains. 
| | | |
| --- | --- | --- |
| TODAY'S STATS - 7/17/21 |     Denali     | Mt. Foraker |
| Registered Climbers | 1,018 | 28 |
| Climbers Currently On Mountain | 0 | 0 |
| Completed Climbs | 1,018 | 28 |
| Number of Summits | 535 | 7 |
| Summit Percentage | 53% | 25% |
The Walter Harper Talkeetna Ranger Station also maintains an almost daily automated statistics phone line, so if this blog is lagging behind and you need up-to-date registration numbers, call (907) 733-9127.
Mountain Weather

Although mountaineering season is now over, the weather telemetry data should continue to transmit -- so feel free to check in and see what you're missing all year long!
 

Weather station telemetry data from 7K and 14K are transmitted hourly to the MesoWest website, including temperatures, wind speed, wind direction, snowfall, and solar radiation.  MountainWeather.com compiles a Denali Weather page, complete with links to the MesoWest data, the NWS Denali Climbing Forecasts, as well as links to FAA webcams. 

Click here for the National Weather Service Denali Climbing Forecast

Click here for the FAA webcam on the Kahiltna Glacier. 


Ranger Reports
And then there were none... 
Yes, that's right, all climbers on Denali and Foraker have come and gone, the 2021 season is in the can.  The last rangers flew off on Sunday, July 11, with the last two climbers finishing up their climb on Tuesday, July 13, and the US Army Chinook crews assisting with camp extraction on Thursday, July 15.   As is typical, the front desk staff will comb through the expedition files one by one to ensure the statistics are accurate -- so expect the numbers above to change before they get set in stone for future generations to ponder.
In brief:
> We hosted more climbers in 2021 than we originally expected.  Our early guesswork suggested we would see between 800 and 900 climbers, but we topped 1,000.  The summit percentage fell out at 53%, just slightly above the annual average.The Annual Mountaineering Summaries are typically uploaded on our website in December -- so check back later for stats such as US vs. International, average ages, percentage of women climbers, guided vs. independent., etc.
> NPS rangers and volunteers responded to 22 search and rescue incidents in 2021, a mix of trauma and illness, with HAPE perhaps being the most popular reason for NPS intervention this season.  While there were no fatalities on Denali or Foraker specifically, two climbers lost their lives while mountaineering in other areas of the park this season.  A ski mountaineer died in a crevasse fall near the Eldridge Glacier, and a climber died of injuries suffered in a serac fall off the West Fork of the Ruth Glacier.
> And a drum roll please........Denali mountaineering rangers, VIPs, and support staff are thrilled to announce there were NO KNOWN COVID-19 CASES ON DENALI this season!  Thank you to everyone in the greater Denali mountaineering community for your efforts in achieving this critical goal. We prepared for the worst, but together we pulled it off.  
More information on these and other topics in the days and weeks to come.

Photos of the Week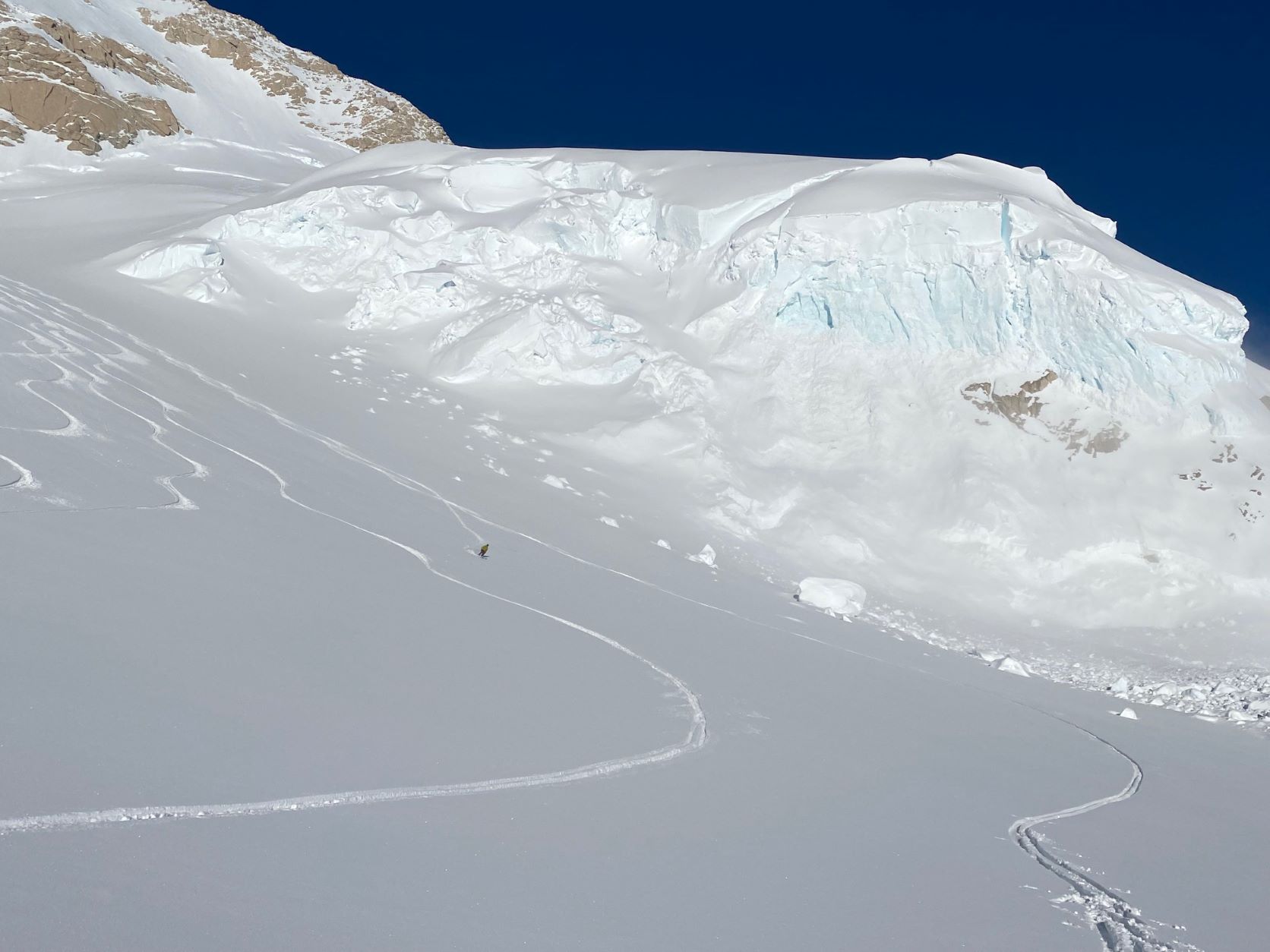 A lone skier takes one final run...
(NPS Photo / Galen Dossin)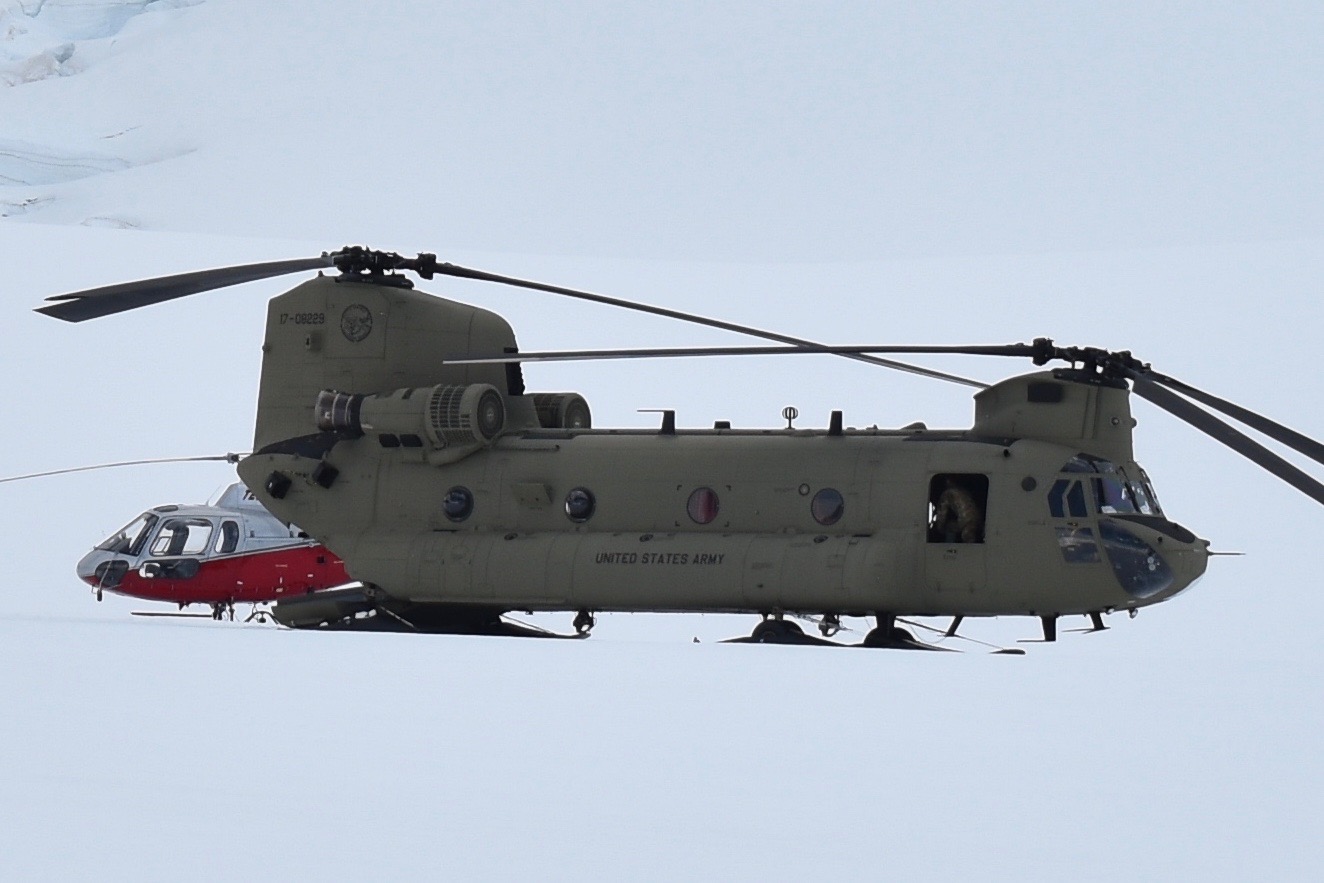 Birth of an A-Star: A rare sighting of a Chinook giving birth in its natural environment. 
 (Photo courtesy of US Army / Jason Welch)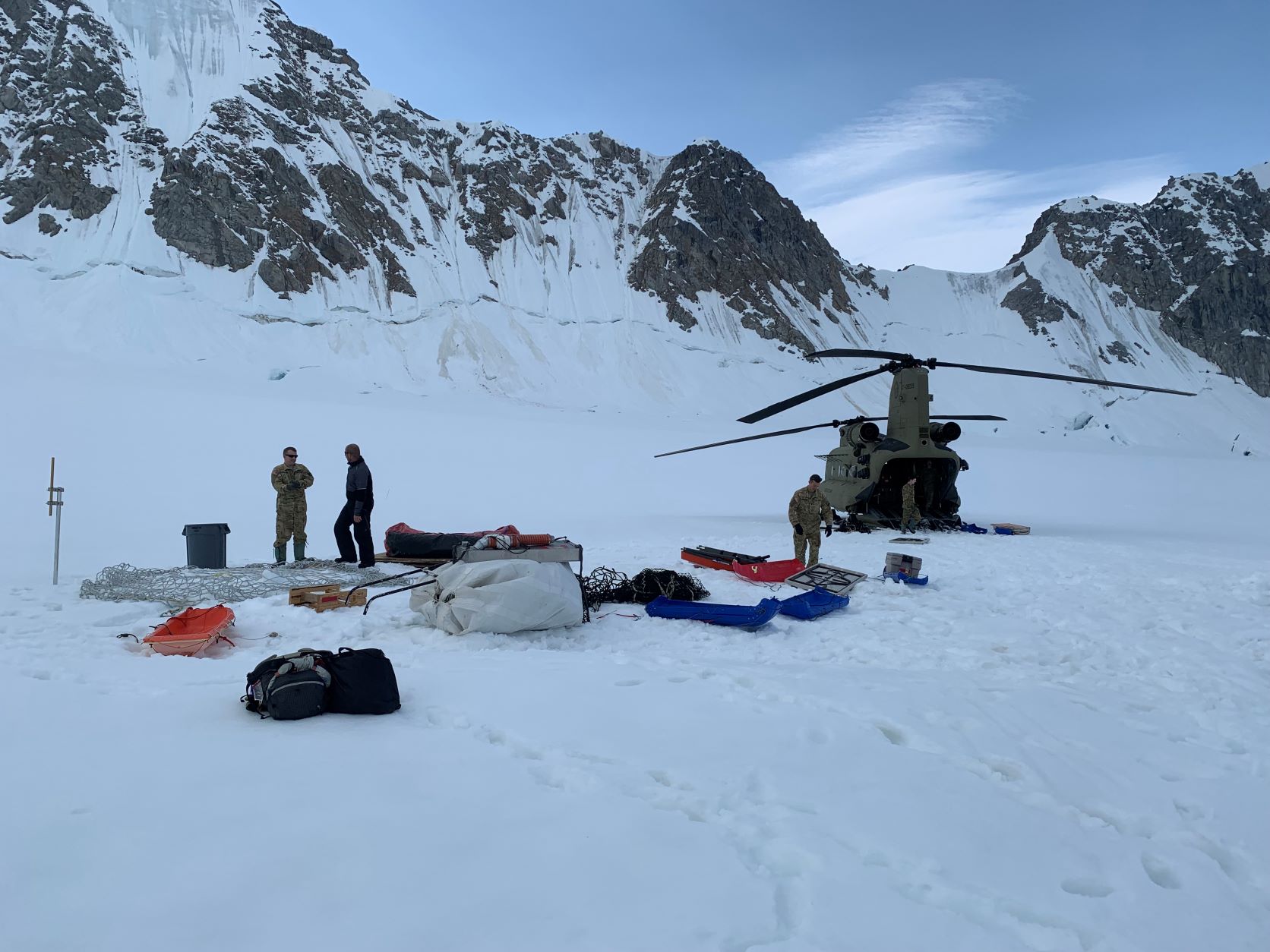 US Army Chinook Pilot Francois Collard and A-Star B3 Pilot Andy Hermansky compare notes while crews pull the final pieces of camp gear into the Chinook. 
(NPS Photo / Joe Reichert)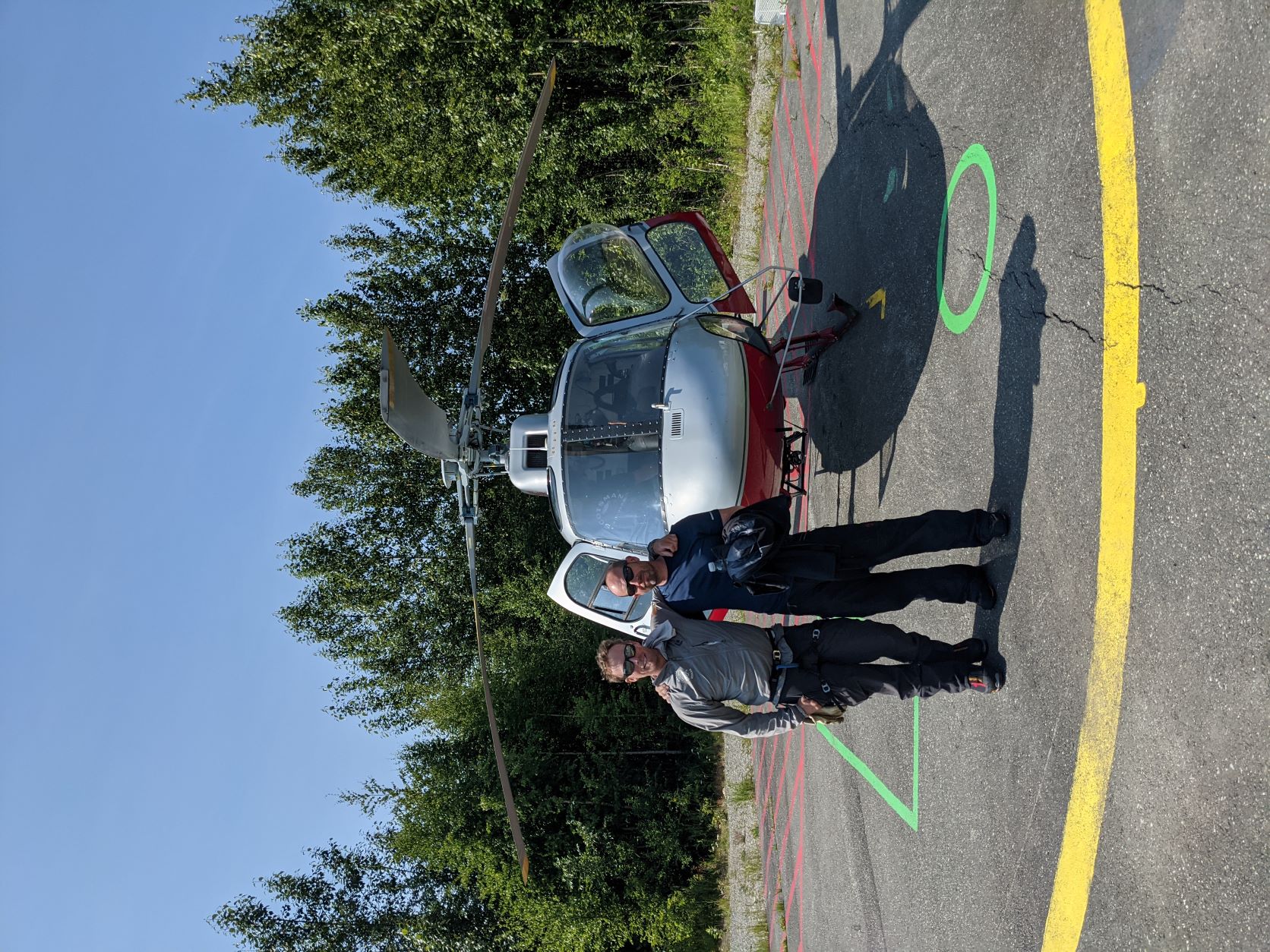 It's a wrap!  South District Ranger Tucker Chenoweth and A-Star B3e Pilot Andy Hermansky celebrate the day all 2021 camp infrastructure was pulled from Denali.  Although most of us remain in denial, this flight was also likely Andy Hermansky's last flight in support of Denali mountaineering operations, but that thought is a little difficult to comprehend at this moment so we're going to pretend its not happening. 
(NPS Photo / Travis Baldwin)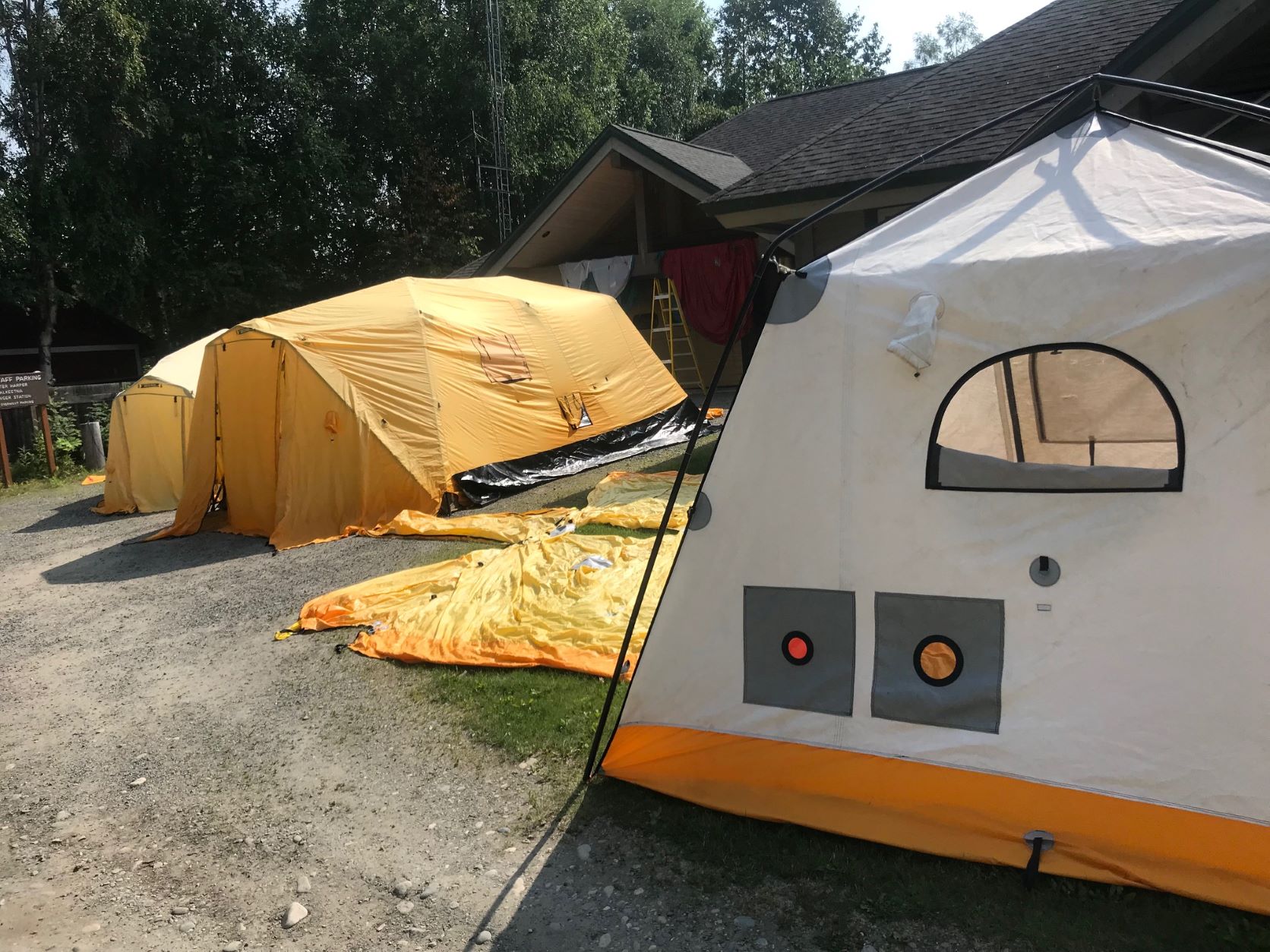 The 14K camp tents get resurrected in Talkeetna for final cleaning and repairs before getting stowed for the long winter. 
(NPS Photo / Maureen Gualtieri)