| | | |
| --- | --- | --- |
| TODAY'S STATS |     Denali     | Mt. Foraker |
| Registered Climbers | 1,230 | 21 |
| Climbers Currently On Mountain | 167 | 0 |
| Completed Climbs | 1,062 | 21 |
| Number of Summits | 659 | 8 |
| Summit Percentage | 62% | 38% |
The Walter Harper Talkeetna Ranger Station also maintains a daily automated statistics phone line, so if this blog is lagging behind and you need up-to-date registration numbers, call (907) 733-9127.
Mountain Weather

Allison at 7K says:  (7:15 am) "There's a layer around 8k. I can see the bottom half of Pizza Point, some sun poking thru, 39 deg, low 39 F, light downglacier wind, runway firmed up but soft."

Weather station telemetry data from 7K and 14K are transmitted hourly to the MesoWest website, including temperatures, wind speed, wind direction, snowfall, and solar radiation.  MountainWeather.com compiles a Denali Weather page, complete with links to the MesoWest data, the NWS Denali Climbing Forecasts, as well as links to FAA webcams. 

Click here for the National Weather Service Denali Climbing Forecast

Click here for the FAA webcam on the Kahiltna Glacier. 


Ranger Reports
NPS 14K Patrol #7
- (Beren)  Jake and several patrol members climbed to the North Buttress over the weekend, then came back down to 14K yesterday.  As the afternoon progressed yesterday, it grew increasingly windy with a lenticular cloud planting itself on the summit.  The team will descend to Basecamp tomorrow, and fly off the mountain on Wednesday.   
NPS Muldrow Patrol #8 -
 (McBrayer)  Joey and crew descended to 14K several days ago, also after summitting the North Buttress.  Both patrols spent today troubleshooting all the camp electrical equipment following outages spurred by an evening electrical storm last night.  Report is that the storm must have brought on superhuman strength, as they are suddenly picking up periodic radio traffic from as far away as Lake Clark National Park!  
In an unoffical inventory of climbers currently on Denali, an estimated 9 teams were poised to fly out of basecamp this morning, with another 9 teams spread out at various camps on up the mountain.  Starting tomorrow, Patrol #8 will begin packaging up some net loads of 14K gear, with slingload flights down to basecamp slated to start on or about July 4.  The end is nigh!  
***For more tales from the hill, check out Denali Rescue Volunteers (DRV) on Facebook and Instagram.***

Photo of the Day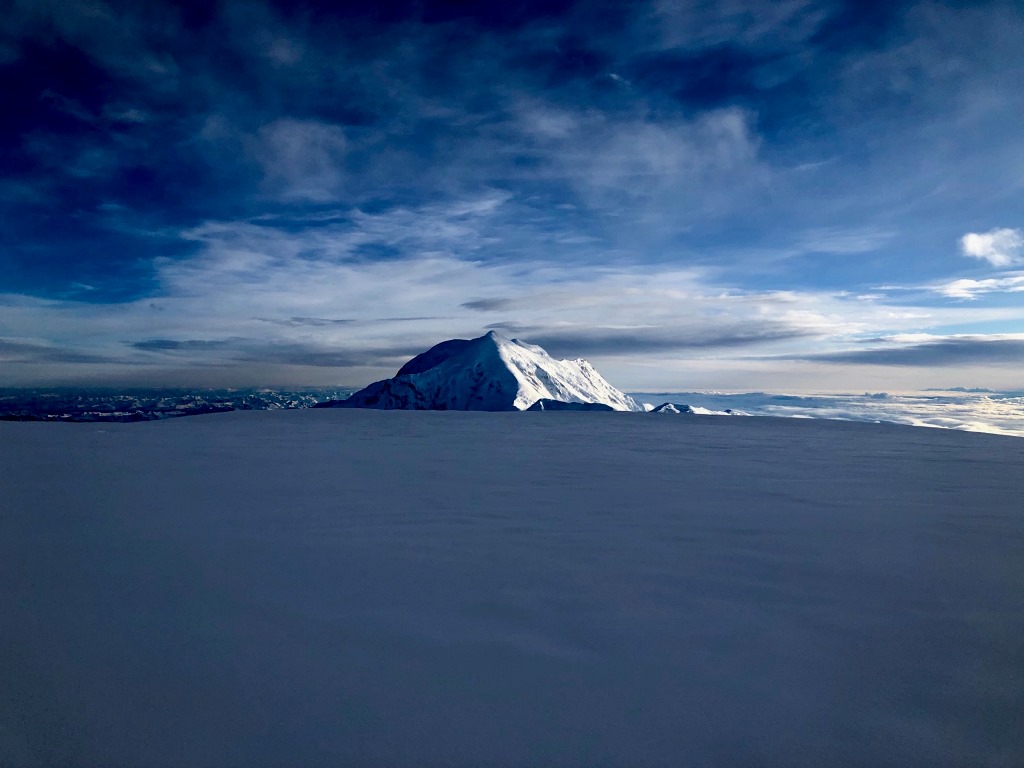 Evening sunset casts a dark shadow on Mount Foraker, as viewed from the 14,200-foot basin on Denali.  NPS Photo - Dave Weber