| | | |
| --- | --- | --- |
| TODAY'S STATS |     Denali     | Mt. Foraker |
| Registered Climbers | 1,034 | 16 |
| Climbers Currently On Mountain | 550 | 4 |
| Completed Climbs | 243 | 12 |
| Number of Summits | 56 | 3 |
| Summit Percentage | 23% | 25% |
The Walter Harper Talkeetna Ranger Station also maintains a daily automated statistics phone line, so if this blog is lagging behind and you need up-to-date registration numbers, call (907) 733-9127. 

Weather Report
7,200 feet - Same as yesterday...the lower mountain is still in a ping pong ball. Skies are obscured, with snow falling. Very limited visibility. They received another 10 cm of new snow overnight, bringing the total storm accumulation to 16 cm.  With a couple degree colder temperatures, the snow isn't quite as heavy and wet as it was yesterday.  Wind is calm, with gusts up to 7 mph from the south. 
In the last 12 hours:
Current temp:  -2 C / 28 F
Low temp:  -1 C / 30 F
High temp:  -2 C / 28 F


14,200 feet -  Also the same report as yesterday...lightly snowing at 8 am.  They received about 5 cm of new cm of snow last night. Wind was calm, with gusts up to 8 mph from the south.
In the last 12 hours:
Current temp:  -12 C / 10 F
Low temp:  -17 C / 1 F
High temp:  -15 C / 5 F
National Weather Service forecast

Ranger Update
NPS Denali Patrol #2 (McBrayer and 3 VIPs) The patrol is camped at 17,200 feet. The upper mountain winds are calm, but skies were still pretty cloudy as of mid-day today.  If visibility improved, the team was intending to climb up and inspect the Autobahn pickets.
NPS Denali Patrol #3 (Corn, 4 VIPs, 2 PJ's)  Dan and crew are busy conversing with lots of teams going up, and lots of teams going down. 
NPS Denali Patrol #4 (Shain, 4 VIPs)  Whiteout conditions kept the team at 7,800 another night, today might be more of the same.
NPS Basecamp Patrol #3 (Preston, 1 VIP)  Sticking around camp due to the whiteout conditions -- shovelling, helping stomp the runway, and making rounds. Based on reports from Dan at 14K, the population at basecamp is going to steadily increase as climbers stack up waiting for a flight out. Currently, no one is flying... 


Route Conditions
Upper mountain:  Small, but steady accumulations of new snow are turning the hard-packed blue snow to a soft white, a welcome trend for more stable footing.
Lower mountain:  New snow and cooler temperatures are good for the trail, though some good ol' trail-breaking is in order.
Recent Mount Hunter observations:  
"Tried the route (Moonflower Buttress) 3 days ago. Lots of running water even at midnight. We think it might be done for the season" (left 5/30/16 by J. Henriquez and R. Slowinski).  
"West Ridge.....Made it part way up rock band -- difficult mixed climbing (soft sugar snow, loose rock) so turned around. Snow OK in the a.m., but goes soft in p.m. Ice after Cat Ears is good, protectable. NW Basin route looked too challenging and dangerous to attempt." (left 6/1/16 by Sarah Strattan and Matt Lemke)
 
Photo of the Day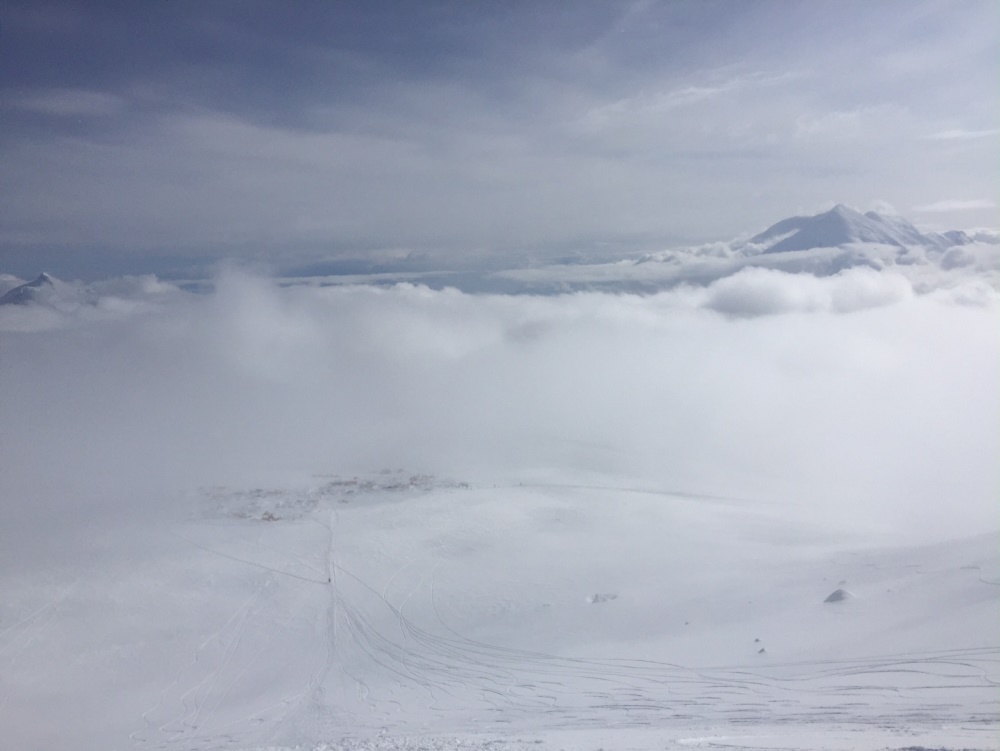 Denali Storm Frances rolls into 14K camp...the view from just above the clouds at ~15,000 feet.  NPS Photo/Jon Waterman