| | | |
| --- | --- | --- |
| TODAY'S STATS | Mt. McKinley | Mt. Foraker |
| Registered Climbers | 789 | 9 |
| Climbers Currently On Mountain | 2 | 4 |
| Completed Climbs | 2 | 0 |
| Number of Summits | 1 | 0 |
| Summit Percentage | 50% | 0% |
The Walter Harper Talkeetna Ranger Station also maintains a daily automated statistics phone line, so if this blog is lagging behind and you need up-to-date registration numbers, call (907) 733-9127. 

Weather Report:
Lisa reports a few scattered clouds over the Kahiltna Basecamp, with good visibility.  Winds 5 mph, downglacier (from the east).  Temperature at 7,200 feet at 8:00 am was 21 F / -6 C.  

Ranger Update:
Denali has again contracted with Temsco Helicopters for its high altitude helicopter and crew.  This year climbers will see an A-Star B3e helicopter with improved high altitude performance.  The crew includes primary pilot Andy Hermansky, backup pilot Aaron Oberlander, and mechanic Kirt Petterson.  Today, Hermansky and Oberlander will take advantage of good weather to do some mountain training flights, as well as shuttle supply loads from the Kahiltna Basecamp to the 14,200-foot basin with assistance from Rangers Joe Reichert and Chris Erickson.  
The first mountaineering patrol on Mt. McKinley flies into Basecamp on May 2 to begin their ascent of the mountain, and the arduous task of setting up the 14,200-foot camp infrastructure for the 2015 season.  
The Mt. Crosson radio repeater was successfully installed yesterday, a crucial tool in maintaining operational and search and rescue communications throughout the season. 
NPS mountaineering rangers Joey McBrayer and Mike Shain are currently patrolling in the Ruth Amphitheater.  
Rangers Tucker Chenoweth and Dave Weber began a patrol of Mt. Foraker's Sultana Ridge yesterday; they are currently at the base of Mt. Crosson.
Ranger Roger Robinson is leading orientations of newly-arrived climbing teams at the Walter Harper Talkeetna Ranger Station.  The first Denali expedition of the spring season (we did have two winter climbers...) checked in yesterday and have begun their ascent of Denali, and the orientation schedule will steadily fill up as we head into May.


Route Conditions:
According to climber reports around Basecamp and on Mt. Frances, snow conditions are good, with a nice firm snowpack making for easy travelling. 

Photo of the Day: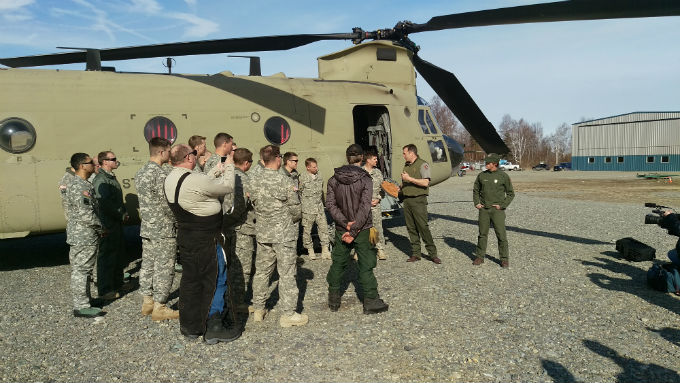 Yesterday, South District Ranger John Leonard presented the 'Sugar Bears' from the Bravo Company 1-52d Aviation Regiment with an NPS Arrowhead plaque in appreciation for the teamwork and support the crew has shown Denali National Park over the past decades. (Photo: Aaron Oberlander)