| | | |
| --- | --- | --- |
| TODAY'S STATS |     Denali     | Mt. Foraker |
| Registered Climbers | 866 | 8 |
| Climbers Currently On Mountain | 8 | 0 |
| Completed Climbs | 2 | 0 |
| Number of Summits | 0 | 0 |
| Summit Percentage | 0% | 0% |
The Walter Harper Talkeetna Ranger Station also maintains a daily automated statistics phone line, so if this blog is lagging behind and you need up-to-date registration numbers, call (907) 733-9127.
Mountain Weather

As discussed in the previous Denali Dispatch ("New Weather Stations on the Kahiltna Glacier"), weather reporting is going to look a little different this year.  Weather station telemetry data from Basecamp and the 14K camp will be directly transmitted to the MesoWest website, including temperatures, wind speed, wind direction, snowfall, and solar radiation. 

MountainWeather.com compiles a Denali Weather page, complete with links to the MesoWest telemetry data, the National Weather Service Denali recreational climbing forecasts (will start April 29, as well as links to FAA webcams. 

 
Route Conditions
 
Stay tuned next week for early reports on snow conditions, at least for the lower mountain.  In brief, the Alaska Range got a new coat of paint this past week, with about 1 meter of fresh snow on elevations under ~9,000 feet.  We'll share more reports as they start to come in.   
Ranger Update
Rangers David Weber, Mark Westman, and VIP Mike Gibbs head into the Range on Saturday, April 27 for an early season climb of Mount Russell.
The first Denali patrol of the season flies into Basecamp on Monday, April 29.  Ranger Frank Preston will be leading the charge, accompanied by four volunteers and one military PJ from the Anchorage 212th.  

Photo of the Day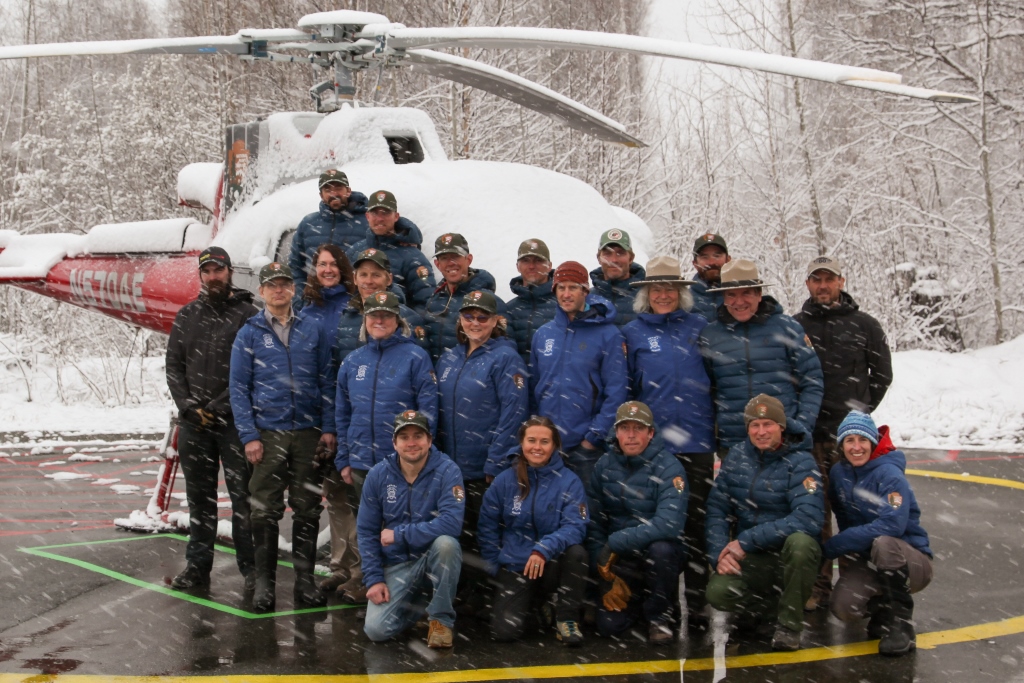 Walter Harper Talkeetna Ranger Station staff enjoy a beautiful spring day at the Talkeetna helipad. From left to right, front row:  Geoff Pfeiffer, Becca Stenerson, Tucker Chenoweth, Joe Reichert, Melis Coady. 2nd Row: Beth Howard, Debbie Reiswig, Pat Gault, Pam Robinson, Roger Robinson, Temsco Pilot Andreas Hermansky.  Back row(s): Temsco Mechanic Nate Smith, Cary Birdsall, Maureen Gualtieri, Mark Westman, Travis Baldwin, Dave Weber, Chris Erickson, Jake Beren.  Last row (trying to appear taller by standing on helo skids) Joey McBrayer and Frank Preston.  
Selected Outtakes