| | | |
| --- | --- | --- |
| TODAY'S STATS | Denali | Mt. Foraker |
| Registered Climbers | 733 | 24 |
| Climbers Currently On Mountain | 16 | 2 |
| Completed Climbs | 2 | 0 |
| Number of Summits | 0 | 0 |
| Summit Percentage | 0% | 0% |
The Walter Harper Talkeetna Ranger Station also maintains a daily automated statistics phone line, so if this blog is lagging behind and you need up-to-date registration numbers, call (907) 733-9127.
Weather Conditions
The National Weather Service mountain forecast is now available. 
Basecamp weather observations should begin the end of the next week.


Ranger Update
Beautiful weather on Sunday, April 25 enabled a smooth camp insertion.  The U.S. Army Sugar Bears, a.k.a. the HART team (High Altitude Rescue Team) from Ft. Wainwright hauled 11,500-pounds of camp gear to the Kahiltna Glacier in three CH-47 Chinook helicopters.  The military crews then assisted NPS rangers in unloading the aircraft and building eight net-loads of gear that the A-Star B3e high altitude helicopter pilot(s) will ferry to the 14,200 foot camp as weather permits. 
Alaska Range Backcountry Patrol #1 - NPS Rangers Dan Corn and Joey McBrayer head into the Kahiltna Basecamp today to begin the first Alaska Range patrol of the season. Their primary objective is to climb the standard West Ridge of Mount Hunter. These backcountry patrols are designed to familiarize rangers with various climbing routes (learn route details, camping/use patterns), make visitor contacts, assess snow and rock conditions, develop individual climbing skills, and, if need be, clean up any garbage found on or near the route. We'll share their patrol report in Denali Dispatches in the next week or two.  
Alaska Range Backcountry Patrol #2 - NPS rangers Tucker Chenoweth and David Weber are scheduled to fly into the Kahiltna basecamp  tomorrow, April 26. The first couple days of the patrol they intend to complete their annual 'typical terrain' helicopter training; place the seasonal radio repeater on top of Mount Crosson; and construct the basecamp helicopter fueling site. The remainder of the patrol, their primary objective is to climb East Kahiltna Peak. Patrol Report to follow...
Denali 14K Patrol #1 - The first NPS ranger team of the Denali climbing season flies into Basecamp on May 5 to start their upper mountain patrol. The patrol will be led by Denali mountaineering rangers Chris Erickson and Melis Coady, the latter of whom recently joined the NPS team. Chris and Melis will be joined by two climbing rangers on detail assignment from Grand Teton National Park and two mountaineering Volunteers-in-Parks (VIPs). 


Route Conditions
Several teams have made ascents of the classic "Ham and Eggs" on the Mooses Tooth since mid April. One team reported "good ice in cruxes and decent neve in couloir...Good to go!  The same team reports that the nearby classic route, "Shaken, Not Stirred", has "variable conditions on lower cruxes, with good ice above, including the 'Narrows'". 
Numerous climbing teams are currently in the range attempting routes on Mount Huntington, the Ruth Gorge peaks, and the north buttress of Mount Hunter. Hopefully when they return we will learn more about current conditions in these popular climbing areas.
Many teams have been visiting the Alaska Range for skiing this season, and are reporting good skiing conditions, particularly on north facing aspects. Solar aspects are featuring spring-like skiing conditions, especially at the lower elevations, with some solar-triggered avalanches being observed during the warmer hours of the day. Temperatures have been well above normal for most of the spring and this trend is forecasted to continue. As such, it can be expected that conditions will continue to change quickly as our spring days grow longer. 
Skiers have submitted reports from the Kahiltna, Pika, Ruth, and Thunder Glaciers, with consistent reports from each area.
Climbers and skiers are encouraged to share your recent route condition observations and/or climbing photos with ranger station staff when you finish a climb. We'll do our best to share it here so other climbers can get a feel for general or specific conditions in the Alaska Range.  
 
Photos of the Day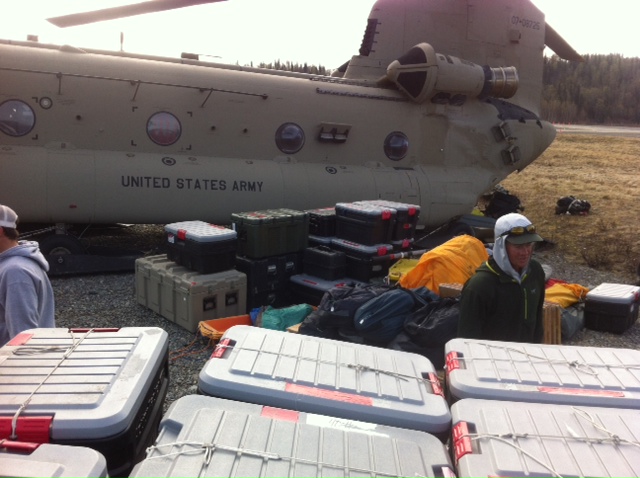 Camp Insertion - Phase One, loading the gear at the Talkeetna State Airport (NPS Photo/Melis Coady)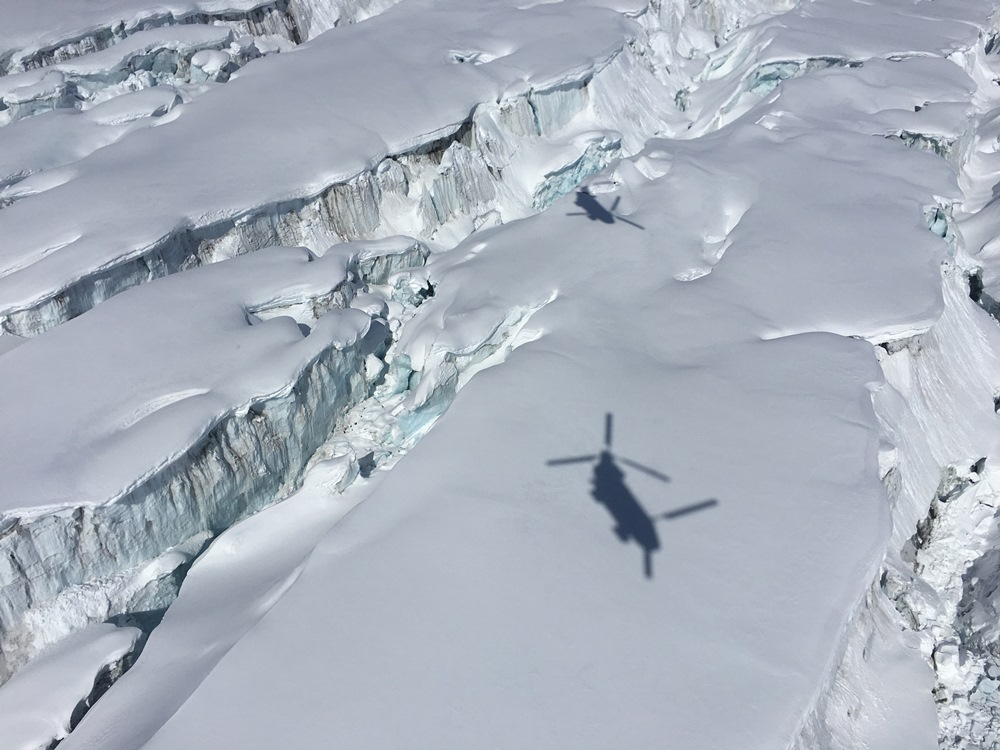 Camp Insertion - Phase Two, the flight into the Kahiltna Basecamp (NPS Photo - Dan Corn)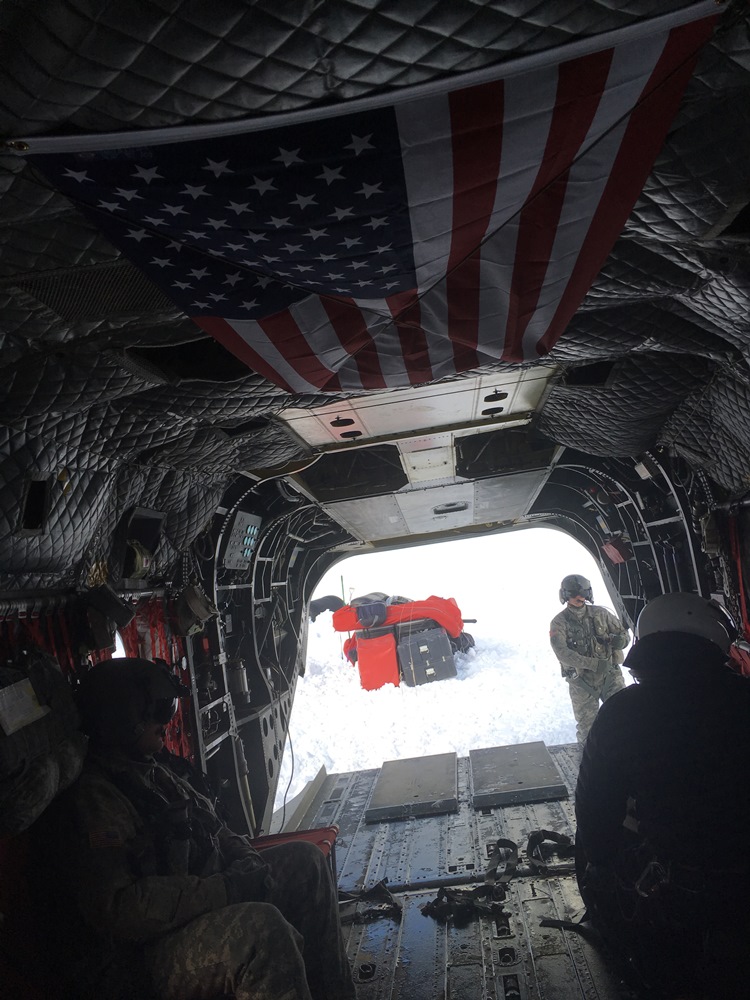 Camp Insertion - Phase Three, unloading at the Southeast Fork of the Kahiltna Glacier (NPS Photo - Dan Corn)