| | | |
| --- | --- | --- |
| TODAY'S STATS | Denali | Mt. Foraker |
| Registered Climbers | 721 | 24 |
| Climbers Currently On Mountain | 7 | 2 |
| Completed Climbs | 1 | 0 |
| Number of Summits | 0 | 0 |
| Summit Percentage | 0% | 0% |
The Walter Harper Talkeetna Ranger Station also maintains a daily automated statistics phone line, so if this blog is lagging behind and you need up-to-date registration numbers, call (907) 733-9127.
Weather Conditions
Stay tuned. The National Weather Service mountain forecast should be available as of Monday, April 25. Basecamp weather observations should begin the end of the next week.
Ranger Update
Life is busy here in Talkeetna, and here's a short but sweet lowdown of the week's activities:
Denali mountaineering rangers are still fully embroiled in pre-season training, with the focus this week on helicopter operations, including short-haul and STEP training. Starting this weekend, rangers will partner up with the U.S. Army Sugar Bears from Ft. Wainwright to begin hauling camp gear to the Kahiltna Glacier. Once those gear loads have been off-loaded at the Kahiltna, our A-Star B3e high altitude helicopter pilot(s) will commence hauling smaller net loads to the 14,200 foot camp. 
The first NPS ranger team of the season flies into Basecamp on May 5 to start their upper mountain patrol. The patrol will be led by Denali mountaineering rangers Chris Erickson and Melis Coady, the latter of whom recently joined the NPS team! Chris and Melis will be joined by two climbing rangers on detail assignment from Grand Teton National Park and two mountaineering Volunteers-in-Parks (VIPs). 
Route Conditions
In case you didn't see it yesterday, we'll repeat the observations left at the ranger station during the past week.  But on that note -- please, climbers, don't hesitate to share your recent route condition observations with ranger station staff when you finish a climb. We'll do our best to share it here so other climbers can get a feel for general or specific conditions in the Alaska Range.  Also...we encourage you to share a pretty photo or two!   
Mooses Tooth (Ruth Glacier)
 (April 19) Ham and Eggs: "Good ice in cruxes and decent neve in couloir…good to go!"
 (April 19) Shaken Not Stirred: "Variable in lower cruxes on slab, good ice above, including narrows. Anchor failure-pitch 10-12! Check your fixed gear"
Thunder Mountain (SW Fork Tokositna Glacier)
 (April 20) "Climbed to 10,700' level where rotten snow sat on rock, skied back down 40-50 degrees" Also skied other minor couloirs on south aspect.
Photo of the Day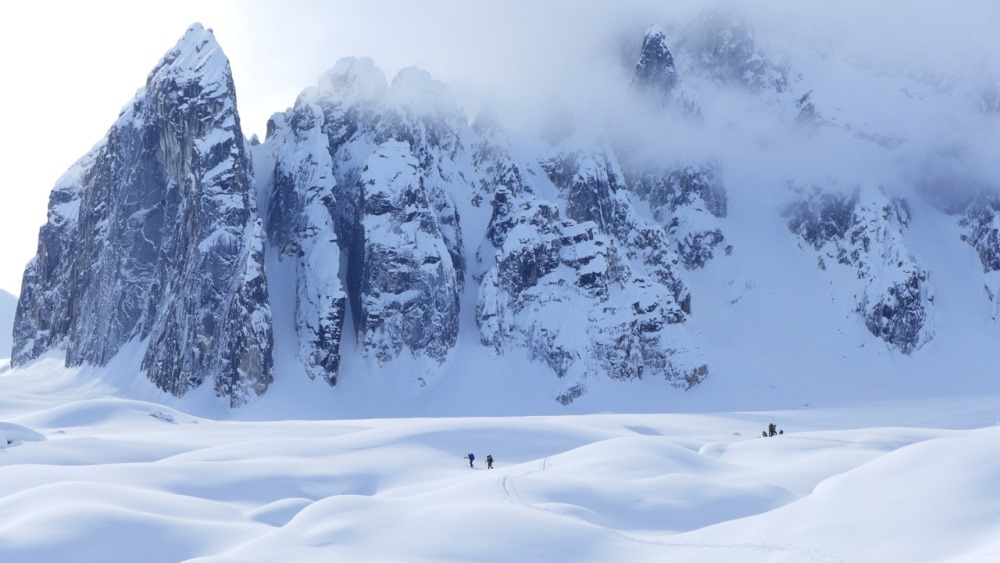 NPS rangers ski past the Eldridge Spires during an early April avalanche training (NPS Photo/Mik Shain)