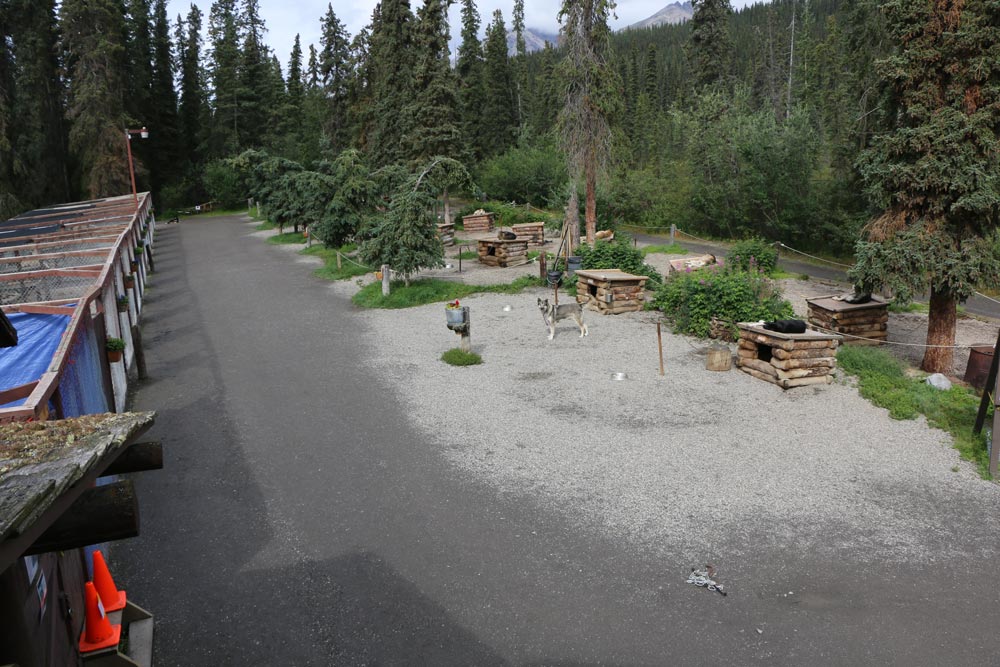 Ahhhh, the joys of holidays. Holidays are great opportunities for friends and families to celebrate being together and having fun. As I'm sure we've all experienced though, there is a very fine line between social bliss and social stress when you are forced into one house for extended periods of time. While it might seem like a farfetched analogy, dogs feel similar emotions when it comes to prolonged social settings.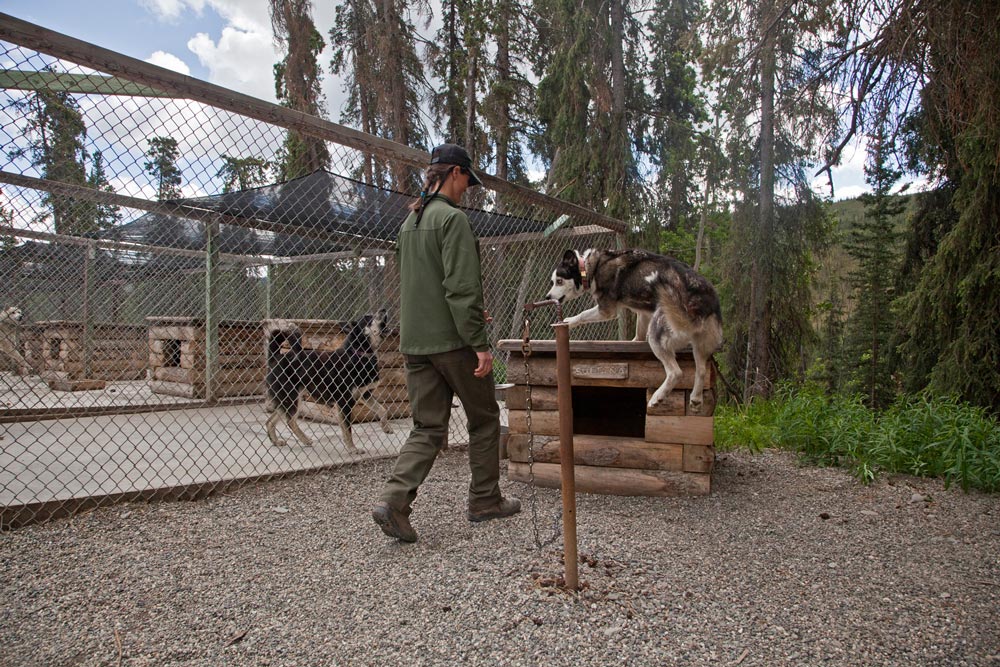 For people who are not familiar with sled dogs yards and how they are set up it can seem quite peculiar. Once you look a bit deeper though you might find that the yards are designed in this way to foster a heathy social setting where sled dogs develop positive relationships. Our dog yard is pretty special with siblings, aunts, uncles, grandparents, ect.all living together. They love their family just like we do, but we have all experienced the same feelings about our family members that our dogs do from time to time. All of us appreciate the ability to have a little breathing room and time to ourselves.
Our dog yard of 32 dogs needs to be specifically organized to ensure each dog's needs are met. It is not uncommon in kennels throughout the world to see dogs on tethers at individual houses. Sled dogs are kept at their own individual houses where they can enjoy their own private space. The length of the dogs' tethers is determined by two factors. The first is to give them tethers long enough that they can interact and play with their neighbors in the yard. The second is to ensure that the tethers are not so long that they present a hazard to the dogs' safety. We want to make sure that there is no chance of getting tangled with another dog or with the ropes around the perimeter of the yard for human crowd control in the summer.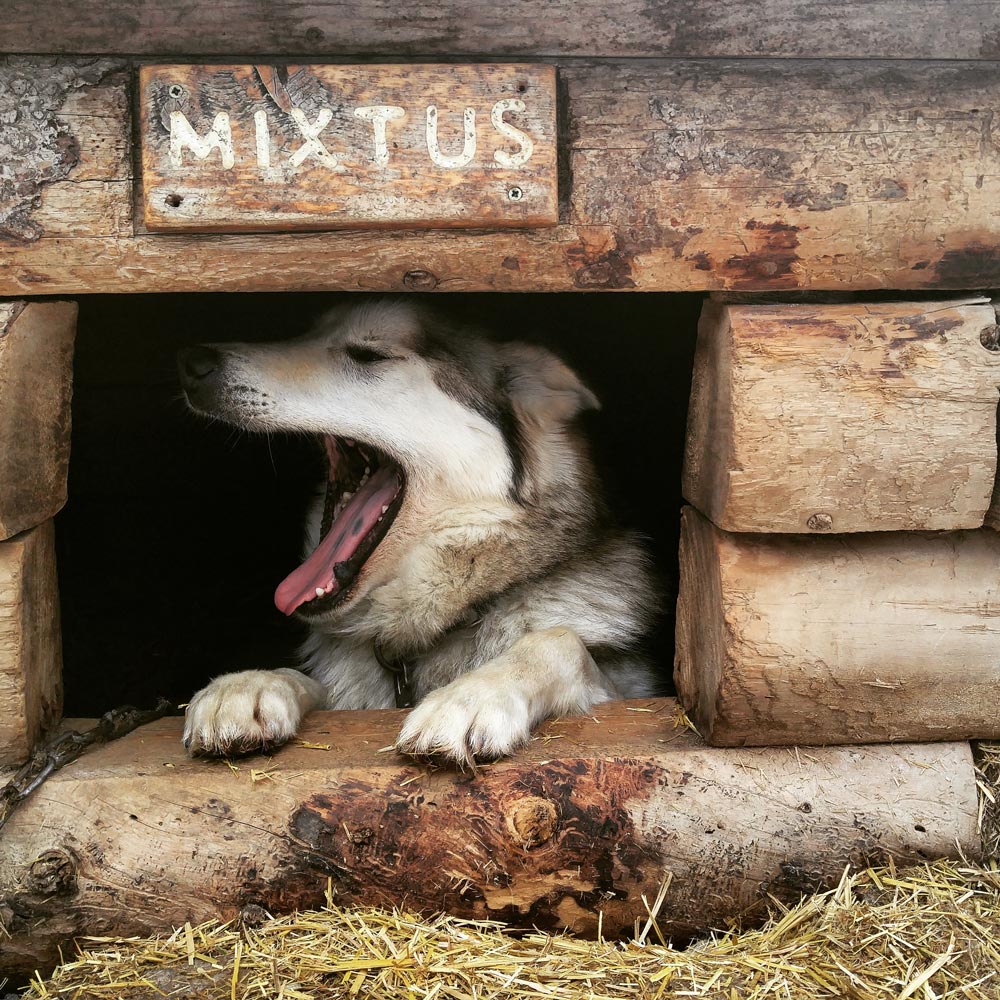 The dog houses themselves are as carefully thought out as the dogyard. You may notice the thick three sided logs and small entrance door that provide the dogs shelter from the elements (hot summer sun, rain, wind, and snow). In addition, the flat roof on top of the house is really where the dogs prefer to be. Our dogs love watching birds and squirrels and what is going on in their neighbor's yard. Our dogs need a lot of mental stimulus, especially in the summer months when they are not busy pulling sleds in the park, and they get that in their outdoor dogyard.
One of the most common questions that we get here at the kennel during the summer is:
"Why are some dogs in pens and others behind ropes? Are they the mean ones?"
The quick answer is no! All of our dogs are equally social and non-aggressive dogs. Normally all of our dogs are rotated into new houses with new neighbors several times throughout the season. There are a few different house styles in our yard to accommodate different needs of dogs as they arise.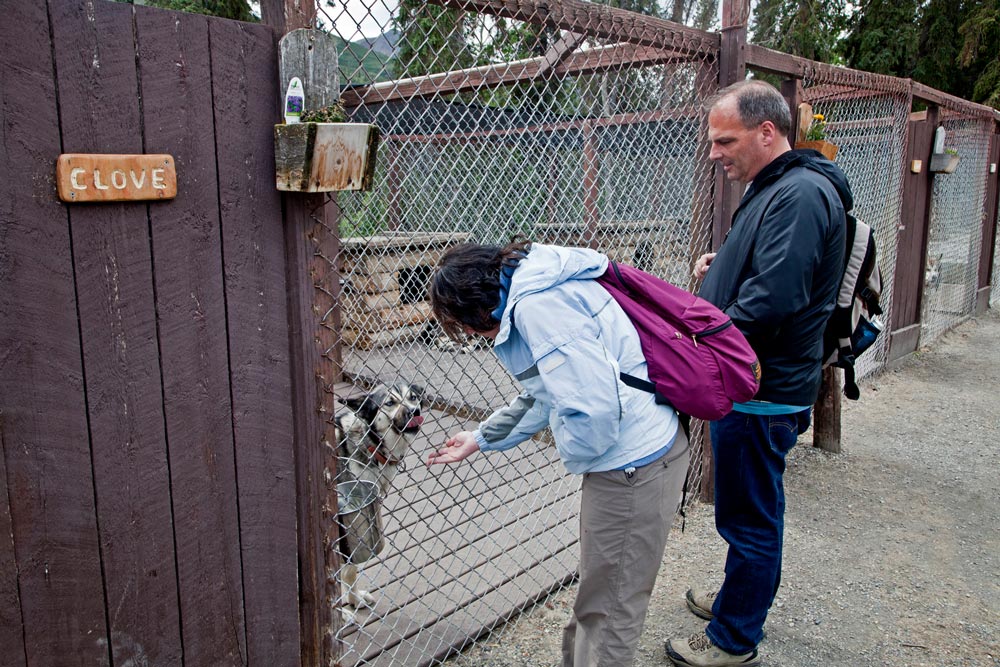 Pen houses: Here at the kennel we have 14 "Pen"-t house suits that line the side of the dog yard. There are a few types of dogs that these pens are reserved for. Do you ever have a craving for something that is just bizarre? So do some of our dogs. It is not scientifically known exactly why some dogs eat rocks but this activity is one potentially lethal hobby that some of our dogs have during the summer months. To keep their bellies happy and health they get to live in the pens for the summer. During the winter months when the gravel is safely frozen and under snow they get to take their turn in the yard.
We also keep our females in heat in the pen enclosures during their cycle. This ensures that we don't have any accidental breeding.Having a kennel with intact males and females is one of the primary reasons we don't just have a big bunch of dogs running around together.
There are times where dogs will need a clean environment to recover from surgeries, such as spaying or neutering.The pens are much easier to keep clean and disinfect providing the dog's with a clean environment to recover in.
The rest of the dogs can be found at individual houses with tethers.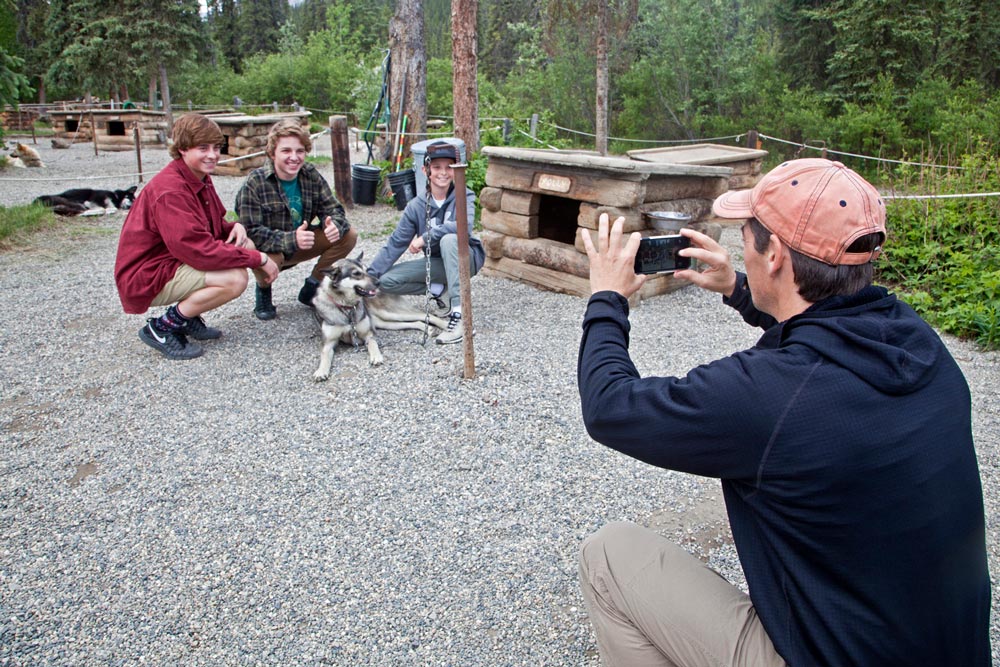 Pet me dogs: There are 5 houses located throughout the yard that have no ropes around them at all. These spots are what we refer to as "Pet Me Dogs". All of the canine rangers are socialized equally and they are very receptive to all forms of attention from belly rubs to a good ear scratch. They love interacting with all of the wonderful visitors we see every summer. We will rotate dogs into these spots for a few weeks at a time. After a while though, too much attention from crowds of can be a bit overwhelming, so we can move the dogs back behind ropes for a little more personal space and R&R time.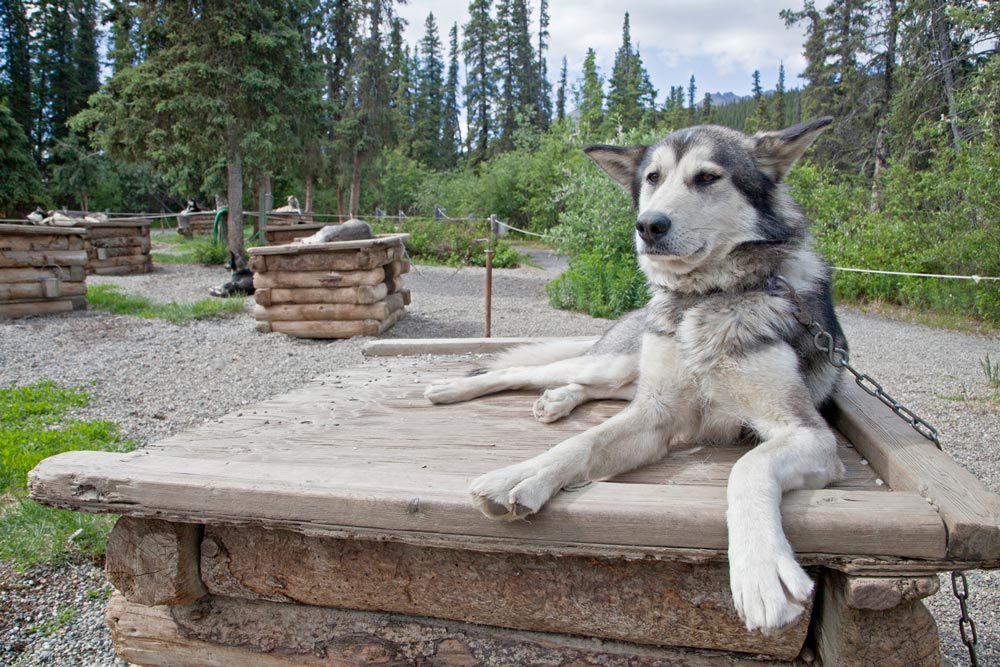 Roped off yard: For dogs, socialization time is really important. however it can also become quite overwhelming when not properly balanced with relaxation time. The roped off sections of the dog yard provide a nice retreat for the dogs to take a second on top of their house to take a deep breath and relax. All of the dogs love the pets and attention they receive during times in the pet me spots but when you have nearly 100,000 hands approaching your face all summer you might start to feel a little overwhelmed with love. The dogs that are roped off have the option to approach the sides of their circles to ask for attention from visitors but they also have the option of just hanging out and enjoying the view. Dogs in these spots can also interact with their neighbor dogs for little bursts of playtime in between free run pen sessions.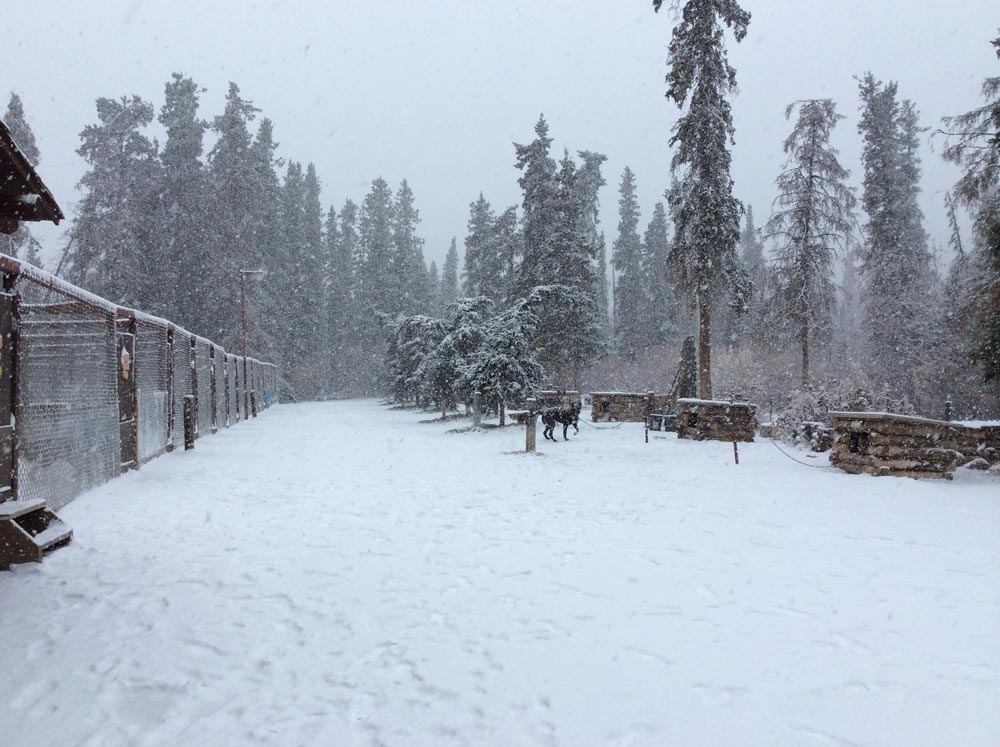 During the winter months, all of these ropes come down as our visitor numbers drastically decrease. Seeing that we are constantly hooking up dogs to carts, ATVs or sleds during the fall and winter seasons and the dogs are more often out on the trail than they are in the yard, human crowd control ropes are just not necessary.
Free run pen: This year we are really excited about the opening of a new free run pen that we just built. This large fenced in enclosure now allows us to let small groups of dog friends romp around with each other for a bit during the day. After a bit of time in the free run pen grazing, fetching, and chasing, most of the dogs are ready to return to their individual houses. There are some dogs that do not have very good relationships so we do have to closely supervise interactions to make sure that the kids are playing nice during recess. The pen is a great opportunity for the dogs to expend some extra energy while still maintaining healthy behaviors and building friendships through play. Good playing behavior is a great way for the dogs to develop strong team bonds, but if the dogs are exposed to over stimulation and socialization beyond a point of tolerance then there is a risk of fights.
"Do the dogs live here in winter too?"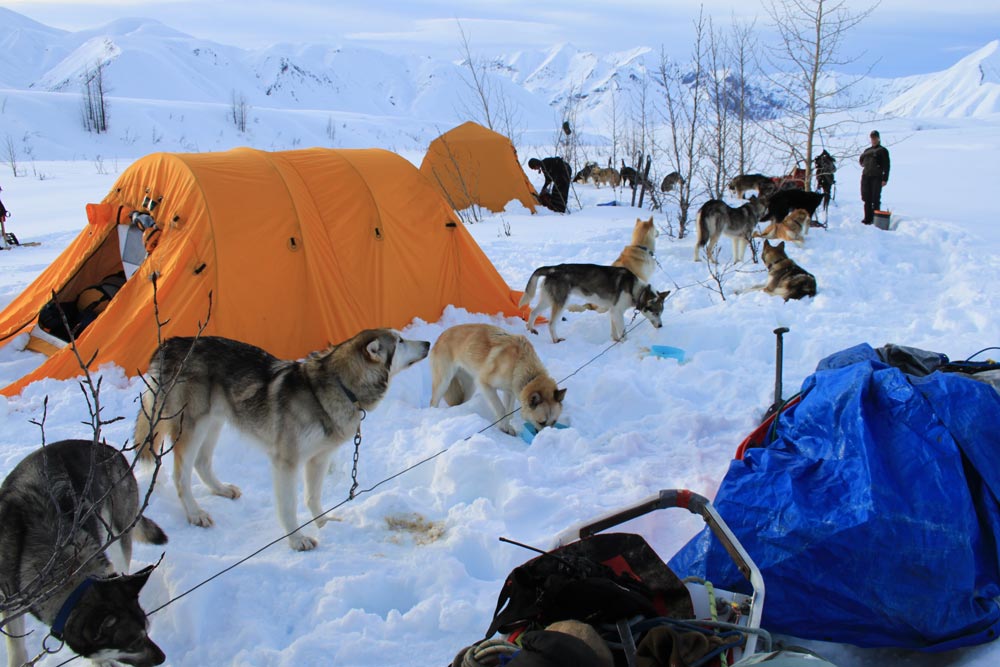 When we head out into the park on backcountry operations we typically go for at least a week and up to 4 weeks at a time. While we are on the trail the dogs sleep on a drop line strung between trees by a cabin or in our camp for the night. Each of the dogs has their own spot and they will dig down to make a cozy bed in the snow for the night. Coming home to their straw filled houses is a luxury after weeks on the trail.
The sled dog kennel here at Denali is a very dynamic operation. Everything is constantly changing around and improving. Our emphasis is providing a positive and comfortable living and working space for our hardworking Canine Rangers. Next time you visit a sled dog kennel take a look around and see if you can spot similarities and difference. You might be surprised how attentive to detail you might become once you know what to expect and look for.