Backpacking is different without a trail system to guide your way. Even experienced backcountry travelers will likely take some time to calibrate the landscape features they encounter in Denali with the maze of seemingly insignificant lines on a topographic map.
After several years working as a backcountry ranger in the Rocky and Cascade Mountains, I find the Denali experience to be of a very different nature. Working with a partner to thoroughly analyze the map, double check with a GPS, and carefully plan a route step by step is essential here, especially as late season snowfall obscures many prominent features from view. My first patrol in this park was an incredible learning experience, and has set me up for future success in navigating throughout the Denali Wilderness.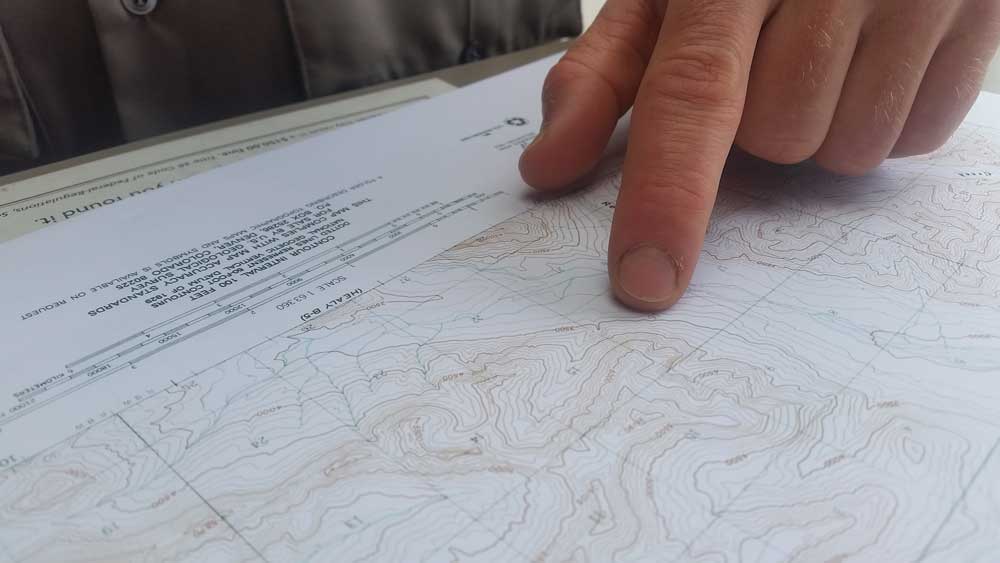 Backpacking in Denali requires map-based navigation. Study your map before and during your trip. NPS Photo.
When planning a trip to the Denali backcountry, expect to spend some time with what I call the "calibration process." Using a topographic map to navigate complex terrain will quickly make one thing clear: the features on the landscape are much larger than one would expect from reading even the most precise United States Geologic Survey Topographic (USGS Topo) map. Complicating things even further is the fact that, as with most of the state of Alaska, the USGS Topo maps available for Denali are in a relatively coarse scale. In the lower 48, the standard maps used for off-trail navigation are the 7.5 minute series quadrangles (quads) and are printed in a 1:24,000 scale, generally using 10-foot contour intervals. These are incredibly precise and detailed navigational tools. Here in Denali, the finest scale of map available is the 15 minute series. One of these USGS 15 minute maps, which are available for sale at the Denali Backcountry Information Center, covers 4 times the area represented by one of the standard 7.5 minute quads. One inch on our maps represents 1 mile on the ground, or a 1:63,360 scale. This means that the best map of the Denali Backcountry is only one quarter as detailed as maps available for most other areas of the U.S. With 100-foot contour intervals to show slopes and valleys, this is a coarse level of detail and offers a unique map reading challenge to backcountry travelers here in the park.
In this age of GPS enabled smart phones, personal locator beacons with satellite capabilities, and other highly advanced handheld navigational aids, we still emphasize the value of a paper map for navigating in off-trail terrain. Batteries fail (especially in the cold). Satellites can be unreliable (especially in foul weather). Using new or unfamiliar technology can be challenging. Finding the correct map layers for your device may present an obstacle. Having a good map and compass- and knowing how to use them- can be the difference between a successful trip and a mishap in the backcountry.
Some tips:
Make sure that all members of your party are involved in the navigation process throughout the trip. If something goes wrong, everyone should be able to find their way to safety on their own.
Mark pertinent information on the map in an understandable manner. Backcountry Unit Boundaries, the Denali Park Road, Wildlife Closures and other features are important to locate before beginning your trip.
Reference the map when a prominent landscape feature comes into view. This can help calibrate your location on the ground to the details on the map. Many areas of the Denali backcountry have large expanses of terrain with very similar topographic features, so any unique landmarks can help you get your bearings.
Practice using a map and compass when there is good visibility. The weather here can change quickly, and clouds or precipitation can make navigating more difficult. If you feel confident about your route and location before the visibility diminishes, you'll be better prepared to find your way when it matters most.
Have Fun! Map reading and interpretation are unique and valuable skills that few people in our modern era have mastered. Finding your way off the beaten path is the perfect opportunity to hone these aptitudes, and it's bound to lead you on the journey of a lifetime as you explore and discover the dynamic challenges of the Denali backcountry.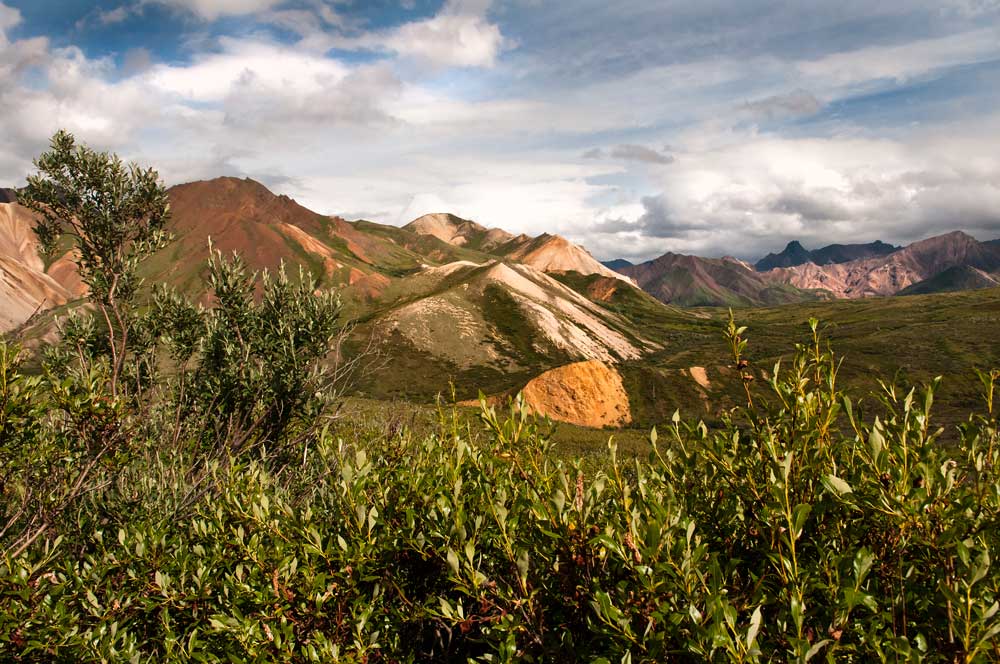 A typical landscape in the Denali backcountry. NPS Photo