| | | |
| --- | --- | --- |
| TODAY'S STATS | Mt. McKinley | Mt. Foraker |
| Registered Climbers | 844 | 11 |
| Climbers Currently On Mountain | 92 | 2 |
| Completed Climbs | 2 | 2 |
| Number of Summits | 1 | 2 |
| Summit Percentage | 50% | 100% |

The Walter Harper Talkeetna Ranger Station also maintains a daily automated statistics phone line, so if this blog is lagging behind and you need up-to-date registration numbers, call (907) 733-9127. 

Weather Report
The ranger patrol camped at 11,000-feet woke up this morning to 10 inches of new snow.  They also reported considerable winds throughout the night.  
Down at 7,200 feet, the Basecamp manager Lisa Roderick reported 3.5" of new snow in the last 24 hours. Light snow was falling at 8 a.m., winds were out of the east at 2 mph, with occasional gusts to 7 mph out of the west.  The temperature was 23 F (-5 C).  
In the last 24 hours at 7,200-feet:
Low temp: 22 F (-6 C) 
High temp: 26 F (-3 C)

National Weather Service forecast  

Ranger Update
Significant snowfall and windy conditions are keeping NPS Denali Patrol #1 (Erickson, Westman, 2 PJ's, 4 VIPs) at the 11,000-foot camp on the West Buttress.  And as the forecast does not call for the weather pattern to change today, they will remain camped at 11K for the fourth night in a row.
The mountaineering VIPs for NPS Denali Patrol #2 are packing supplies today in rainy Talkeetna.  Ranger Mik Shain will lead the four member patrol, with an anticipated fly-on date -- weather permitting -- of Saturday, May 9.
Walter Harper Talkeetna Ranger Station staff anticipate 3 Denali expedition orientations today, along with a quick visit from 60 wet, soggy kindergartners from Wasilla.
Route Conditions
Snow continues to fall on an already healthy snowpack on both the lower glaciers and upper elevations of the mountain.  
Climbers on the West Buttress are cautioned to round Windy Corner with care.  Early season climbers who broke trail through the crevassed section around and above Windy Corner reported multiple crevasse falls of varying depths, though no injuries. 

Photo of the Day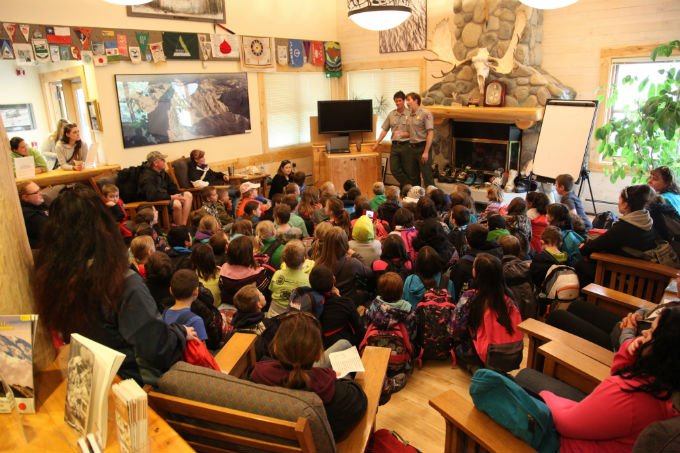 Mountaineering rangers Joey McBrayer and Dan Corn field Denali climbing questions from 90 third graders at the Walter Harper Talkeetna Ranger Station on Thursday, May 7.  Among other lessons, McBrayer and Corn taught the kids the basic mechanics behind pulling a climber out of a crevasse, and the kids put that rope knowledge to work pulling a truck across the parking lot.  The kids then walked around town, with a lesson on climbing history at the local museum, aviation history with a film at the Sheldon Community Arts Hangar, and  closeup view and Q & A on the park's high altitude helicopter.  (NPS Photo/Mik Shain)