| | | |
| --- | --- | --- |
| TODAY'S STATS |     Denali     | Mt. Foraker |
| Registered Climbers | 1,002 | 18 |
| Climbers Currently On Mountain | 473 | 9 |
| Completed Climbs | 184 | 9 |
| Number of Summits | 38 | 2 |
| Summit Percentage | 20% | 22% |
The Walter Harper Talkeetna Ranger Station also maintains a daily automated statistics phone line, so if this blog is lagging behind and you need up-to-date registration numbers, call (907) 733-9127. 

Weather Report
7,200 feet - At 8:00 am this morning it was snowing and overcast at Basecamp.  Winds were calm, with not even a mild 'gust' recorded on the weather equipment. Lisa did measure 18 cm (7 inches) of new snow overnight. (Side note: weather was dramatically improving from the 8 am observations...by 10:00 am it was sunny and clear)
In the last 12 hours:
Current temp:  -1 C / 30 F
Low temp:  -2 C / 28 F
High temp:  -1 C / 30 F
14,200 feet -  Joey confidently reports that today is shaping up to be the nicest weather day on the mountain in the past month.  At 8:00 am, it was lightly snowing, but bright overhead. Winds were calm, with an occasional breeze to 3 mph out of the southwest. And 12 cm (~5 inches) of new snow is starting to fill in the wind-scoured landscape.
In the last 12 hours:
Current temp:  -17 C / 1 F
Low temp:  -18 C / 0 F
High temp:  -17 C / 1 F
National Weather Service forecast  

Ranger Update
NPS Denali Patrol #1 (Erickson, Coady, 2 GRTE rangers, 2 VIPs)  Fingers crossed for a fly-out day today. Erickson, Guenther, Fletcher, Weaver, and Mock are currently at Basecamp, awaiting their flight out. Coady is still at the 14,200-foot camp, as she will serve as medical attendant to two frostbite patients awaiting helicopter evacuation. Patrol members are undoubtedly excited for the green foliage, mosquitoes, and ice cream cones that await them in Talkeetna. Its been a particularly blustery patrol, with a busy last couple days, including short-roping the two frostbite patients down the fixed lines on Saturday afternoon, then that evening conducting the body recovery of a skier who died in a fall on the Messner Couloir. (see news release link below)   
NPS Denali Patrol #2 (McBrayer and 3 VIPs) The patrol had one night to themselves at 14K camp, between the descent of Patrol #1 and the inbound Patrol #3 arriving in camp this afternoon. After assisting in last night's recovery, today will be busy prepping for helicopter activity related to the weekend SAR incidents.      
NPS Denali Patrol #3 (Corn, 4 VIPs, 2 PJ's) The team has been camped the last few nights at 11,200 feet, and today they will round Windy Corner and join McBrayer and Co. at 14K. We'll hear more from them in the days to come, as this is historically the busiest week of the season.  
NPS Denali Patrol #4 (Shain, 4 VIPs) Today is shaping up to be a beautiful day to start a patrol. Ranger Mik Shain is awaiting a flight in with three returning Denali mountaineering volunteers Sue Wolff, Brian Mulvihill, and Dahr Jamail, as well as first time Denali volunteer Dr. Liam O'Sullivan. Stay tuned for team photos tomorrow.
NPS Basecamp Patrol #3 (Preston, 1 VIP)  Ranger Frank Preston and Volunteer Alisa Royem flew into Basecamp on Saturday, May 28 for a ten day patrol.  Similar to 14K, they will facilitate helicopter flights related to recent SARs, as well as probably helo flights in support of ice core science on Mount Hunter. Additionally, Frank and Alisa will host the 14K patrol exchange, bidding goodbye to #1 and welcoming #4.  


Route Conditions  
While the upper mountain has been blasted by high winds over the last week or two, with hard-packed sastrugi prevalent everywhere up high...today the upper mountain has been freshened up a bit with 5 inches of new snow.  
Lower mountain temperatures have been cooler the last couple days, providing relief from the slushy conditions leading into the weekend.  Also, the new snow that fell last night will help travel conditions, though lower glacier travelers should be prepared for some trail-breaking today.  
And for details concerning the fatal skiing fall that occurred on Saturday evening on Denali, go to: https://www.nps.gov/dena/learn/news/messnerfatalfall.htm  As of posting of this field report Monday morning, Pavel Michut's remains had yet to be flown from the 14,200-foot camp, but assuming the weather conditions allow, that flight is intended to happen this afternoon.

Photo of the Day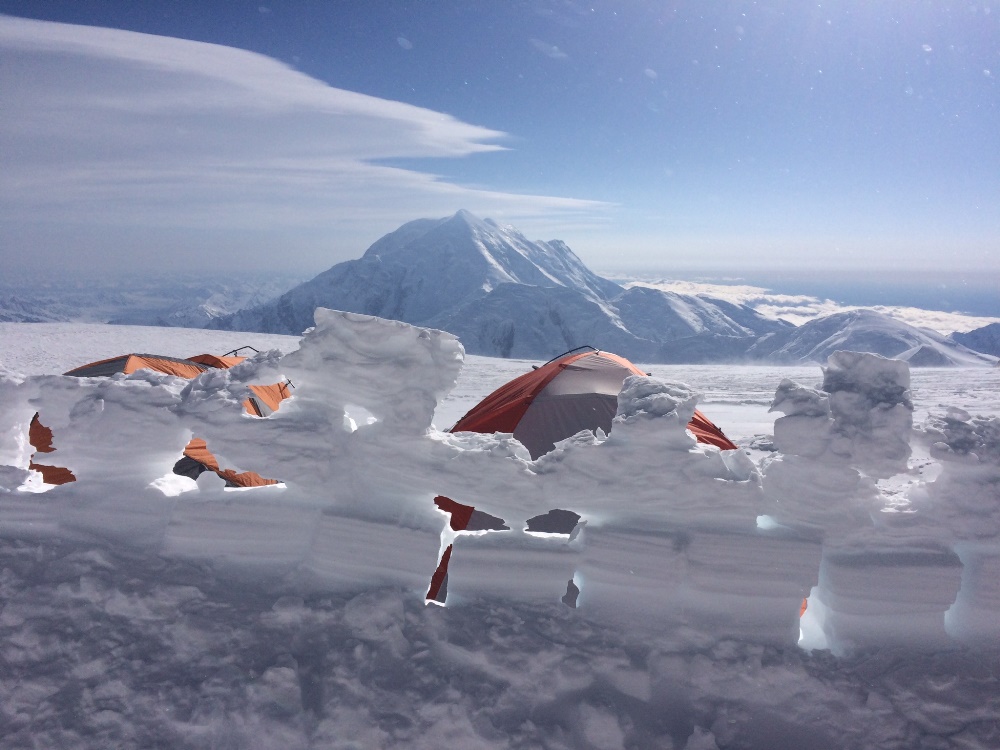 Grand Teton Ranger Scott Guenther, who has helped keep these blog entries up-to-date with mountain photos throughout their patrol, texted this one to us Saturday morning, May 30. What were once solid, reinforced snow walls, the winds of Storm Evans have reduced to delicate lace snow scupture.  NPS Photo/Scott Guenther