| | | |
| --- | --- | --- |
| TODAY'S STATS | Mt. McKinley | Mt. Foraker |
| Registered Climbers | 955 | 11 |
| Climbers Currently On Mountain | 429 | 3 |
| Completed Climbs | 112 | 4 |
| Number of Summits | 1 | 4 |
| Summit Percentage | 0.89% | 100% |

The Walter Harper Talkeetna Ranger Station also maintains a daily automated statistics phone line, so if this blog is lagging behind and you need up-to-date registration numbers, call (907) 733-9127. 

Weather Report
14,200 feet - Rangers report a few clouds, but mostly clear skies this morning. They received 2 cm of snow yesterday.  Wind speed at 8 am was 9 mph from the east, gusting to 13 mph from the east.  
In the last 12 hours, 
Current temp:  5 F (-15 C)
Low temp: 3 F (-16 C) 
High temp: 9 F (-13 C)   
7,200 feet - Basecamp has clear skies and a morning windspeed of 2 mph from the east, gusting to 18 mph from the east.  
In the last 12 hours at 7,200-feet:
Current temp: 36 (2 C)
Low temp: 25 F (-4 C)
High temp: 36 F (2 C)


National Weather Service forecast  

Ranger Update
NPS Denali Patrol #2 (Shain + 3 VIPs) Two VIPs (Schaefer, Rich) moved to high camp yesterday, and they will be joined by Shain and VIP Wolff later today.  Although a full ground crew may be positioned at high camp by this evening, conditions are reported as too windy for a safe helicopter mission at 17,200 feet.  The recovery of deceased climber Javier Callupan will proceed when conditions allow.
NPS Denali Patrol #3 (Weber, 2 PJ's, 2 VIPs) are busy patrolling at 14,200-foot camp today. Yesterday, outbound rangers Westman and Erickson reported passing a huge wave of climbers headed up to 14,200 feet, they estimate the camp population reaching up to 300 climbers last night.
NPS Denali Patrol #4 (Chenoweth, 4 VIPs) will remain at the Kahiltna Basecamp today to do some crevasse rescue training.  They plan to start their ascent tomorrow.
NPS Basecamp Patrol #3 (Corn +1 VIP) were patrolling up glacier early this morning.  Last night Basecamp enjoyed a good solid freeze-up, so the morning's hard snow crust is great for boot-walking. Warm sunny days have made for difficult, punchy walking once the temperatures climb.    
Route Conditions
In the late afternoon on May 25, a hard slab avalanche was triggered by a skier in a party of three. The three skiers where heading toward the Rescue Gully below the 17,200-foot camp on the West Buttress. The slide took place above the trail for the West Buttress, just east of the fixed lines at 15,300-feet. The skiers were swept to 14,800-feet on the West Buttress. Luckily no serious injuries were reported. Debris swept over the trail to 14,600-feet, covering parts of the trail leading to the fixed lines on the West Buttress. 
In the past week, the area where the avalanche took place had received new snow coupled with high winds, creating a wind slab. The crown varied from 2-3 feet in height and is 250 feet wide. This is an event that a lot can be learned from. The results could have been much worse, especially with the debris running across the trail for the West Buttress. After a weather pattern that produced higher winds and snow, it is common to see experienced climbers wait a couple days to go into avalanche terrain. (~NPS Ranger Joseph McBrayer)

Photo of the Day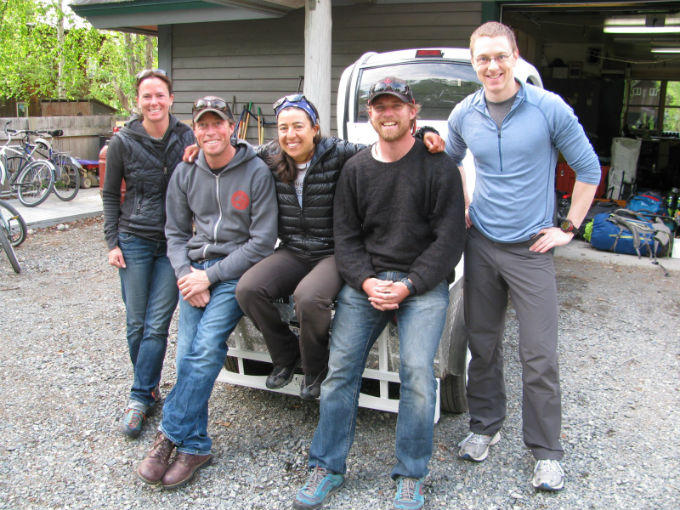 NPS Patrol #4 gets ready to load up the Gem, our new electric flatbed, with their backpacks, skis and patrol duffles. From left to right: VIP Andrea Tupy, NPS Ranger Tucker Chenoweth, VIP Tressa Gibbard, VIP Frank Preston, and VIP Dr. Andrew Latimer.  (NPS Photo)