| | | |
| --- | --- | --- |
| TODAY'S STATS | Mt. McKinley | Mt. Foraker |
| Registered Climbers | 935 | 11 |
| Climbers Currently On Mountain | 389 | 3 |
| Completed Climbs | 30 | 4 |
| Number of Summits | 1 | 4 |
| Summit Percentage | 3% | 100% |

The Walter Harper Talkeetna Ranger Station also maintains a daily automated statistics phone line, so if this blog is lagging behind and you need up-to-date registration numbers, call (907) 733-9127. 

Weather Report
14,200 feet - Winds were a little calmer this morning at 14,200-feet, 4 mph from the east, gusting to 21 mph. Skies are mostly blue, with a few thin, wispy clouds over the summit.  No new precipitation in the past 24 hours.
In the last 12 hours, 
Current temp:  16 F (-9 C)
Low temp: 10 F (-12 C) 
High temp: 16 F (-9 C)   
7,200 feet - Lisa at Basecamp also sees a few streaming clouds overhead, but generally clear skies.  Winds were at 2 mph from the east at 8 am, with gusts recorded to 16 mph. No snow in the past 24 hours. 
In the last 12 hours at 7,200-feet:
Current temp: 32 (0 C)
Low temp: 28 F (-2 C)
High temp: 36 F (2 C)


National Weather Service forecast  

Ranger Update
NPS Denali Patrol #1 (Erickson, Westman, 2 PJ's, 4 VIPs)  Several patrol members may make a day trip to 17,200-foot camp today; winds were a little calmer today, however high wind warnings are in the forecast for the next several days.  The recovery mission for deceased climber Javier Callupan remains on hold until both ground and helicopter crews can safely work at 17,200-feet.      
NPS Denali Patrol #2 (Shain + 3 VIPs) is at 14,200-foot camp.  An estimated 100 or so climbers are currently staged at 14,200-feet, waiting for a good weather window to go higher.  The park helicopter will make a re-supply mission to 14,200-feet if winds allow. 
NPS Denali Patrol #3 (Weber, 2 PJ's, 2 VIPs) camped again at 7,800 feet last night, with plans to move up today.
NPS Basecamp Patrol #2 (Reichert + 2 VIPs) have been busy talking with climbers at basecamp, reinforcing CMC 'privacy stations' around camp, and other routine maintenence.


Route Conditions
> Rangers did some trail re-routing work at Windy Corner a couple days ago. Climbers are advised to follow the wanded lower trail. This more direct route has fewer crevasses and avoids more of the rockfall zone. Nevertheless, climbers are cautioned there still are many crevasses in the vicinity of Windy Corner this season.
> The fixed lines on the Headwall are in good shape, and a few pickets were reportedly in place on the traverse to Denali Pass, although very few teams have made it that high this season.
Photo of the Day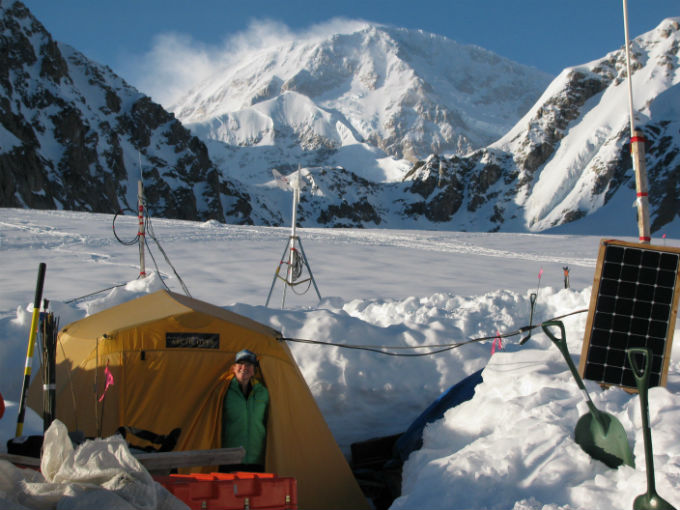 Volunteers-in-Parks (VIP) Emily McGinty, a nurse and mountaineer from Wyoming, pokes her head out of the NPS Basecamp tent last week.  Rangers and volunteers are stationed on the Southeast Fork of the Kahiltna Glacier during the busier weeks of the climbing season for critical communications, resource management (i.e. helping climbers to keep the glacier clean), emergency medical services, aviation communications, and route and weather conditions reporting.  Camp infrastructure elements pictured include the radio antenna, wind generator, and solar panels.  (NPS Photo/Roger Robinson)