| | | |
| --- | --- | --- |
| TODAY'S STATS |     Denali     | Mt. Foraker |
| Registered Climbers | 742 | 23 |
| Climbers Currently On Mountain | 41 | 6 |
| Completed Climbs | 4 | 0 |
| Number of Summits | 0 | 0 |
| Summit Percentage | 0% | 0% |

The Walter Harper Talkeetna Ranger Station also maintains a daily automated statistics phone line, so if this blog is lagging behind and you need up-to-date registration numbers, call (907) 733-9127. 

Weather Report
7,200 feet -  Lisa Roderick reports few clouds over basecamp, with an east wind blowing snow off nearby ridges.  A trace of new snow fell overnight.  Winds were 5 mph out of the east, with gusts to 14 mph from the southeast.
In the last 12 hours:
Current temp: -12 C
Low temp:  -13 C
High temp:  -11 C 
The FAA Kahiltna Glacier webcam is getting installed today for the season. Hopefully it will be up and running this afternoon, or in the next day or two.
National Weather Service forecast 

Ranger Update
NPS AKR Patrol #1 (Corn, McBrayer)  Returned from patrol on Mount Hunter on Saturday, April 29. Patrol report and photos forthcoming.
NPS AKR Patrol #2 (Chenoweth, Weber) Also returned from patrol of West Kahiltna Peak on Saturday, April 29.  Patrol report and photos forthcoming.  
NPS AKR Patrol #3 (Shain, VIP Wolff) Ranger Mik Shain and returning volunteer Sue Wolff will fly into the Ruth Gorge today. In addition to typical terrain short-haul training, contacting park visitors, assessing snow and route conditions, and glacier cleanup as needed...the team will undoubtedly do some climbing in the Gorge. 
NPS Denali Patrol #1 (Erickson, Coady) Rangers Chris Erickson and Melis Coady will be joined on patrol by two climbing rangers from Grand Teton National Park, and two Volunteers-in-Parks. Patrol members are arriving in Talkeetna tonight, and we'll introduce them here shortly. The patrol will prep and pack the next few days and fly into basecamp to start the patrol on Thursday, May 5, weather permitting.     

Route Conditions
We haven't received any Denali route condition reports yet, but we hope to later this week. As for the rest of the Alaska Range, see Friday's blog entry (Field Report, April 29) for a long list of route conditions.

Photo of the Day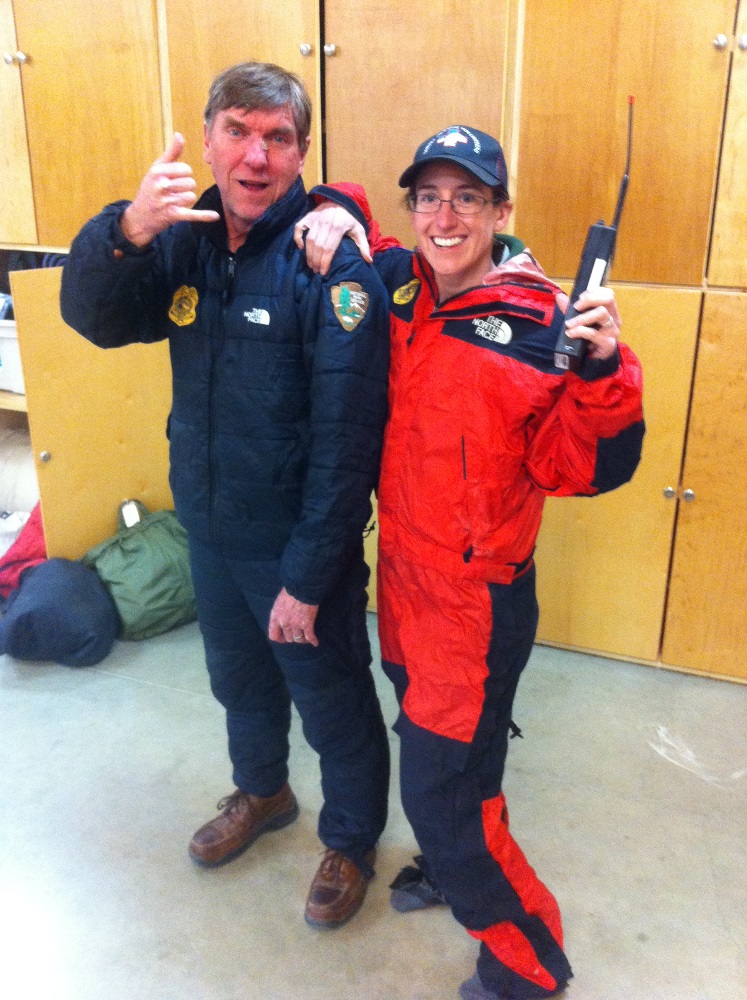 Ranger Roger Robinson (left) is heading into his 37th season as a Denali mountaineering ranger!  Roger is joined above by Denali's newest mountaineering ranger Melis Coady (modelling a historic ranger onesie), who officially starts work TODAY!  Coady is a veteran NPS patrol volunteer and has been guiding in the Alaska Range since 2002. She has bravely stepped up to join the first upper mountain patrol of the season that starts this Thursday, May 5.  (NPS Photo)