| | | |
| --- | --- | --- |
| TODAY'S STATS | Mt. McKinley | Mt. Foraker |
| Registered Climbers | 990 | 15 |
| Climbers Currently On Mountain | 436 | 6 |
| Completed Climbs | 279 | 9 |
| Number of Summits | 102 | 4 |
| Summit Percentage | 37% | 44% |

The Walter Harper Talkeetna Ranger Station also maintains a daily automated statistics phone line, so if this blog is lagging behind and you need up-to-date registration numbers, call (907) 733-9127. 

Weather Report
14,200 feet -  Thin cloud cover over 14,200-foot camp this morning, with decent visibility up to 16,000 feet.  Windspeed was 15 mph at 8 am, and 7 cm of new snow fell on 14K in the past 12 hours. Still no temperature observations until the next re-supply mission is flown.       
7,200 feet -  It's cloudy and snowing moderately at Basecamp today. They received 15 cm of new snow overnight. The morning windspeed was 5 mph from the northwest, gusting to 15 mph from the northwest.  
In the last 12 hours:
Current temp: 27 (-3 C)
Low temp: 27 F (-3 C)
High temp: 28 F (-2 C)
Looking at satellite imagery, rangers in Talkeetna believe a significant wet weather pattern will stick around for several days, impacting flights to and from the mountain in the days ahead.  Weather on the ground here in Talkeetna is wet and rainy, with few breaks anticipated through the weekend.  
National Weather Service forecast  

Ranger Update
NPS Denali Patrol #2 (Shain + 3 VIPs) is at Basecamp, waiting for good weather for a return flight to Talkeetna.  
NPS Denali Patrol #3 (Weber, 2 PJ's, 2 VIPs) is camped at 17,200 feet, along with two other parties.
NPS Denali Patrol #4 (Chenoweth, 4 VIPs)  is camped at 14,200-feet.
NPS Denali Patrol #5 (McBrayer, 4 VIPs) is waiting for the rain to stop in Talkeetna, they are packed and ready to go when the weather is flyable. 
Likewise, NPS Basecamp Patrol #3 (Corn +1 VIP) is waiting for good weather to swap out with Basecamp Patrol #4 (Westman + 2 VIPs).  
Denali Rescue Volunteers (DRV), the park's 'Friends' group that helps support mountaineering Volunteers-in-Parks at Denali, will be hosting two slideshow/fundraisers in Alaska within the next week -- a Talkeetna event on Saturday, June 6 and an Anchorage event on Tuesday, June 9. (See below for showtimes and locations).  In addition to door prizes and raffle items donated by local and national sponsors (outdoor gear, flights, food & beverage, etc), the headline event is a slideshow narrated by David Roberts and Matt Hale, who will be telling stories of their epic first ascent of the Harvard Route on Mount Huntington.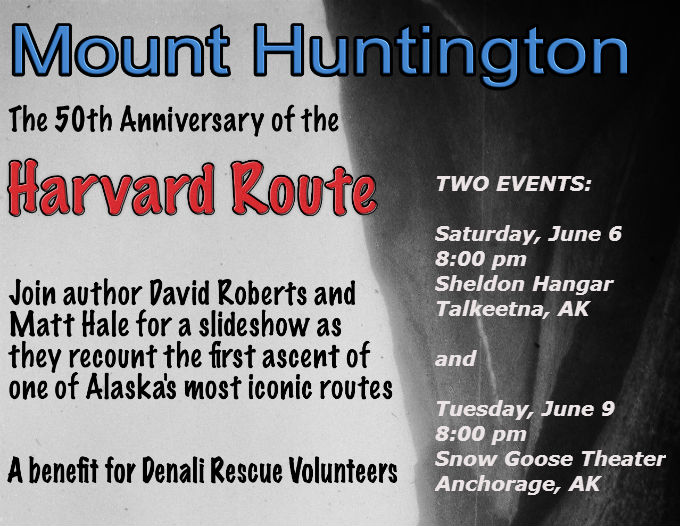 Route Conditions
Rangers at all three elevations (7K, 14K, 17K) report that all is relatively quiet on the mountain today.  Most climbing teams seem to be staying put due to moderate snowfall and areas of limited visibility.
As reported earlier this week, the Autobahn (between 17,400-ft to 18,200-ft) is in great shape for travel. NPS rangers and volunteers placed 27 pickets with draws, all well-spaced for teams with 60 meter ropes.    
Denali Patrol #3 reported good, firm climbing conditions on the Upper West Rib after a daytrip up the route several days ago. 


Photo of the Day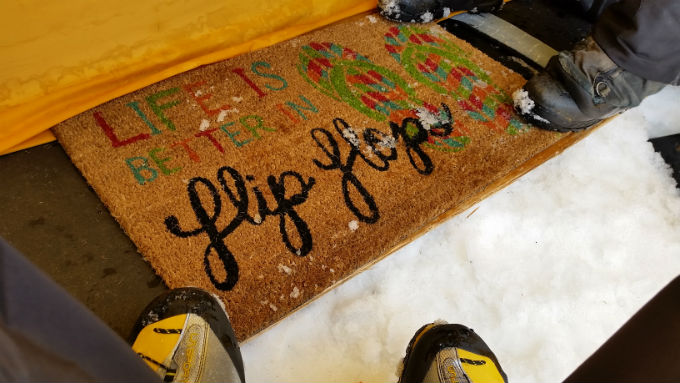 Basecamp doormat (NPS Photo/Kakiko Ramos-Leon)