| | | |
| --- | --- | --- |
| TODAY'S STATS |     Denali     | Mt. Foraker |
| Registered Climbers | 1,138 | 16 |
| Climbers Currently On Mountain | 195 | 0 |
| Completed Climbs | 924 | 16 |
| Number of Summits | 550 | 7 |
| Summit Percentage | 60% | 44% |
The Walter Harper Talkeetna Ranger Station also maintains a daily automated statistics phone line, so if this blog is lagging behind and you need up-to-date registration numbers, call (907) 733-9127. 

Weather Report
7,200 feet -  Scattered clouds over basecamp today, coupled with very bright light conditions. Wind was calm, with a mild gust to 6 mph out of the east.  
In the last 12 hours:
Current temp:  1 C / 34 F
Low temp:  0 C / 32 F
High temp:  1 C / 34 F


14,200 feet -  They've got a few clouds overheard, with a thicker cloud layer below 14,000 feet. Wind was 2 mph out of the northeast, gusting to 8 mph out of the north. They got 1 cm of new snow overnight.
In the last 12 hours:
Current temp:  -13 C / 9 F
Low temp:  -14 C / 7 F
High temp:  -11 C / 10 F
National Weather Service forecast

Ranger Update
NPS Denali Patrol #5 (Gentzel, 3 VIPs)  Coley and crew are currently camped at 17,200 feet, having moved up yesterday. They expect to stay at high camp through July 1.
NPS Denali Patrol #6 (Weber, Preston, 4 VIPs)  Today the patrol will re-locate the weather station at the Edge of the World (14,200 camp) up to the 16K ridge. Then they plan to do some rigging training on the ridge.
Route Conditions
Last night, at least 25 or so climbers got flown out of basecamp during a brief weather window. A few poor souls were left behind as the cloud cover came in. Sarah reports very soft snow on the lower glacier. 
Denali's upper mountain conditions are 'mellow and enjoyable', per Dave Weber.  Some intermittent bursts of snow have freshened up the route. Teams are moving on schedule.
And Chris Erickson reports that the Pika Glacier is in great shape - firm for travel yet soft for camping. 

Bergschrunds to the major climbs are easily crossed and rockfall near routes is (so far) minimal.  Much snow fell on the upper slopes of the Pika peaks during the 6/18-19 snowstorm (Storm Genet) and has been slowly melting, though many teams reported wet or snowy conditions on "The Lost Marsupial" on The Throne and "The South Face" of Middle Troll.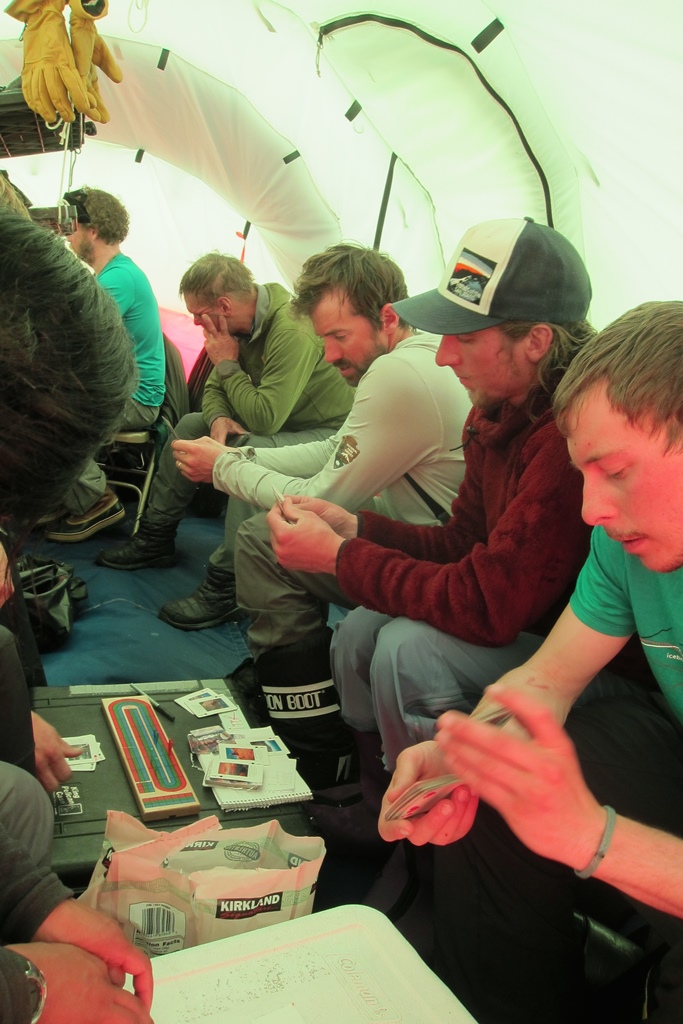 Passing the time at 14 camp (NPS Photo/Melis Coady)