| | | |
| --- | --- | --- |
| TODAY'S STATS |     Denali     | Mt. Foraker |
| Registered Climbers | 1,101 | 16 |
| Climbers Currently On Mountain | 386 | 0 |
| Completed Climbs | 612 | 16 |
| Number of Summits | 328 | 7 |
| Summit Percentage | 54% | 44% |
The Walter Harper Talkeetna Ranger Station also maintains a daily automated statistics phone line, so if this blog is lagging behind and you need up-to-date registration numbers, call (907) 733-9127. 

Weather Report
7,200 feet -  We don't have this morning's weather observations just yet, but all in all, daytime highs have been just above freezing, with overnight temperatures between 21 and 26 F. No snow accumulation to speak of in the last couple days. 
In the last 12 hours:
Current temp:   C /  F
Low temp:   C /  F
High temp:   C /  F


14,200 feet -  Perfectly clear skies yesterday, last night, and today,  Windspeed this morning at 14 camp was 1 mph out of the north, with with gusts to 10 mph out of the east.   
In the last 12 hours:
Current temp:  -17 C / 1 F
Low temp:  -17 C / 1 F
High temp:  -13 C / 9 F
National Weather Service forecast

Ranger Update
NPS Denali Patrol #3 (Corn, 4 VIPs, 2 PJ's)   Volunteers Jon Waterman, Bobby Cosker, and Michael Hutchins, along with PJ's Cody Inman and Jeff Hamilton went to the summit of Denali on Sunday, June 12. Which just happened to be Jon's 60th birthday and 40th anniversary of his first expedition on Denali!  Ranger Dan Corn and Volunteer Justin Fraser stayed at 17 camp that day to work on camp cleanup, gathering trash, abandoned caches, and expired food and medical supplies.  Then yesterday, the NPS high altitude helicopter made a high altitude clean up flight to 17,200 feet, hauling all that trash and supplies down to 14 camp and eventual retrieval to Talkeetna.  Then yesterday afternoon, the whole patrol descended to 14 camp.
NPS Denali Patrol #4 (Shain, 4 VIPs)  Mike and crew facilitated the upper mountain clean up effort yesterday, and got re-supplied themselves.  They will ascend to high camp in a couple days once Coley Gentzel's patrol reaches 14 camp. 
NPS Denali Patrol #5 (Gentzel, 3 VIPs)  All are camped at 11,000 feet today, with plans to ascend to 14 camp tonight.
NPS Basecamp Patrol #4 (Coady, 1 VIP) Melis and Bace skied to the 7,800-foot camp yesterday to retrieve a stash of garbage that Patrol #5 had gathered from a raven-riddled cache. 
Route Conditions
Night travel is the name of the game on the lower glacier, with most climbers leaving basecamp between 10 pm and 2 am. Snow is reportedly a a bit punchy off the trail.  All climbers are advised to travel roped up on the lower glacier. We are hearing reports of teams punching into crevasses at the bottom of Heartbreak Hill and the mouth of the East Fork of the Kahiltna.
Photo of the Day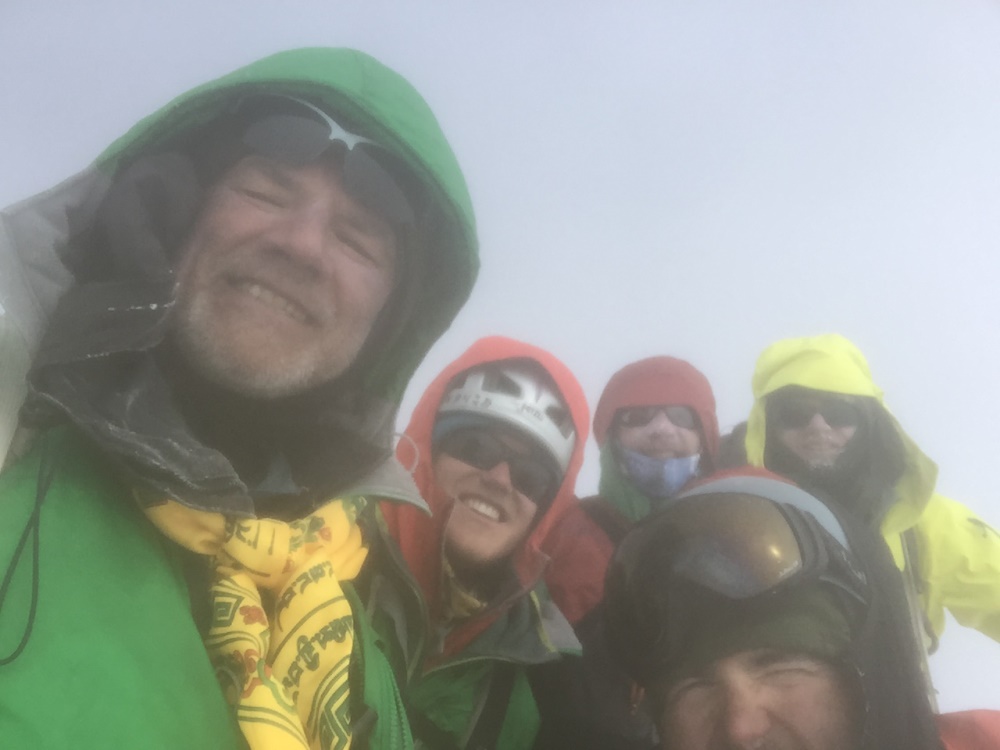 Birthday party on the summit of Denali, June 12, 2016.  Volunteer and former Denali mountaineering ranger Jon Waterman, on far left, celebrated #60 with fellow patrol members Mike Hutchins, Bobby Cosker, Cody Inman (in front), and Jeff Hamilton. The crew presented the birthday boy with a ceremonial kata scarf on the summit!  (NPS Selfie/Jon Waterman)