| | | |
| --- | --- | --- |
| TODAY'S STATS | Mt. McKinley | Mt. Foraker |
| Registered Climbers | 1,036 | 15 |
| Climbers Currently On Mountain | 443 | 4 |
| Completed Climbs | 421 | 11 |
| Number of Summits | 207 | 4 |
| Summit Percentage | 49% | 36% |

The Walter Harper Talkeetna Ranger Station also maintains a daily automated statistics phone line, so if this blog is lagging behind and you need up-to-date registration numbers, call (907) 733-9127. 

Weather Report
14,200 feet - Camp received 7 cm of new snow in the past 24 hours, most of which fell yesterday afternoon. Their storm total is now at 15 cm, though there was no snow falling this morning.  Skies were overcast, and the winds at 8 am were 3 mph out of the northeast, with gusts to 21 mph. Temperatures have finally inched above 0 F.   
In the last 12 hours:
Current temp:  1 F (-17 C)
Low temp:  -6 F (-21 C)
High temp:   1 F (-17 C)   
7,200 feet -  The heavy snowfall has tapered, with only 2 new cm of snow falling the past 24 hours - the storm total now up to 64 cm of snow since Monday. A light snow was falling this morning, skies were obscured, winds were calm, temperatures cool.
In the last 12 hours:
Current temp: 28 F (-2 C)
Low temp: 23 F (-5 C)
High temp: 28 F (-2 C) 
A high pressure system is on its way, with a long stretch of clear, warmer weather in the forecast! 
National Weather Service forecast  

Ranger Update
NPS Denali Patrol #3 (Weber, 2 PJ's, 2 VIPs) descended to Basecamp yesterday.  Today is their scheduled fly-out day, but the weather report looks grim.
NPS Denali Patrol #4 (Chenoweth, 4 VIPs) will remain at 14,200-foot camp until Patrol #5 can come up and relieve them. They report most teams on the mountain are staying put where they are, waiting to move once the forecasted good weather comes in.   
NPS Denali Patrol #5 (McBrayer, 4 VIPs) are camped at 11,000 feet.  They will move up to 14,200-feet if conditions allow, possibly today, however the weather has not been conducive this morning.  
NPS Basecamp Patrol #4 (Westman + 2 VIPs) will swap out tomorrow with Basecamp Patrol #5, led by ranger Mik Shain.
NPS Denali Patrol #6 is (Gentzel, Corn, + 4 VIPs)  is packed and ready to fly when weather permits, which looks more likely tomorrow than today. 

Route Conditions
The West Buttress route between 9,800 feet and 11,000 feet is now clearly and thoroughly wanded, helpful in the event any climbers find themselves moving through in whiteout conditions.
As a result of significant recent snowfall, climbers are advised of heightened avalanche conditions both during and immediately following the storm. On the bright side, travel on the lower glaciers will continue to improve as the snow settles.  The improved snow base should prove helpful during the warm, sunny days that are forecasted into next week.

Photos of the Day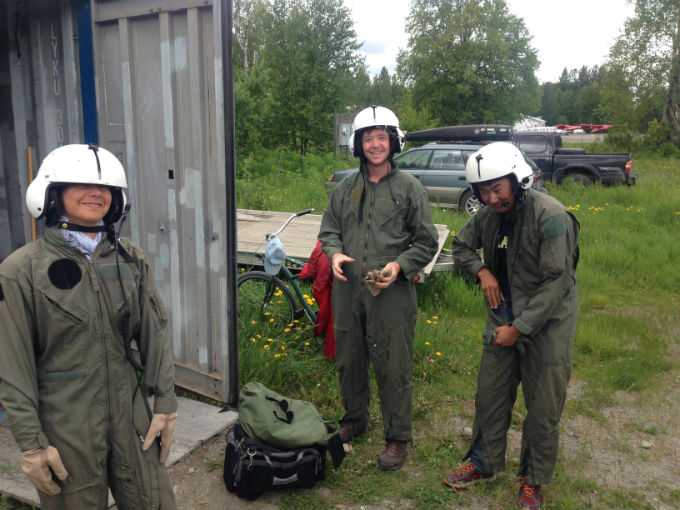 Volunteers-in-Parks (VIPs) Ashley Feerer, Justin Fraser, and Mingma Tenzing Sherpa suit up in their flight gear prior to helicopter training at the Talkeetna State Airport helipad.  Photo by VIP Scott Owens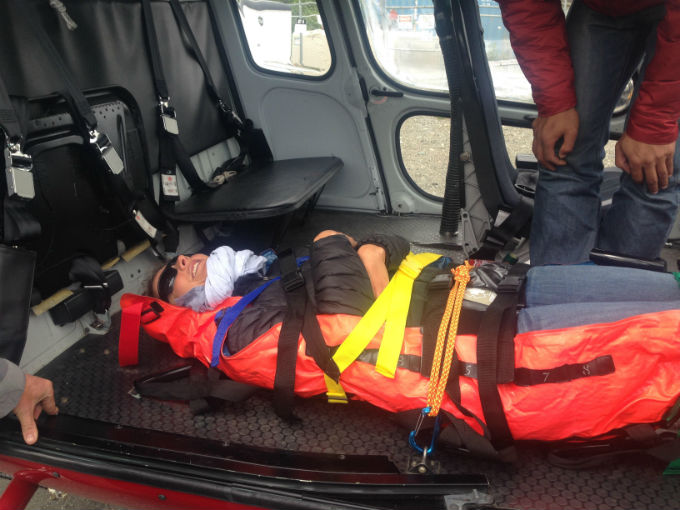 In this photo, volunteer Ashley Feerer plays the victim while the other volunteers practice packaging and loading a rescued patient in the park's high altitude A Star B3e helicopter.  Photo by VIP Scott Owens