| | | |
| --- | --- | --- |
| TODAY'S STATS | Mt. McKinley | Mt. Foraker |
| Registered Climbers | 1,089 | 15 |
| Climbers Currently On Mountain | 10 | 0 |
| Completed Climbs | 1,077 | 15 |
| Number of Summits | 614 | 6 |
| Summit Percentage | 57% | 40% |

The Walter Harper Talkeetna Ranger Station also maintains a daily automated statistics phone line, so if this blog is lagging behind and you need up-to-date registration numbers, call (907) 733-9127. 

Weather Report
NPS daily weather observations are done for the season.
National Weather Service forecast  

Ranger Update
Rangers Chris Erickson and Dan Corn and pilot Andy Hermansky flew to various landing strips and glacier camping areas yesterday -- Tokositna, Buckskin, Eldridge, Ruth Glaciers -- scanning for any melted out trash or other waste. All in all, the glacier landing strips were in great shape, with no major messes and only a bag or two of garbage was collected.  Chris and Dan were then left at the Mountain House and will ski, hike, and packraft back to Talkeetna.  
Otherwise, rangers, with tremendous help from YCC student Nick Pedersen, continue cleaning, packing, drying, inventorying, and replenishing camp supplies.

Route Conditions
West Buttress - Groups just coming off the West Buttress reported a lot of fresh snow on the upper mountain in the last week or two, both between 11k and 14k, as well as above high camp. Once the snow stopped falling, the weather turned beautiful, but climbing was slow going with arduous trail-breaking. The pickets on the autobahn were well-buried and somewhat difficult to find. Nevertheless, teams with time and stamina were successful in reaching the summit. 
Muldrow Glacier - The NOLS team that climbed via the Muldrow Glacier Route returned this weekend. Sounds like the same storm that dumped snow on the West Buttress was intensified on the north side of the range. Significant snowfall and wind drifts up to 8 feet were reported.  Large, naturally occurring avalanches were observed on all aspects.      

Photo of the Day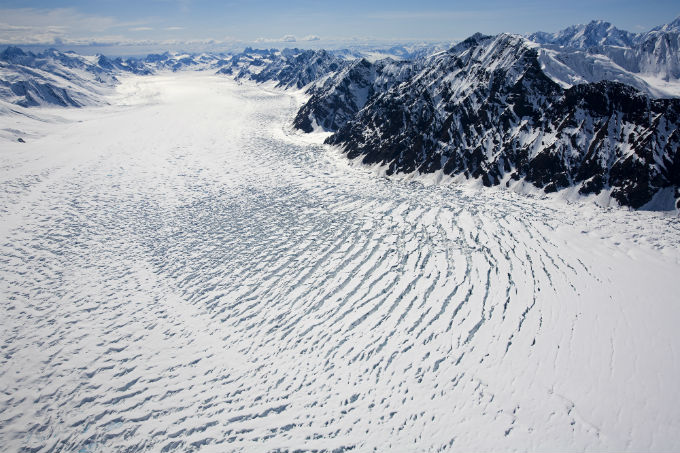 The Great Icefall of the Kahiltna Glacier  (Photo courtesy of Ian Shive)