| | | |
| --- | --- | --- |
| TODAY'S STATS | Mt. McKinley | Mt. Foraker |
| Registered Climbers | 798 | 9 |
| Climbers Currently On Mountain | 5 | 4 |
| Completed Climbs | 2 | 0 |
| Number of Summits | 1 | 0 |
| Summit Percentage | 50% | 0% |
The Walter Harper Talkeetna Ranger Station also maintains a daily automated statistics phone line, so if this blog is lagging behind and you need up-to-date registration numbers, call (907) 733-9127. 

Weather Report:
Basecamp (7,200-feet) had 1 cm of new snow overnight, with light winds.  In last 24 hours, low temp was 13 F, high temp 17 F, and the temperature at 8:00 am this morning was 15 F.  Clouds have been moving in and out all morning, with occasional glimpses of blue sky overhead.
Nearby at the base of Mt. Crosson (7,500-feet), NPS rangers on patrol reported stronger winds and 6 inches of new snow overnight.
National Weather Service forecast  

Ranger Update:
Mountaineering volunteers show up in Talkeetna today for the first upper mountain patrol on Mt. McKinley. The patrol will be led by Rangers Chris Erickson and Mark Westman.  The group flies into Basecamp on May 2 to begin their ascent of the mountain, and the arduous task of setting up the 14,200-foot camp infrastructure for the 2015 season.  
Rangers McBrayer and Shain are currently patrolling in the Ruth Amphitheater.  
Rangers Chenoweth and Weber are on a climbing patrol of the Sultana Ridge of Mt. Foraker.
Route Conditions:
According to climber reports around Basecamp and on Mt. Frances, snow conditions are good, with a nice firm snowpack making for easy travelling. 

Photo of the Day!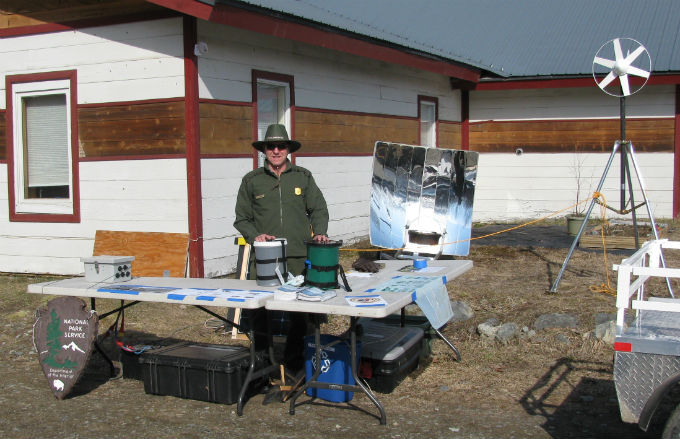 While overhead the U.S. Army shuttled several thousand pounds of our camp supplies to the Kahiltna Basecamp, the community of Talkeetna celebrated Earth Day on Saturday, April 25. Denali Mountaineering Ranger Roger Robinson displayed some the innovative sustainable practices we put to use on Denali. Of particular interest was our solar cooker that kept a large kettle of water simmering the entire sunny day. Nearby stood the small marine wind generator that operates on the Kahiltna Glacier, trickle-charging batteries for the Basecamp radio system. Other event-goers wanted to know all about composting with worms, which the Robinson's have been doing with kitchen scraps for over ten years. Roger has also conducted a two-year research project on vermi-composting the human waste produced by climbers on Denali.
Composting Human Waste from Mount McKinley with Worms
 is now a science fact sheet printed by Denali National Park.  And the most popular display at the Earth Day booth was 'the GEM'.  In 2015, visitors to Talkeetna will likely see ranger staff driving this new electric cart down Main Street, moving hundreds of pounds of camp gear, food, and patrols from the ranger station to the airport each week.