| | | |
| --- | --- | --- |
| TODAY'S STATS |     Denali     | Mt. Foraker |
| Registered Climbers | 870 | 21 |
| Climbers Currently On Mountain | 211 | 11 |
| Completed Climbs | 16 | 2 |
| Number of Summits | 0 | 0 |
| Summit Percentage | 0% | 0% |
The Walter Harper Talkeetna Ranger Station also maintains a daily automated statistics phone line, so if this blog is lagging behind and you need up-to-date registration numbers, call (907) 733-9127. 
Yes, we realize the Denali stats have jumped around a little bit the last few days. Lots of troubleshooting and cleaning up of data. It's getting better every day!

Weather Report
7,200 feet -  Sara reports clear skies today at basecamp, along with 'lots of little birds'.  Winds were 6 mph out of the East, gusting to 16 mph. No snow overnight.
In the last 12 hours:
Current temp:  1 C / 34 F
Low temp:  -1 C / 30 F
High temp:  1 C / 34 F
National Weather Service forecast 

Ranger Update
NPS AKR Patrol #4 (Corn, Preston, Jackson) have been day-climbing out of the Kahiltna Basecamp since Tuesday. Today was dedicated to short-haul work, helping pilot Andy Hermansky sling 8 loads of 14K infrastructure and supplies to the 14,200-foot plateau.
NPS Denali Patrol #1 (Erickson, Coady, 2 GRTE rangers, 2 VIPs) dropped a cache just below Windy Corner yesterday, and returned to the 11,000-foot camp overnight.  Today was much more hospitable for the climb around Windy Corner to the 14,200-foot camp.  They arrived in camp early afternoon, perfectly coinciding with the slingloads of gear to 14K.    
NPS Denali Patrol #2 (McBrayer and 4 VIPs). Ranger Joey McBrayer is joined by four first time Denali mountaineering VIPs. Amrit Ale is the first of two mountaineering volunteers this season involved in the Nepalese Technical Exchange Program, formerly known as the Sherpa Exchange Program. (Last winter, two Denali rangers volunteered their time at the Khumbu Climbing School -- Chris Erickson and Dan Corn). Joining Joey and Amrit are Dr. Nick Weinberg, Wes Burgess, and Christopher Martin. 
NPS Basecamp Patrol #1 (Reichert, 2 rangers, 1 VIP) Ranger Joe Reichert will lead the first basecamp patrol of the season, setting up the 7K infrastructure and communications. Joe is joined by returning VIP Kakiko Ramos and two rangers from the north side of the Park...Denali NP Chief Ranger Erika Jostad and LE Ranger Nick Beheler. 
Yesterday's long list of helicopter 'errands' got dramatically shorter once strong winds and clouds rolled into the Alaska Range around mid-day yesterday. Ranger Tucker Chenoweth and NPS scientists Mike Loso and Ken Hill were only able to place a glacier and weather monitoring station at the lowest of the targeted sites, at 3,900 feet. Today weather has been more cooperative, and the team is placing the upper monitoring station at 10,300 feet.  And as mentioned above, the remaining slingloads of gear flew to the 14K camp, and the Crosson radio repeater was successfully installed for the season.
Route Conditions
West Buttress route is in great shape so far, at least below 14,200 feet. More info to come.

Photo of the Day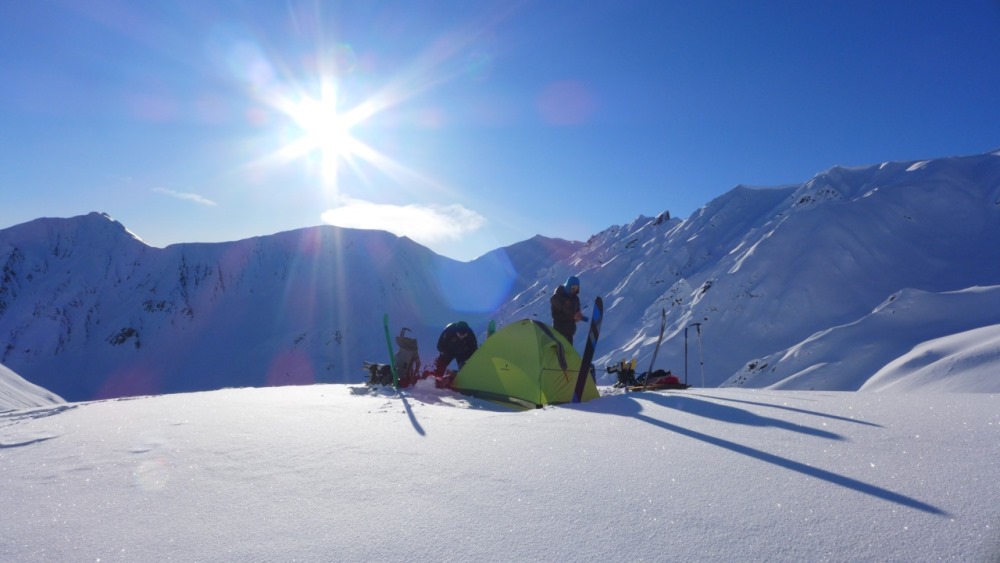 Another shot from the ranger's early season avalanche training off the Eldridge Glacier  (NPS Photo)