| | | |
| --- | --- | --- |
| TODAY'S STATS |     Denali     | Mt. Foraker |
| Registered Climbers | 1,123 | 16 |
| Climbers Currently On Mountain | 353 | 0 |
| Completed Climbs | 700 | 16 |
| Number of Summits | 389 | 7 |
| Summit Percentage | 56% | 44% |
The Walter Harper Talkeetna Ranger Station also maintains a daily automated statistics phone line, so if this blog is lagging behind and you need up-to-date registration numbers, call (907) 733-9127. 

Weather Report
7,200 feet -  More clear, sunny skies.  Morning wind was 5 mph from the east, with gusts to 18 mph.
In the last 12 hours:
Current temp:  2 C / 36 F
Low temp:  1 C / 34 F
High temp:  3 C / 37 F


14,200 feet -  The weather station at 14 camp is still malfunctioning, so no temperatures or exact windspeeds are available. They have clear, sunny skies, today, but high cirrus clouds are building to the southwest.  No new snow, and generally calm with no real gusts.
In the last 12 hours:
Current temp:   C / F
Low temp:   C /  F
High temp:   C /  F
National Weather Service forecast

Ranger Update
NPS Denali Patrol #4 (Shain, 4 VIPs)  Mike, Sue, Dahr, Brian, and Liam moved up to high camp yesterday afternoon/evening. And luckily they did, as they were well-positioned to respond to a sick client suffering from HAPE who came into high camp around 10 pm last night. For more details on their life-saving response, go to the park's news release.  
NPS Denali Patrol #5 (Gentzel, 3 VIPs)  The crew spent much of the night relaying radio communications between high camp patrol and the Talkeetna office. After sleeping in a little bit, today they are at work strengthening snow walls in preparation for a forecasted storm.
NPS Denali Patrol #6 (Weber, Preston, 4 VIPs) The final upper mountain sweep patrol stuck flew into basecamp yesterday, and after Rangers Dave Weber, Frank Preston, and Chris Erickson did some 'typical terrain' short-haul training in the Alaska Range, the Patrol climbed the Radio Tower route. They had just returned from that climb when the medical rescue at high camp was underway. Dave served as medical attendant on the evacuation from high camp to Talkeetna early this morning.  Then at around 10 am, he flew back into basecamp to resume the patrol. The team will likely leave basecamp this evening, headed to the 7,800-foot camp, weather permitting.
NPS Basecamp Patrol #5 (Erickson, 2 VIPs) Ranger Chris Erickson and volunteers Ben and Katie Weaver flew into basecamp yesteray. Last night was also spent in communication with the Talkeetna incident command and the other rangers higher on the hill, helping coordinate helicopter operations and relaying weather.  
Route Conditions
The lower glacier is getting soupier, but the trail is still hard-packed and good for travelling, particularly on a hard morning crust. K2 Aviation is now using the upper air strip on the Kahiltna Glacier.
Higher on the mountain, the West Buttress route is also in good shape, though there has been reports of rockfall around Windy Corner during the heat of the day.  
Photo of the Day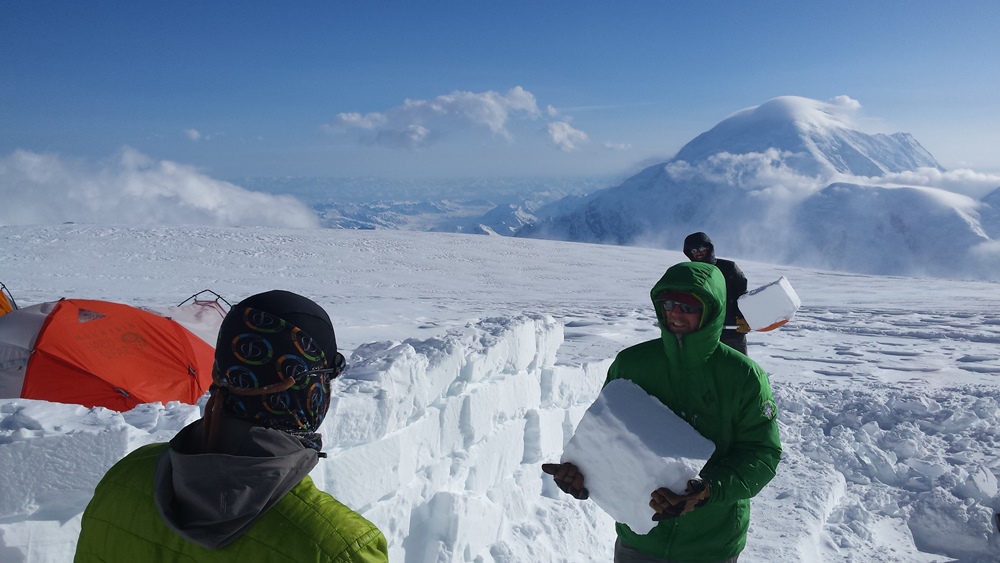 In a photo from earlier this season, climbers prepare for a windstorm by reinforcing their ice walls. And it sounds like that is happening again today, as the weather forecast calls for a storm. NPS Photo/Steve Mock