| | | |
| --- | --- | --- |
| TODAY'S STATS |     Denali     | Mt. Foraker |
| Registered Climbers | 1,101 | 16 |
| Climbers Currently On Mountain | 364 | 0 |
| Completed Climbs | 635 | 16 |
| Number of Summits | 348 | 7 |
| Summit Percentage | 55% | 44% |
The Walter Harper Talkeetna Ranger Station also maintains a daily automated statistics phone line, so if this blog is lagging behind and you need up-to-date registration numbers, call (907) 733-9127. 

Weather Report
7,200 feet -  Clear, sunny skies.  No snow in the last several days. Calm winds, with occasional gusts to 14 mph from the southeast. 
In the last 12 hours:
Current temp:  5 C / 41 F
Low temp:  -3 C / 27 F
High temp:  5 C / 41 F


14,200 feet -  Clear, sunny skies.  No snow in the last several days. General windspeed was 3 mph at 8 a.m., with occasional gusts to 10 mph from the east.
In the last 12 hours:
Current temp:  -13 C / 9 F
Low temp:  -20 C / -4 F
High temp:  -12 C / 10 F
National Weather Service forecast

Ranger Update
NPS Denali Patrol #3 (Corn, 4 VIPs, 2 PJ's)  The patrol assisted with the short-haul rescue and recovery of Japanese climber Masayuki Ikeda who died the morning of June 14 on his return from the summit. For more information on the incident, go to the park website news release.  Later that day, Dan, Jon, Justin, Bobby, and Mike descended to basecamp, where they met back up with PJ's Cody and Jeff who had flown down to basecamp in the helicopter with the patient.  Patrol #3 is now at basecamp, and is scheduled to fly back to Talkeetna tomorrow.
NPS Denali Patrol #4 (Shain, 4 VIPs)  Mike and crew also assisted with the rescue and recovery of Mr. Ikeda, namely helicopter operations at the 14,200-foot camp. Later that afternoon, the patrol went on an acclimatization trip up the West Rib. Today, they will welcome Coley Gentzel's patrol to 14 camp. After one full overlap day (tomorrow), Mik, Sue, Brian, Liam, and Dahr will head up to high camp.
NPS Denali Patrol #5 (Gentzel, 3 VIPs)  Are en route to 14 camp at the moment.
NPS Denali Patrol #6 (Weber, Preston, 4 VIPs) The final upper mountain sweep patrol is packing in Talkeetna, and with a great weather forecast, they expect to fly into basecamp tomorrow.  Rangers Dave Weber and Frank Preston will be joined by three veteran volunteers: Menno Boermans, Phunuru Sherpa, and Shane Treat, as well as first time volunteer Nick Asher. This team will be in charge of breaking down the 14 camp infrastructure and ensuring it gets safely flown back to Talkeetna.
NPS Basecamp Patrol #4 (Coady, 1 VIP) Melis and Bace assisted with the aforementioned rescue and recovery as well. They both fly out of Basecamp tomorrow. 
NPS Basecamp Patrol #5 (Erickson, 2 VIPs) Ranger Chris Erickson will be joined by volunteers Ben and Katie Weaver.  Ben was not only a volunteer on Chris' upper mountain patrol in May, but both Ben and Katie were volunteers last season as well. The trio will break down most of the NPS basecamp infrastructure, then will ski down the Kahiltna Glacier to the Pica Glacier (Little Switzerland) for a clean-up patrol.
Route Conditions
The lower glacier is still seeing some freezing overnight, but warm daytime temperatures and clear, sunny days make for some soupy snow.  K2 Aviation is now using the upper air strip on the Kahiltna Glacier.
Higher on the mountain, the West Buttress route is still in good shape.  The upper mountain experienced some significant wind overnight, which blew snow over much of the ski tracks. Teams headed up to high camp will have to do a little trail-breaking today. 
Photo of the Day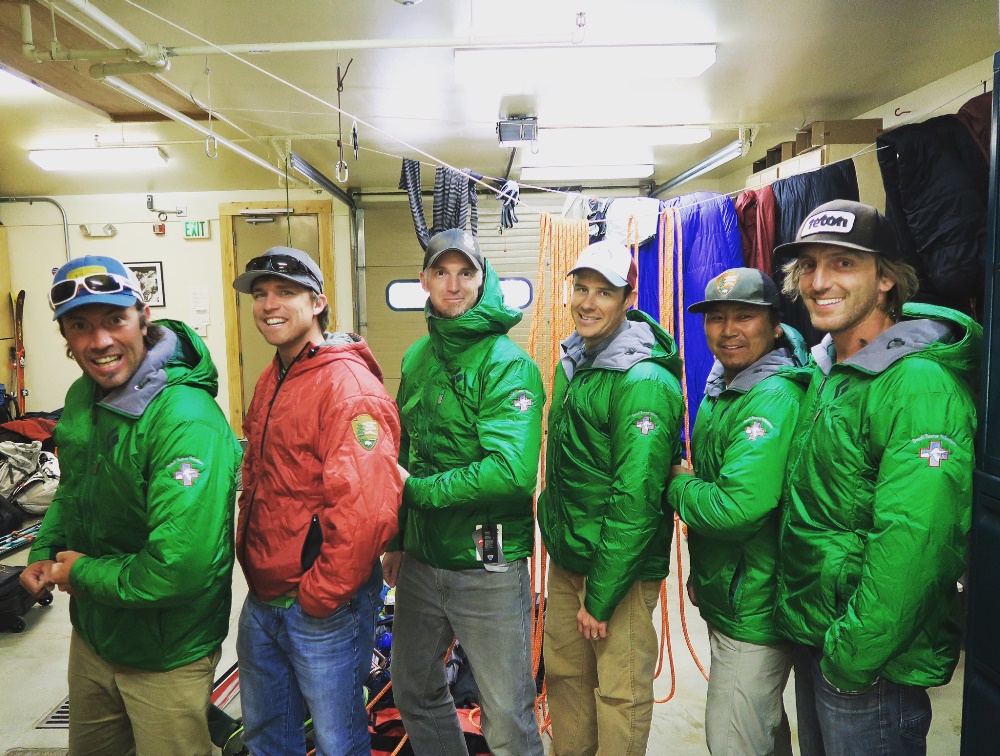 The final patrol of the season (except Lone Wolf Preston in red) models the Black Diamon outerwear donated by park partner Denali Rescue Volunteers (DRV).  From left to right: VIP Menno Boermans, Ranger Frank Preston, Ranger Dave Weber, VIP Nick Asher, VIP Phunuru Sherpa, and VIP Shane Treat.