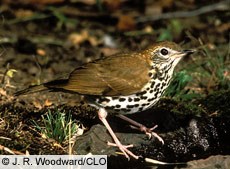 Monitoring Natural Resources: Forts to Forests
Fort parks are not only places that tell a national story; they also play valuable ecological roles in an urbanizing landscape. Like the other parks of the National Park Service they are home to wildlife and native plants and host a variety of valuable natural resources.
In order to help look after natural resources in our region and to provide accurate and scientifically sound information on park ecosystems, the NPS initiated the National Capital Region Network Inventory & Monitoring (NCRN I&M) program. Every year NCRN I&M field crews gather hundreds of observations at sites spread from Prince William Forest Park in the south to Harpers Ferry in the north, in order to provide information that helps park staff with planning, management, and interpretation. The resources NCRN I&M monitors are called "vital signs" because each one tells us something about the broader condition of a park. Vital signs include forest vegetation, invasive/exotic plants, forest birds, stream water quality, fish, land cover, white-tailed deer, and amphibians. So far NCRN I&M data has helped several parks in the region begin plans to manage teeming deer populations and has contributed to other park management and planning documents.
Since 2006, NCRN I&M has monitored sites at Fort Dupont and the Hiker-Biker Trail and sites near Fort DeRussy to assess the condition of forest vegetation, white-tailed deer and forest birds.