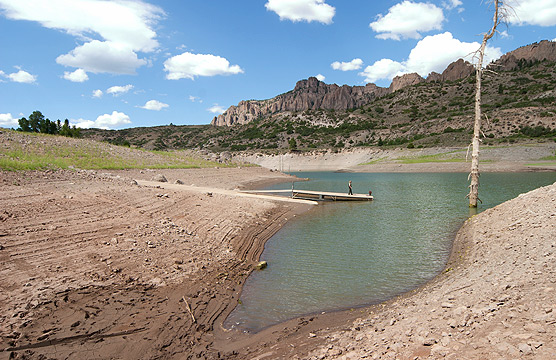 News Release Date:
July 30, 2012
Contact: Sandra Snell-Dobert, 970-641-2337 x227
Due to rapidly decreasing water levels in Blue Mesa Reservoir, the boat ramp at Ponderosa
Campground will close at 4:30 p.m. on July 30. "Boater safety and prevention of damage to trailers, boats, and vehicles are of utmost concern to us," stated Superintendent Connie Rudd.
Lake levels have been dropping at a rate of approximately one foot every four days. At this rate of
decline, it is probable that the boat ramp at Stevens Creek will also close this week. Small boats
can currently launch at Stevens Creek, but those with larger vessels should consider launching at
Elk Creek, Lake Fork, or Iola ramps.

National Park Service staff is monitoring the ramps and will keep the public informed through
local media outlets and on the Curecanti website at www.nps.gov/cure.