Permits & Reservations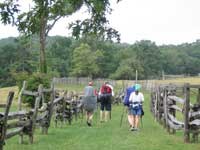 Backcountry Camping
Five backcountry campsites are located in the park and require a backcountry use permit, which must be picked up in person at the visitor center. Backcountry permits are free of charge.
Backcountry campsites can be reserved up to three months in advance by calling the park visitor center at (606)248-2817.


Camping - Group Sites
$39.00 - Day
Group campsite reservations must be reserved and paid for through Recreation.gov. To book a campsite, go to the Recreation.gov Wilderness Road Campground page or call 1-877-444-6777. You can also download Recreation.gov mobile app and use your smart device to book and pay for your site.
Special Use Permits
Special Use Permits are required by the National Park Service to assure that parks remain unimpaired for the enjoyment of future generations. Any activities that would cause damage to park resources cannot be allowed.
Providing opportunities for appropriate public enjoyment is an important part of the National Park Service mission. Approval of special uses of the park—unrelated to public enjoyment—may be allowed if not otherwise prohibited by law or regulation. However, the National Park Service can only allow uses that are:
appropriate to the purpose for which the park was established, and
can be sustained without causing unacceptable impacts.

A special park use is defined as an activity that takes place in a park area, and that:
provides a benefit to an individual, group or organization rather than the public at large;
requires written authorization and some degree of management control from the National Park Service in order to protect park resources and the public interest;
is not prohibited by law or regulation;
is not initiated, sponsored, or conducted by the National Park Service; and
is not managed under a concession contract, a recreation activity for which the NPS charges a fee, or a lease.
The following activities may require a Special Use Permit at Cumberland Gap National Historical Park:
Completed
applications
, along with a non-refundable $200.00 application fee, must be received by the park no less than 45 days prior to the start of the event. The fee covers the cost of administering the permit request and must be submitted with the application in the form of check or money order made payable to the "
National Park Service
". Additional fees for costs incurred by the National Park Service, such as event monitoring, may also apply.

You will receive a response regarding your application within two weeks of receipt.

For more information regarding Special Use Permits, or if you have any question as to whether or not one is required for your activity, please call (606) 248-2817, or email - with "Special Use Permits" as the subject.


Last updated: March 29, 2022