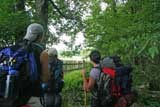 Hiking and Backpacking
There are over 80 miles of hiking trails in the park ranging from short, easy 1/4 mile hikes to the 21 mile Ridge Trail. More...
Backcountry trails lead to remote, wilderness areas. Backcountry camping is allowed in designated sites with a permit. Permits are free of charge and can be obtained at the park visitor center.
Reservations for backcountry camp sites can be made up to 90 days in advance by calling (606)248-2817.