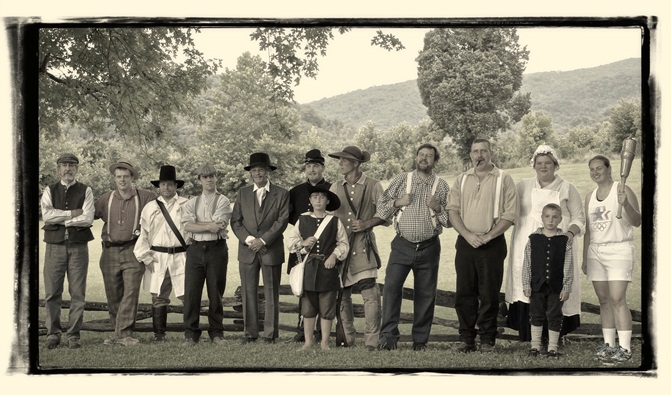 News Release Date:
September 23, 2014
Contact: Carol Borneman, (606) 248-2917, extension 1070
Riveting Characters to Showcase Historic
Passageway's Abundant Stories
Where can you meet intrepid pioneer Rebecca Boone, the murderous Harpe brothers, and famed conservationist Gifford Pinchot, and still stay right in beautiful Cumberland Gap? During the annual Heritage Walk of course!
For the fourth year in a row, Cumberland Gap National Historical Park is presenting "Within the Shadows of Cumberland Gap Heritage Walk."Once again, the park will be shedding light on some of the lesser-known stories and people from the area's past. Unlike previous years, however, the event will be held over a period of several hours during the day, and visitors can wander along the old Wilderness Road trail at their leisure versus being in guided groups.
"This has been such a popular event in the past, we decided to open it up to everyone throughout the day," explains Park Ranger Sharon Griffin. From 10 a.m.until noon, and then again from 2 p.m. until 4 p.m. on Saturday, September 27th, visitors can park at the Thomas Walker parking area at the junction of Pinnacle and Sugar Run Roads on the Kentucky side of the park and wander the old trail through the beautiful Cumberland Gap, meeting people from history along the way. At the end of the 1.5 mile trail at the Daniel Boone parking area in Virginia, visitors can board shuttles to return them to their vehicles.
"Remember to wear good walking shoes and bring water," advises Ranger Griffin. "And bring your camera, as you never know who you will meet!"
This program is being co-hosted by the Friends of Cumberland Gap National Historical Park and Eastern National. For more information about Cumberland Gap National Historical Park, please call (606) 248-2817 or visit www.nps.gov/cuga. For more information on the Friends of Cumberland Gap National Historical Park and how to become involved, please visit www.friendsofcumberlandgap.org or find them on Facebook at www.facebook.com/friendsofcumberlandgap. Eastern National supports the interpretive and educational mission of the National Park Service. Learn more by visiting www.easternnational.org.