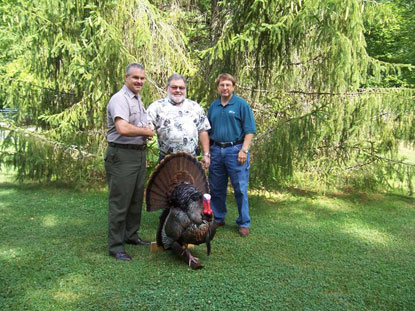 News Release Date:
July 14, 2008
Contact: Carol Borneman, (606) 248-2817
Thanks to a generous donation by the Cumberland Gap Tri State local chapter of the National Wild Turkey Federation (NWTF), a mounted turkey is now on display at Cumberland Gap National Historical Park's headquarters. When presenting the four-bearded turkey to Park Superintendent Mark Woods, Sammy Mars, Secretary for the NWTF's National Board of Directors explained, "Cumberland Gap is truly a treasure located right in our back yard. Whether visitors, conservationists, history buffs, photographers, hikers, birders or hunters, we should all be thankful for the resources protected in the park." Mars furthered explained that while hunting is not allowed in the park, hunters do benefit from the turkeys that wander outside of park boundaries. Vondale Russell, President of the Cumberland Gap Tri State local chapter, commented that the NWTF applauds Cumberland Gap and the National Park Service for the scientific wildlife management tools, including prescribed burns, employed to further enhance wildlife habitats.
In accepting the turkey, Superintendent Mark Woods shared the success story of wild turkeys which were released in the park by the Kentucky Department of Fish and Wildlife Resources in October 1973. "Wild turkeys were native to the area. Daniel Boone and other early explorers frequently noted the rich abundance of wildlife which roamed the mountains. Hunting intensified as the area became settled, forest habitats were cut down and turkey populations dwindled. But thanks to the 1973 reintroduction, the gobble of the turkey now reverberates throughout the park." Woods also remarked that the National Park Service preserves cultural, historical and natural resources for the enjoyment of present and future generations. "The release of wild turkeys in 1973 was consistent with National Park Service directives in restoring native animal populations in parks where they had been extirpated by past human-caused actions."
Superintendent Woods invites all to stop by park headquarters to view the "tom." But Woods also extends an invitation "to take a stroll through the park and see for yourself this magnificent bird and hear its explosive gobble!"
About the National Wild Turkey Federation
The National Wild Turkey Federation www.nwtf.org is a grassroots, nonprofit organization with more than 500,000 members in 50 states, Canada, Mexico, and 14 other foreign countries. It supports scientific wildlife management on public, private and corporate lands as well as wild turkey hunting as a traditional North American sport.