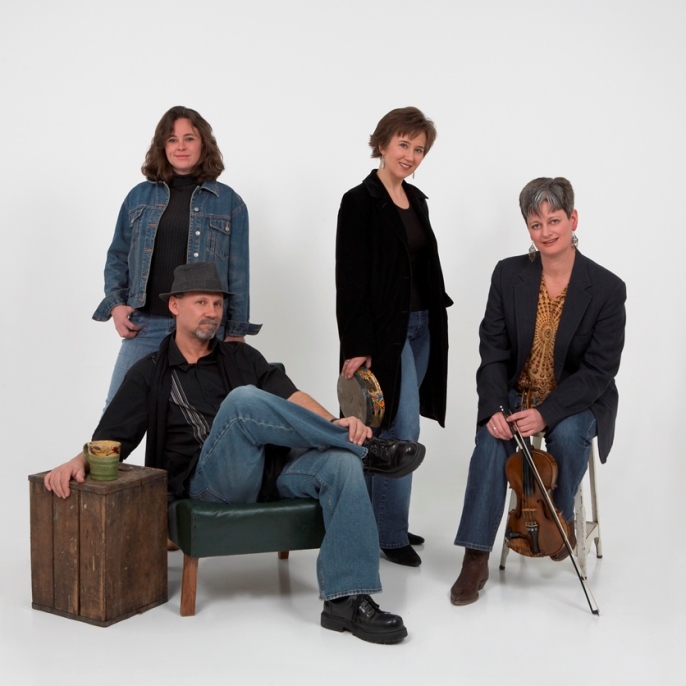 News Release Date:
May 26, 2016
Contact: Carol Borneman, (606) 246-1075
Cumberland Gap National Historical Park is known for its exciting schedule of free programs which highlight the area's amazing history, wildlife, and Appalachian music!  On Saturday evenings during the summer, special weekly campfire programs are held at the park's outdoor amphitheater located at the Wilderness Road Campground. This year's summer campfire program schedule will kick off on May 28th at 8 p.m. with the folk/Americana band Wild Blue Yonder. 
This musical group, a regional favorite since 2001, has broken into the realm of "newgrass" with a roadkill anthem, two top-selling CD releases and airplay on more than 60 stations in the U.S. and abroad. Their performances have spanned the southern states including North Carolina, Kentucky, Georgia, Mississippi, Virginia, and eastern Tennessee.
  Music runs deep in the bloodlines of all four Wild Blue Yonder (WBY) members. WBY founders Melissa Wade and Philip Coward claim a rich musical heritage, starting with three of their great-uncles who played fiddle, guitar and banjo. Grandmother Sarah filled her humble home with primitive, a cappella versions of Appalachian hymns that resonate through her grandchildren's voices even today. 
  Sisters Cindy Wallace and Laura Knight, who both contribute fiddle and a variety of percussion to the band, began performing with their family in North Carolina in their early teens. As the Wallace Sisters, they have graced many stages across the Southeast, including Dollywood Theme Park and Music Mansion in Sevierville, Tennessee.
  Every Wild Blue Yonder performance features plenty of high-energy fiddle tunes and well-known gospel favorites, along with healthy doses of humor and audience participation.  Although they rarely get through a night without filling a request for the infamous "possum song," the group shows they can write and deliver more than funny critter tunes with originals like "Sweet Summer Day" and "Bolt Out Of The Blue," a song inspired by the Linville, North Carolina area.
  "Appalachian Americana" is one stylistic label Wild Blue Yonder appreciates, as it conveys a respect for tradition combined with their progressive leanings. For anyone who might accidentally call them a bluegrass band, check out those congas, bongos and chimes, and the intricate chord progressions on their ninety-mile-an-hour "Dreams Coming True." One reviewer described the band as "a tasty mix of Americana-flavored originals, old-time mountain tunes, and foot-stomping hoe-downs in folky harmony backed by spicy twin fiddles, smokin' mandolin, groovy percussion, guitar and bass."
The Wilderness Road Campground is located in Virginia, two miles east of the Hwy 25E and Hwy 58 intersection. Visitors should proceed to the amphitheater, located at the end of loop C where parking is available. In case of rain, the program will be held at the national park visitor center, located on Hwy 25E, just south of Middlesboro, KY.
   This event is made possible by generous funding and support from the Friends of Cumberland Gap National Historical Park www.friendsofcumberlandgap.orgorwww.facebook.com/friendsofcumberlandgapand park partner Eastern National www.easternnational.org.For more information about Cumberland Gap National Historical Park please call (606) 248-2817 or visit www.nps.gov/cuga.