wild blue yonder 2013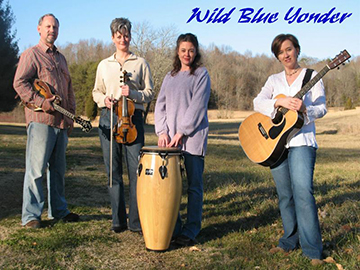 News Release Date:
May 21, 2013
Contact: visitor center, (606) 248-2817, extension 1075
Cumberland Gap National Historical Park is especially known for its exciting schedule of free programs that highlight the area's amazing wildlife, history and Appalachian music!  On Saturday evenings during the summer, special weekly campfire programs are held at the park's outdoor amphitheater located at the Wilderness Road Campground. This year's summer campfire program schedule will kick off on May 25th at 8 p.m.with the folk/Americana band "Wild Blue Yonder!"
This musical group, a regional favorite since 2001, has broken into the realm of "newgrass." Two top-selling CD releases have helped "Wild Blue Yonder" receive airplay on more than 60 stations in the U.S. and abroad. Their performances have spanned the southern states including North Carolina, Kentucky, Georgia, Mississippi, Virginia, and eastern Tennessee.
Sisters Cindy Wallace and Laura Knight, who both contribute fiddle and a variety of percussion to the band, began performing while still in their teens with their family in North Carolina. As the Wallace sisters, they have graced well known music venues including Dollywood and the Music Mansion in Sevierville, Tennessee. "Love So True," their self-penned tale of lasting love, was among selections featured on a special 2010 CD celebrating Mast General Store's 125thanniversary.
The Wilderness Road Campground is located in Virginia, two miles east of the Hwy 25E and Hwy 58 intersection. Visitors should proceed to the amphitheater, located at the end of loop C where parking is available. In case of rain, the program will be held at the national park visitor center, located on Hwy 25E, just south of Middlesboro, KY. This program is being co-hosted by the Friends of Cumberland Gap.
For more information about Cumberland Gap National Historical Park please call (606) 248-2817 or visit www.nps.gov/cuga. For more information on the Friends of Cumberland Gap National Historical Park and how to become more involved please visit www.friendsofcumberlandgap.org or find them on facebook at www.facebook.com/ friendsofcumberlandgap. 
Last updated: April 14, 2015