Date:
July 21, 2007
Contact:
Jenny Litzelman, (606) 248-2817, ext. 1075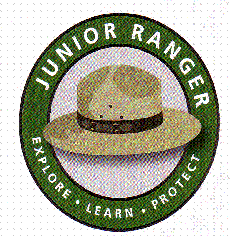 WANTED! JUNIOR RANGERS AT CUMBERLAND GAP NATIONAL HISTORICAL PARK
Kids! Do you have what it takes to be a Junior Ranger? Do you want to explore, learn about, and protect your national parks? Then join Junior Ranger Ambassador Jenny Litzelman at the Cumberland Gap National Historical Park visitor center on Wednesday, July 25th or Friday, July 27th from 10 a.m. to 11:30 a.m. Through fun-filled activities, you'll learn about the park's incredible resources. And at the end of the morning, take the Junior Ranger oath and stand proud as a Junior Ranger badge is pinned upon you. 
Junior Ranger Ambassador Litzelman enthusiastically extends an invitation for seven to fourteen year olds to participate in the free program. "Learn to imitate the call of an elk. Place your hand on top of a black bear paw print. Catch a glimpse of a longhunter and touch the animal pelts which he is carrying."

Litzelman further explains that she "is putting finishing touches on a junior ranger workbook filled to the brim with exciting and fun activities." Children participating in the programs will complete several of the workbook activities.
Superintendent Mark Woods applauds the Junior Ranger Program "as a truly nationwide program which has been recognized by Mr. Laura Bush for giving children the opportunity to make connections to the nation's rich heritage." Woods also extends thanks to the National Park Foundation which provided financial support for the workbook being designed by Ms. Litzelman.  

The Junior Ranger Program, created by the National Park Service in the 1960's, engages kids in age-appropriate activities that introduce them to the treasures of the national park system, allowing them to discover the significance of these special places and to understand the importance of protecting them. Today, the Junior Ranger Program serves 383,639 children in 297 parks and includes an on-line component, WebRangers which receives over 1 million visitors annually.            
For information on the Junior Ranger Program or any park activities, please call 606-248-2817, extension 1075.