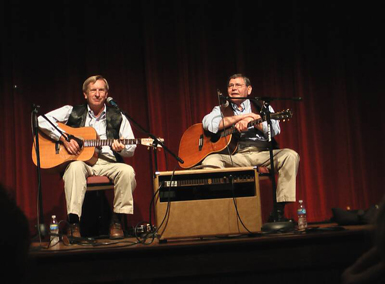 News Release Date:
June 29, 2011
Contact: Carol Borneman, (606) 248-2817, extension 1070
The hills of southwestern Virginia will be filled with the sound of music on Saturday evening, July 2nd, as Dickenson County, Virginia natives Jimmy Mullins and Ken Childress take to the stage at Cumberland Gap National Historical Park. Forty years of performing together and this dynamic music duo has developed a signature blend of great singing, pickin' and storytelling. Jimmy and Ken will delight all with "old timey" tunes, the blues and traditional mountain music. In the duo's infancy, the front porch served as their stage. Now, both are veterans of the Jettie Baker Center stage and the Music along the Crooked Road concert series. Jimmy and Ken have recorded four CD's: "Soft Mountain Music," "Appalachian Memories," "From the Front Porch," and "Bridging the Gap."
Park Ranger Scott Teodorski is excited to welcome this Virginian duo. "Jimmy and Ken will show all how to kick up their heels and have a great time. They'll also showcase their incredible talents of flailing the banjo and hand strumming the guitar." Teodorski also explains that the concert will be a great way for folks to kick off their July 4th weekend celebration.     
The free concert will begin at 8:00 p.m. and will be held at the national park's Wilderness Road Campground, located in Virginia, two miles east of the Hwy 25E and Hwy 58 intersection. Visitors should proceed to the amphitheater, located at the end of loop C where parking is available. In case of rain, the program will be held at the national park visitor center, located on Hwy 25E, just south of Middlesboro, KY.