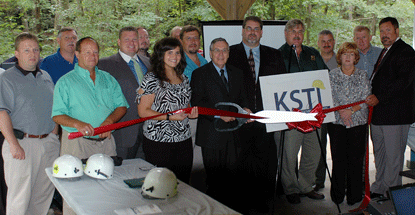 News Release Date:
September 9, 2009
Contact: Mark Woods, Superintendent, (606) 248-2817
A unique partnership between the National Park Service and Southeast Kentucky Community and Technical College (KCTC) College continues to flourish, empowering employee safety.  At a recent meeting at Cumberland Gap National Historical Park (NHP), located in Middlesboro, KY, also home to of one of KCTC's campuses, H. Thomas McGrath, Superintendent of the Historic Preservation Training Center in Frederick, MD and Mark Woods, Superintendent of Cumberland Gap NHP showcased the evolution of this remarkable partnership and praised the KCTC for its commitment to safety training, its dedication to providing NPS employees superior training and its flexibility and patience when dealing with sometimes cumbersome government practices.
McGrath explained that the resources of KCTC were tapped into in the late 1990's when the Blue Ridge Parkway and the Southeast Regional Office were searching for ways to improve the safety of their heavy equipment operators.  At that time, KCTC was heralded and continues to be applauded, for its business of working with Kentucky's industries, including the coal mining business, in preparing the youth of today for jobs of tomorrow.  Woods further elaborated that many NPS employees were traveling to KCTC's Middlesboro, KY campus to participate in safety training.  "However, the NPS began to experience reduced funding for training and travel ceilings were imposed.  KCTC, under the leadership of President Bruce Ayers, looked upon this as not an obstacle, but as a great opportunity to take their 'show on the road' to individual parks from Alaska to Guam; from Massachusetts to Puerto Rico.  KCTC has now provided classes in 17 park areas and has touched 632 employees from 127 parks, including Haleakala and Hawaii Volcano National Parks, George Washington Memorial Parkway, Golden Gate National Recreation Area, Voyageurs National Park, Virgin Islands National Park, San Juan National Historic Site, War in the Pacific National Historical Park and Sleeping Bear Dunes National Lakeshore. "
The safety training that KCTC has been providing for the NPS has been the catalyst for the expansion of their program resulting in the Kentucky Safety-Training Institute, whose logo was unveiled at this recent meeting.  The same training that has been provided to NPS employees will now be offered to municipalities, county governments, local schools and others that need it.