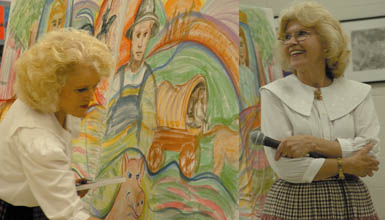 News Release Date:
April 5, 2012
Contact: visitor center, (606) 248-2817
Mother Nature is truly outdoing herself this springtime! She seems to be splashing color everywhere as she paints the delicate redbud trees, succulent green grasses and bouquets of flowers on the magnificent mountain canvas unique to Appalachia. But this year, Mother Nature's spring masterpiece promises to be more resplendent than usual due to a special upcoming program at Cumberland Gap National Historical Park on April 14, 2012.
Park Ranger Pam Eddy relates, "This program will be unlike anything we have ever hosted here before. Multi-talented sisters Amy Ammons Garza and Doreyl Ammons Cain will create an artistic blending of words, music and painting to bring you face to face with your mountain heritage and the spirit of Appalachia!"
It seems as if these sisters have taken it upon themselves to safeguard the Appalachian spirit as they expend an unbelievable amount of energy while kindling the flame of creativity in our upcoming generations.
These energetic sisters cofounded "Catch the Spirit of Appalachia, Inc.," a not-for-profit organization dedicated to honoring the heritage and creativity of all people. They facilitate creativity workshops and have performed storytelling and spontaneous visual art for millions of children and adults. Doreyl's books help people explore their unique creativity and follow their dreams. Sister Amy explains, "The heritage of Appalachia has become the driving force of a thriving tourist industry as people come to the mountains to read and hear stories about those who have started with little, struggled, persevered and accomplished a dream. Those people are the true heroes of our times. This is why I write."
Doreyl has exhibited her works of fine art in group and individual shows at the Smithsonian Institute, the Pentagon, Air Force Exhibitions in Washington DC, and traveling art exhibitions in museums and galleries throughout the country. Sister Amy, author and storyteller, writes books, articles, plays and more that relate her seventh generation view of Western North Carolina and its people. Her works have earned her over 30 awards!
Cumberland Gap National Historical Park recently selected Doreyl as the artist of choice to create a one of a kind painting highlighting the many layers of history related to the historic Cumberland Gap. This original artwork will be unveiled at the upcoming program on April 14th and featured on various sales items in the future alongside more of their wonderful art prints and books now being showcased and sold at the Eastern National Bookstore inside the park's visitor center. Doreyl and Amy will be happy to sign your purchases after the program!
Ranger Eddy continues, "These two sisters are truly keepers of the Appalachian spirit! A special invitation is extended to all ages - come and see the stories of the mountains unfold through spellbinding stories, splashes of vibrant color, and musical strains emulating the rhyme of the centuries." The program is free and begins at 1:00 p.m. in the national park's visitor center auditorium.
For additional information on Cumberland Gap National Historical Park's programs, please call 606-248-2817, extension 1075