Tourism to Cumberland Gap National Historical Park Creates $46 Million in Economic Benefit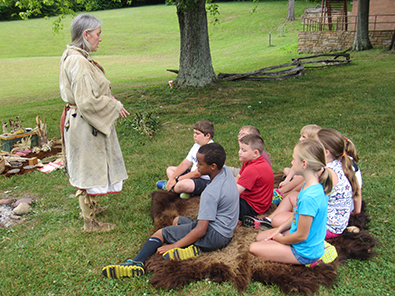 News Release Date:
July 23, 2014
Contact: Carol Borneman, (606) 248-2817, extension 1075
Contact: Sula Jacobs, (606) 248-2817
Report Shows Visitor Spending Supports639Jobs in Local Economy
A new National Park Service (NPS) report shows that 768,362 visitors toCumberland Gap National Historical Park in 2013 spent $46 million in communities near the park. That spending supported 639jobs in the local area.
"Cumberland Gapis proud to welcome visitors from across the country and around the world," shares Superintendent Sula Jacobs. "We are delighted to showcase the story of this place and the experiences it provides and to use the park as a way to introduce our visitors to this part of the country and all that it offers.  National park tourism is a significant driver in the national economy - returning $10 for every $1 invested in the National Park Service - and it's a big factor in our local economy as well.  We appreciate the partnership and support of our neighbors and are glad to be able to give back by helping to sustain local communities."
Judy Barton, Executive Director of Bell County, KY Tourism is elated with the economic news."I think Cumberland Gap National Historical Park is the greatest asset which we have.Without it, this type of local economic impact would not be possible."
As the National Park Service plans for the celebration of its 100th Anniversary in 2016, Jacobs is confident about the economic role which Cumberland Gap will continue to have in the Tri-State area.Jacobs highlights several events which the park is planning for 2015 and 2016 which will bring a flow of visitors into the area."In June 2015, in collaboration with several chapters of the Daughters of the American Revolution (DAR), we will celebrate the 100th Anniversary of the placement of two DAR Daniel Boone Trail Markers in the historic Cumberland Gap, including one representing the four states of Kentucky, Tennessee, Virginia, and North Carolina.We are planning a celebration with living history camps, speakers and authors.And come 2016, Cumberland Gap will grace an 'America the Beautiful' quarter.We're excited about the quarter's release as this celebration will most certainly involve participation by local school children."
The peer-reviewed visitor spending analysis was conducted by U.S. Geological Survey economists Catherine Cullinane Thomas and Christopher Huber and Lynne Koontz for the National Park Service.  The report shows $14.6 billion of direct spending by 273.6 million park visitors in communities within 60 miles of a national park. This spending supported more than 237,000 jobs nationally, with more than 197,000 jobs found in these gateway communities, and had a cumulative benefit to the U.S. economy of $26.5 billion.
According to the 2013 economic analysis, most visitor spending was for lodging (30.3 percent) followed by food and beverages (27.3 percent), gas and oil (12.1 percent), admissions and fees (10.3 percent) and souvenirs and other expenses (10 percent).
The largest jobs categories supported by visitor spending were restaurants and bars (50,000 jobs) and lodging (38,000 jobs).
To download the report visit https://www.nature.nps.gov/socialscience/economics.cfm
The report includes information for visitor spending at individual parks and by state.
To learn more about national parks in Kentucky, Tennessee and Virginia and how the National Park Service works with the Tri-Statecommunities to help preserve local history, conserve the environment, and provide outdoor recreation, go to www.nps.gov/Kentucky, www.nps.gov/Tennessee, and www.nps.gov/Virginia.
Last updated: April 14, 2015